News
Battle of the Sexes Trailer with Emma Stone & Steve Carell Arrives
Hit the courts for the Battle of the Sexes trailer with Emma Stone and Steve Carell. It's a true story of gender, chauvinism, and tennis.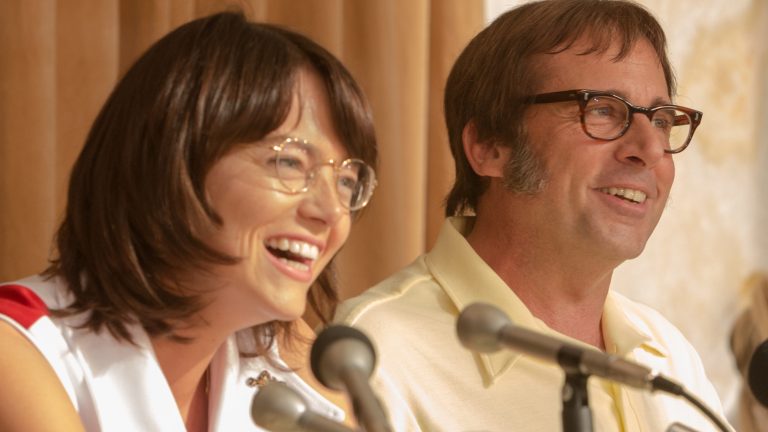 In 1973, it really was hailed as the battle of the sexes: a tennis match between a woman in her prime who won several grand slams and a slew of titles against an old tennis champ who, despite being more than 25 years older than her, claimed he could still beat her because men are naturally better. Gee, it's a wonder if there might be any relevancy about this, today?
Indeed, the tennis exhibition match with a grand prize of $100,000 in the middle is still one of the sport's most viewed events and made Billie Jean King a feminist legend when she put a cork in the mouth of self-admitted chauvinist named Bobby Riggs. And it is the subject of the new movie Battle of the Sexes with Emma Stone as Billie Jean King and Steve Carell as Bobby Riggs.
In the new trailer, you can get a glimpse of the dynamics which not so surprisingly mirror recent events in the political arena where the subjects of gender and the role of women are apparently still placed in this all-too-familiar prism with a glass top. Amusingly, this is also Stone and Carell's first film together since they played father and daughter in Crazy Stupid Love.
The movie also stars Andrea Riseborough, Alan Cumming, Sarah Silverman, and Elisabeth Shue. It is working from a screenplay by Simon Beaufoy (Slumdog Millionaire) and is helmed by Jonathan Dayton and Valerie Faris, who together directed Little Miss Sunshine.
Battle of the Sexes hits the theatrical court on Sept. 22.