News
Batman vs. Teenage Mutant Ninja Turtles Trailer and Release Date
There's a Batman vs. Teenage Mutant Ninja Turtles animated crossover movie in the works, and it looks amazing.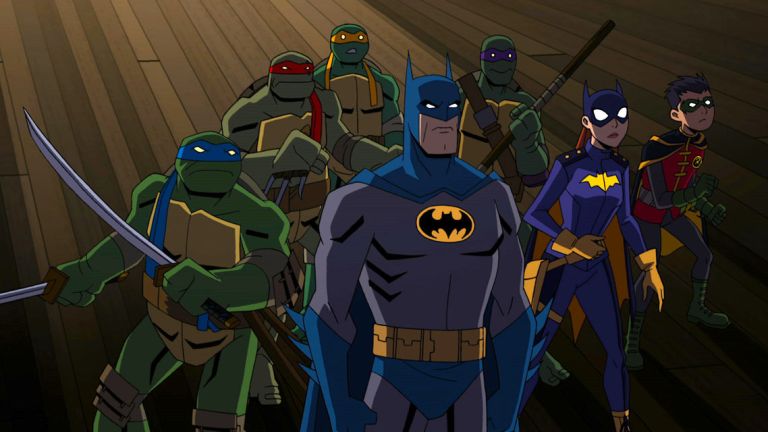 After three comic book crossovers, Batman and the Teenage Mutant Ninja Turtles will take their team up to the screen with a DTV animated movie called Batman vs. Teenage Mutant Ninja Turtles. The movie is expected to hit home video formats late in the spring.
And holy casting news Batman, we know who's going to be in it. Batman will be played by Troy Baker, who'll also be The Joker. The Turtles will be played by Eric Bauza (Leonardo), Baron Vaughn (Donatello), Darren Criss (Raphael), and Kyle Mooney (Michelangelo). The film will also feature a who's who of Batman villains, with Tara Strong as both Poison Ivy and Harley Quinn, Tom Kenny as Penguin, John DiMaggio as Mr. Freeze, Carlos Alazragui as Bane, and Cas Anvar as Ra's al Ghul. Jake Castorena directed from a script by Marly Halpern-Graser.
Here's the official synopsis:
"Batman vs. Teenage Mutant Ninja Turtles finds Gotham City reaching new levels of danger when Shredder joins forces with Ra's al Ghul to enact a nefarious plan – leading to the team-up of the Dark Knight and the Turtles to combat the combined might of the Foot Clan and League of Assassins!"
While the concept of bringing Batman together with the Teenage Mutant Ninja Turtles may seem a little wacky, the comic books were really good fun. If the team behind the movie can find a way to include the bit where Mikey climbs on the dinosaur in the Batcave then they're already ahead of the game. No word yet on who is directing this one, but DC and Warner Bros. recent slate of animated movies have produced a number of winners, including offbeat fare like Scooby-Doo! and Batman: The Brave and the Bold and the '60s-centric Batman: Return of the Caped Crusaders and Batman vs. Two-Face have all been great fun, so the odds are in this one's favor. 
Batman vs. Teenage Mutant Ninja Turtles Trailer
Check out the first trailer, which looks pretty much perfect…
Honestly, a Ra's al Ghul/Shredder team-up is just too natural, as is the idea of crossing over elements of Ace Chemicals and TCRI. 
Check out the opening scene from the movie, too!
While there are now a very healthy number of animated Batflicks, cartoon Ninja Turtles movies are rare (there's 2007's TMNT and 2009's Turtles Forever). To be honest, we hadn't anticipated having to tell you about another one so soon after last week's announcement of a Rise Of The Teenage Mutant Ninja Turtles film heading to Netflix. Not that we're complaining. We'll happily take any Ninja Turtles and Batman cartoons that Nickelodeon, DC, and Warner Brothers care to make.
Batman vs. Teenage Mutant Ninja Turtles Release DAte
Batman vs. Teenage Mutant Ninja Turtles arrives on digital on May 14 and Blu-ray and DVD on June 4. What a time to be alive!