News
Batman Solo Movie Confirms Joe Manganiello as Deathstroke
Joe Manganiello will play Deathstroke, and he's the villain of Ben Affleck's solo Batman movie.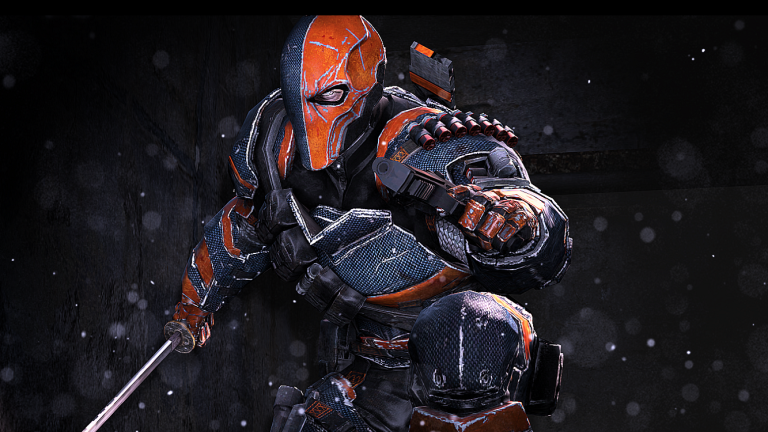 Slade Wilson, better known as Deathstroke, is the villain of the still untitled Batman solo movie.
A cryptic tweet from actor Ben Affleck was the first indication that Deathstroke was coming to the screen, although no additional details were revealed. The actor dropped a few seconds of test footage teasin Deathstroke's arrival to the DC Extended Universe.
Speaking with The Wall Street Journal, DC Entertainment president Geoff Johns confirmed that the test footage is indeed for Affleck's Batman movie, but more than that, it wasn't just an unnamed stuntman under the mask, but True Blood's Joe Manganiello, who has long been rumored for the role (there were initial reports he would make an appearance as Slade Wilson in Suicide Squad, but that never happened). Johns is co-writing the script for the Batman movie with Ben Affleck.
Take the Den of Geek 2016 Reader Survey for a Chance to Win a $100 Amazon Voucher Right Here!
Check out the test footage of Joe Manganiello as Deathstroke right here:
— Ben Affleck (@BenAffleck)
August 29, 2016
It shouldn't be so surprising to see DC include Deathstroke in its movie universe. After all, the world's greatest assassin has been a major player in both the comics and in the TV universe in the past few years. Deathstroke, played expertly by Manu Bennett, has certainly been the best villain Arrow has had in its four seasons so far. 
"The character of Slade Wilson is currently tied up in another DC project," said Arrow exec producer Marc Guggenheim back in February. "Another DC project" probably means another feature film. Besides that small tidbit, we haven't heard that much else about Deathstroke's future until now. 
A new comic book series starring the character also debuted this month, written by Christopher Priest, with art from Carlo Pagulayan. no accident that Deathstroke just had a new ongoing series launch, as DC Entertainment is always looking for synergy with its characters.
Deathstroke was created by Marv Wolfman and George Perez in 1980.
Affleck, of course, is the man currently wearing the Batsuit and is filming Justice League, which is due out on Nov. 17, 2017.