News
Batman and Harley Quinn Movie Coming to Theaters on August 14
You'll be able to see Batman and Harley Quinn in movie theaters before it's released anywhere else, thanks to Fathom Events!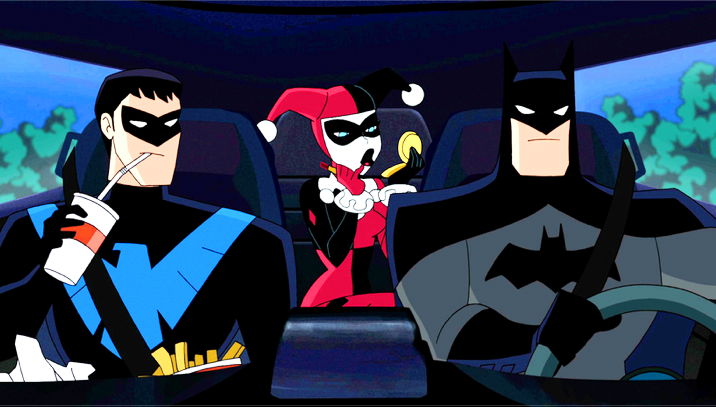 Love it or hate it, Harley Quinn was undoubtedly a highlight in last year's controversial Suicide Squad movie. And the character's growing popularity with fans is not lost on filmmakers. While Margot Robbie is now set to headline her own spinoff called Gotham Sirens, Warner Bros. Animation and DC Entertainment are hard at work to deliver fans an original animated movie, Batman and Harley Quinn.
The new direct-to-download film is based on an original story by DC animation legend Bruce Timm and looks to explore Batman's relationship with the nutcase formerly known as Dr. Harleen Quinzel. In the film, Batman and Nightwing begrudgingly team up and go on a road trip with Harley Quinn after Harley's erstwhile BFF Poison Ivy decides to save the planet by destroying most of human life on it with the Floronic Man. Harley is untrustworthy and annoying to boot for the Dark Knight, but she may also be his best hope at saving the world, and delivering a surprisingly comical adventure along the way.
On August 14 at 7:30 pm, a day before it's released on digital media and two full weeks before the Blu-ray release, you'll be able to catch Batman and Harley Quinn in theaters, thanks to Fathom Events (who also screened DC Universe animated movies Batman: The Killing Joke and Batman: Return of the Caped Crusaders). Attendees will also get a look at an exclusive featurette focusing on Harley Quinn.
Check out the trailer:
Batman and Harley Quinn is directed by Sam Liu of Batman: The Killing Joke from a teleplay by Timm and Jim Krieg (Justice League: Flashpoint Paradox). It also features the voices of the invaluable Kevin Conroy as Batman, Melissa Rauch (The Big Bang Theory) as the new voice of Harley Quinn, Loren Lester as Nightwing, Paget Brewster as Poison Ivy, and Michael Richardson as the Floronic Man.
Batman and Harley Quinn premieres on digital download on Aug. 15 and bows on Blu-ray and DVD on Aug. 29.