News
Batkid is Cancer-Free 5 Years After Saving the City
Miles Scott, a.k.a. Batkid, the leukemia-afflicted child who captured hearts around the world in 2013, is now cancer-free.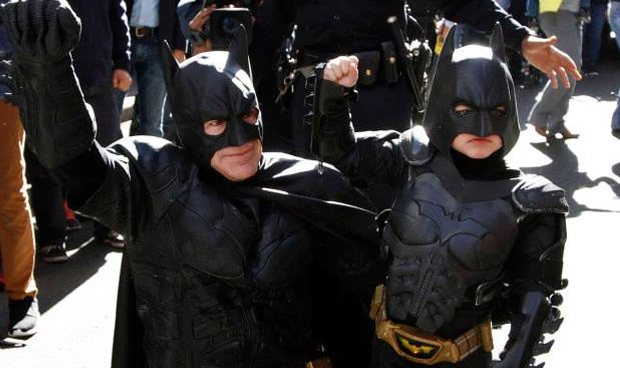 The crime-fighting marathon of the Batkid has – shocking as it may seem – just met the five-year mark. The inspirational event, put together by the Make-A-Wish Foundation, saw five-year-old leukemia patient Miles Scott become the hero that Gotham (well, San Francisco) deserves and needs right now, in a crusade witnessed in person by around 20,000 people and shared around the world, estimated to have generated 1.8 billion overall social impressions. Now, after half a decade, Miles is cancer-free.
For the fifth anniversary of the unforgettable 2013 event, Make-A-Wish provided an update on Miles that compounds the inspiration that he originally generated. The leukemia that he was battling at age 5 is, indeed, in remission, proving once again that Batkid – like a certain other Dark Knight – has an uncanny ability to overcome. Relaying news from Miles's mom, Natalie, Make-A-Wish explains:
"Many people ask us, 'How is Miles doing?' The answer is, he's doing great! Since his crime fighting day five years ago, Miles has returned to being a typical kid—playing little league, going to school, helping his family farm, and even selling his first market goat in the local fair! Now 10 years old and in fifth grade, Miles loves science and robotics. After fighting his own heroic battle with leukemia since he was a year old, Miles visits his oncologist once a year, and has been in remission from leukemia for the past five years."
The good news almost feels like the effect of the positivity generated on November 15, 2013, a date that simultaneously feels like yesterday and a lifetime ago. That day saw a meticulously-planned city scenario in which five-year-old Miles would don a Batman outfit and hit the streets of San Francisco in a marathon of vigilantism involving – amongst other things – foiling a bank robbery by the Riddler, defusing a bomb attached to a train-tracks-tied damsel and rescuing San Francisco Giants mascot Lou Seal from the fiendish flippers of the Penguin.
The event was witnessed by an increasing number of onlookers who chanted "Batkid! Batkid! Batkid!" after the wish's social media buildup, culminating in a ceremony in which Miles…err, Batkid, received the key to the city and inspired adulation from myriad followers, notably with a video message from then-president Barack Obama. The festivities would also be chronicled for posterity on film with director Dana Nachman's heartwarming 2015 documentary, Batkid Begins.
Fortunately, this rare positive story from the collective media has yielded an even more positive outcome. It's also a reminder of the health battles that people fight every day, especially when considering how leukemia recently reentered the news cycle after it struck a famous wrestling star in WWE Universal Champion Roman Reigns, forcing him to relinquish his title and go on hiatus to battle a recurrence of the disease.
Indeed, the San Francisco Chronicle's famous mock headline, "Batkid Saves City," remains as true as it was five years ago.
Joseph Baxter is a contributor for Den of Geek and Syfy Wire. You can find his work here. Follow him on Twitter @josbaxter.