News
Back To The Future trilogy on Blu-ray this year
Set your Blu-ray player for 88 — the Back To The Future movies are on their way…
You'll have to forgive the indulgence on my part, but given that the Back To The Future films are my favourite movie trilogy, this was a story I couldn't let pass.
Over at The Digital Bits, the fine folks there have been digging into the authenticity of a Spanish sales sheet (which had first appeared at ZonaDVD), which had been promoting the arrival of the Back To The Future Trilogy on Blu-ray. The sheet suggested a release in July 2010 for the set, which would cover five discs (so there's more material going on there than there was with the DVD release, you'd think), and would include an exclusive short film, Jaws 19 in 3D (which was, of course, the movie that was playing in Back To The Future Part II).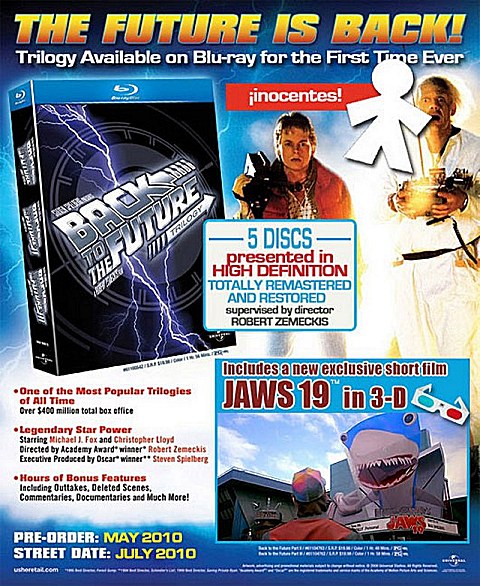 What The Digital Bits has discovered is that, contrary to what some have suggested, this is the real deal. The site had long been reporting the word that the trilogy was coming to high definition and that it would probably be in 2010 – given that (eek) that marks the 25th anniversary of the first film – and it's now confirmed that's the case. The July release slot is less certain, but you can read the site's report here.
Looks like I picked the wrong year to quit buying new versions of films I already own….