News
Back to the Future Cast Reunite at Convention
The photos of a reunited Back to the Future main cast at a Boston convention should give fans the feels.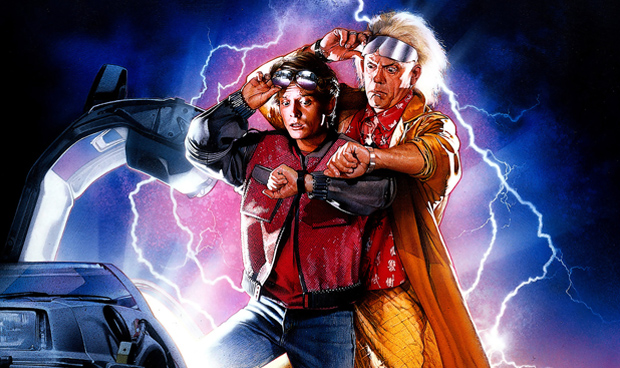 The main cast members of the Back to the Future Trilogy gave lucky Bostonians a rare treat this past weekend at the FAN EXPO convention. A quartet of the time-travelling trilogy primary players made an appearance together at the con to pose for photos, sign autographs and serve up enough electric nostalgia to provide the necessary 1.21 gigawatts to power the proverbial Flux Capacitor.
Marty McFly himself (Michael J. Fox), Doctor Emmett Brown (Christopher Lloyd), Lorraine Baines-McFly (Lea Thompson) and Biff/Griff/Buford Tannen (Thomas F. Wilson) appeared on Friday, reunited over 33 years after 1985's Back to the Future hit theaters to ultra-lucrative, genre-defining success. The back-to-back-shot sequels, Back to the Future Part II and Back to the Future Part III, were released in 1989 and 1990 respectively. Fox states "Back in 2018, even Biff made it," with Wilson saying, "Wow. This just happened." Additionally, Thompson describes the moment as "Four old friends get back from the future" and Lloyd lauds, "This was special."
Fox, Lloyd, Thompson and Wilson posted snaps of the assembled cast members on their Instagrams, showcasing a delightful reunion. However, one might interject that it's not a complete Back to the Future reunion, since it lacks the presence of the ever-eccentric actor, Crispin Glover, who played George McFly in the first film. Such an addition would have been a tall order, since Glover famously fell out with director Robert Zemeckis over unique creative differences, resulting in Jeffrey Weissman playing the role of George (the 2015 and 1955 versions,) in Part II behind a heavy layer of prosthetics taken from Glover's face from the first film.
Back to the Future, despite being one of the most popular film franchises from the heyday of the 1980s, has managed to remain dormant in the reboot/remake epoch of the industry; the result of the recalcitrance of the creative duo, director/writer Robert Zemeckis and writer Bob Gale, with the former having famously vowed that a reboot won't happen until they're both dead. Consequently, any one of the rare instances in which the cast get together – be it for an event or convention – is something that needs to be appreciated.
Fortunately, fans in Toronto will get to witness a similar reunion, since the same lineup is scheduled to do it again at FAN EXPO Canada on Friday, August 31.
Read the latest Den of Geek Special Edition Magazine Here!