Features
Awards snubs and the Golden Raspberry nominations
Have the Golden Raspberries become as predictable as the Oscars? Mark looks over this year's nominations...
The beginning of the year in movies is typically dominated by awards season, and with this week's announcement of the Academy Award nominations on both sides of the pond, (the BAFTAs on Wednesday and the Oscars on Thursday) there's no shortage of articles about apparently egregious snubs. Only eight BAFTA nominations for Skyfall? No Best Picture nomination for The Impossible? Like a song by Journey, it goes on and on and on and on.
It's less frequent that you see people complaining about the snubs at the Golden Raspberry Awards, (or Razzies) the cheekily counter-programmed ceremony that names and shames the worst films of the previous year. If you're unfamiliar, you might remember Sandra Bullock's crazy weekend in 2009, where she pulled off the impressive feat of winning the Razzie for Worst Actress and the Oscar for Best Actress, for All About Steve and The Blind Side within 24 hours of each other.
It only added to her immense likeability that she duly collected both, and accepted the Razzie in person with good humour and a palette truck full of All About Steve DVDs for the guests in attendance. Bullock's acceptance of the gong would be a notable exception – the Razzies obviously aren't as prestigious or attractive to the nominated celebrities as, say, the Oscars.
Traditionally, the Golden Raspberry Award Foundation announces their nominations the day before the Academy of Motion Picture Arts and Sciences reveals their more positive alternatives, and gives out their awards on the day before the actual Oscar ceremony. It's all in good fun, but looking at the nominations of recent years, it could be argued that it's all become a little predictable.
Adam Sandler broke records last year by garnering 11 nominations. This basically amounted to the GRAF finding reasons to nominate him in every single category. It wasn't like he didn't give them fair reason, and his Jack And Jill actually went on to win every single award of the night, but most of us already knew better than to see that movie. In the running for this year's gongs, That's My Boy picked up another eight nods for Sandler, but then most of us were sensible enough to avoid that one, too.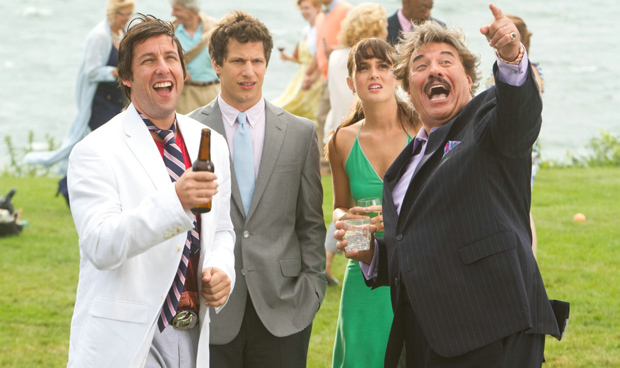 Likewise, the Twilight saga has been a fixture of the Razzie ballot for the last few years, and has frequently deserved the drubbing. Personally though, I wish we lived in a world where Breaking Dawn Part 2 was even close to being one of the ten worst films of 2012. At least with the end of the saga, next year's nominations will have to be a little more varied.
This list is as subjective as any reaction to awards 'snubs', but I don't see how Breaking Dawn Part 2, (which wouldn't win any new fans, but still holds more surprises than any of its predecessors) was worse than the likes of Wrath Of The Titans, House At The End Of The Street, Underworld: Awakening, or The Watch. Out of all of those, we only saw a Worst Supporting Actor nomination for Liam Neeson, joint between Wrath and Battleship, and his involvement in each of those movies was as small as possible while still cashing a pay-cheque for his work.
Not to say that the list is mean-spirited, as much as it's obvious. Discourse has been stacked against the underrated John Carter all year, but the GRAF didn't give it a kicking. Hell, if the GRAF paid attention to films all over the world, they might have stumbled upon the frighteningly localised time capsule of vapid celebrity shite that was Keith Lemon: The Film – anyone who's sat through that film will testify that Breaking Dawn Part 2 ain't all bad.
But just think: what is the purpose of a movie awards ceremony? Whether positive or negative, it's to cast light upon cinematic highlights of the last year in cinema. Look at recent Best Picture winners at the Oscars: The Hurt Locker and The Artist are not movies that would have found such large audiences if they hadn't been so bally-hooed during awards season.
The nominations for Breaking Dawn Part 2 actually do uphold this purpose for the Golden Raspberries, irrespective of how predictable they've become; the worst I would ever say about the final Twilight film is that it was so bad, it's good, and if these nominations convince anyone to watch and enjoy the bonkers final battle, or Michael Sheen's gloriously camp performance, then there's a point to bringing it up so frequently in this ballot.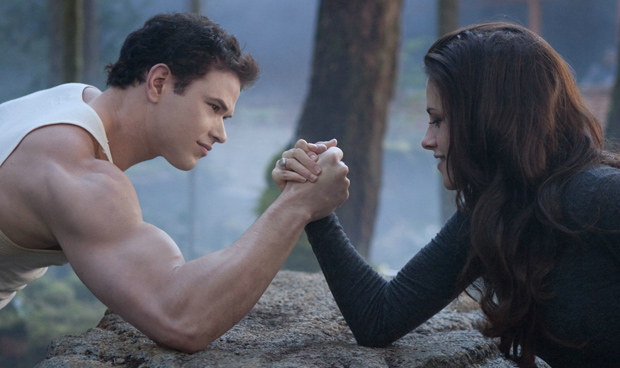 On the other hand, you let us know in the comments, if you saw That's My Boy in the cinema, or if you didn't already know that Adam Sandler's comedies have long since aimed for the lowest common denominator. We all knew that film would be bad – what film can pull back from the colossal misjudgement of basing a comedy movie on a statutory rape scene? And to this writer, at least, there is no bad movie worse than a bad comedy.
Nicolas Cage seems to get nominated for everything he does, too, and sure enough, for his work in both Ghost Rider: Spirit Of Vengeance and Seeking Justice, (released in the UK in 2011 as Justice) he's gleaned his annual Worst Actor nomination. At least Cage giving a poor show usually brings some entertainment, as in the already infamous "scraping at the do-hooor!" interrogation scene from Ghost Rider. The film may not be worth checking out, but you can still have some laughs at that scene.
One of the chosen nominees for Worst Picture, The Oogieloves In The Big Balloon Adventure, only seems to have made the list because it's already gathering support as a cult classic. The box office flop was an 'interactive film' aimed at very young children, which inexplicably features cameos from Cary Elwes and Chazz Palminteri. From all I've heard about its surreal awfulness, this is actually the kind of bad film I'd be morbidly curious about seeing, and the kind of bad that the Razzies would do better to highlight.
It even feels like the whole thing would be just a bit more fun if they went after the bad elements of films that weren't necessarily awful. In our news piece on the announcement, we mentioned Fifield and Milburn from Prometheus, (one got lost in structures he was supposed to be mapping, and the other didn't understand personal boundaries with evil-looking space cobras) for Worst Couple. Divisive as it was, Prometheus certainly doesn't rank amongst the worst films of the year, but Fifield and Milburn were just crap: that's the kind of oversight we're talking about.
If it's all in good fun, it's hardly like the awards have some cathartic punishment value for making crap. Sandler has 'won' year after year; like most of the dubious victors, he doesn't attend the ceremony to pick up his awards, nor does he straighten up and fly right with his subsequent career choices. It's just as subjective as the Oscars or the Golden Globes, with Sandler's Happy Madison being the Razzies' answer to the gold-scooping Weinstein Company.
It may well be that Breaking Dawn Part 2 pulls off the stinky equivalent of The Return Of The King's 2003 awards sweep, seeing as how its franchise has been nominated almost every year and not yet won anything. But when the anti-Oscars become just as predictable as its strait-laced counterpart, some of the fun has been sucked out of it.