News
Avatar Sequels Cast Visit Pandora in Disney Theme Park
The young newcomers set to appear in Avatar 2 and its follow-up films visit a Disney park attraction to prep for their roles.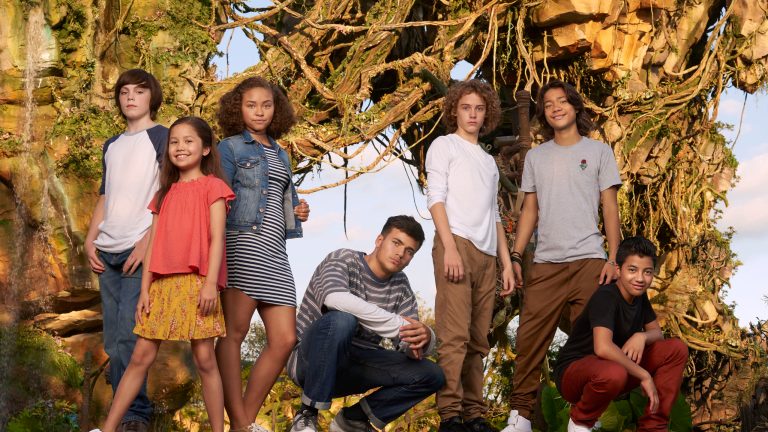 As Avatar 2 prepares to kick off an unprecedentedly ambitious game plan for four successively-filmed franchise sequel movies, a bit of cross-promotional synergy with Disney's Animal Kingdom park attraction Pandora – The World of Avatar provides us with a new look at the gaggle of young "next generation" actors who were recently announced for the cast.
Pandora – The World of Avatar, which opened back on May 27 at Disney's Animal Kingdom at Walt Disney World in Bay Lake, Florida, is certainly an awesomely ephemeral representation of the 2009 film that, in its sheer grandiosity, stands as a stark (perhaps much-needed) reminder of the world's all-time highest-grossing movie with its $2.787 billion global gross, especially as director James Cameron's sequel plans start to come to fruition. However, the video shows the touted team of newcomers set to join the Avatar film franchise – Jamie Flatters, Britain Dalton, Trinity Bliss, Bailey Bass, Filip Geljo, Duane Evans Jr. and Jack Champion – taking a VIP tour of the attraction, guided by Avatar movie producer Jon Landau.
Perhaps serving as advertising fodder for The World of Avatar attraction, the child stars are seen taking in the surreal sights, filled with real-life-representing scenery taken directly from the film, with its fantastical fauna, bioluminescent rainforests amidst stunning vistas, coupled with the familiar lab settings. However, the visit was also an educational field trip of sorts, since the young cast will be joining a production that will intrinsically challenge their nascent acting chops, since most, if not all, of the acting will be performed in front of blue screens; a daunting demand, since it forces the actors to imagine sprawling, surreal scenery in a sterile setting.
The young stars' roles break down as such:
Sully Family
Jamie Flatters plays Neteyam (neh-tay'-ahm) Jake and Neytiri's firstborn son.
Britain Dalton plays Lo'ak (loh' ahk). He is the second child.
Trinity Bliss plays Tuktirey: (took-tee'-ray), or, "Tuk" (rhymes with "nuke"). She is the youngest Sully sibling.
Metkayina Clan
Bailey Bass plays Tsireya (see-ray'-ah), or,  "Reya." She's described as "a graceful and strong free-diver – the young Neytiri of the ocean."
Filip Geljo plays Aonung (aw-nung'). He is a young male hunter and free-diver son the Olo'eyktan.
Duane Evans Jr. plays Rotxo (row'-txoh). He is a young male hunter and free-diver of the Metkayina.
Hell's Gate
Jack Champion plays Javier "Spider" Socorro. He's a human teenager who was born at Hell's Gate (the human colonial facility), but feels more at home hanging around the Pandorian rain forests.
Indeed, based on the nature of the young actors' characters, The World of Avatar experience will serve as necessary tactile and visual stimuli for their imminent onscreen performances in Avatar 2 and, presumably, beyond.
Avatar 2 is scheduled to arrive on December 18, 2020. It will be followed up with Avatar 3 on December 17, 2021, Avatar 4 on December 20, 2024 and the grand finale of Avatar 5 on December 19, 2025.
Read the full Den of Geek NYCC Special Edition Magazine right here!