News
Artemis Fowl Movie: Release Date, Trailer, Cast, Director
Everything you need to know about the Artemis Fowl movie adaptation from Kenneth Branagh...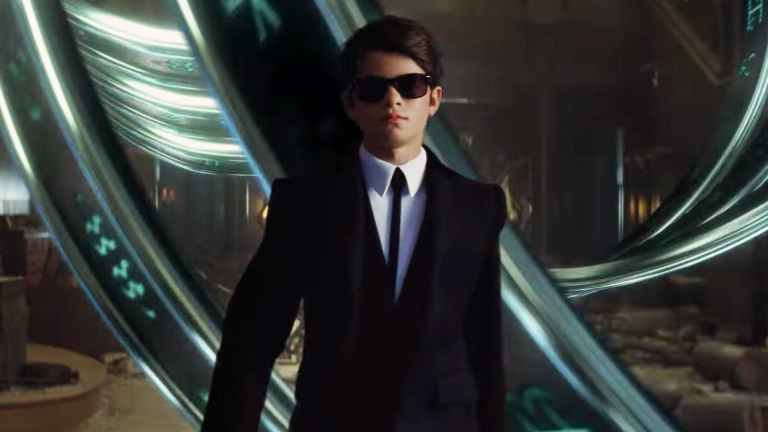 It's been more than a decade since the Artemis Fowl fantasy book series about a boy billionaire genius who also happens to be a criminal mastermind was published and inspired talk of a movie.
Now, the film adaptation of Eoin Colfer's bestselling children's book series is finally happening. The Tracking Board reports that Kenneth Branagh, fresh off of his success with Disney's live action Cinderella, is directing the film.
Could the Artemis Fowl film finally be happening? Yep! We even have a teaser trailer! Here's everything we know…
Artemis Fowl Movie Release Date
Artemis Fowl was originally slated for an August 2019 release date, but with Disney's acquisition of Fox, they've moved quite a few release dates announced. Artemis Fowl is among the Disney/Fox films getting a new ones. The movie will now premiere on May 29, 2020.
Artemis Fowl Movie Trailer
The first teaser trailer released for the film reminds readers of just how ambitious this world is, though doesn't give us much insight into how the character of Artemis Fowl himself will be adapted for the film. Artemis begins the series as a straight up anti-hero, callously preparing to rob the hidden world of the fairies.
Artemis Fowl Movie Cast
Relative newcomer Ferdia Shaw has been cast in the title role in the Artemis Fowl movie. Joining young Shaw will be Dame Judi Dench (Commander Root), Josh Gad (Mulch Diggums), Lara McDonnell (Captain Holly Shore), and Nonso Anozie (Artemis' bodyguard Domovoi Butler).
read more: Best New Science Fiction Books
In other news, Irish playwright Conor McPherson will be writing the script for the adaptation of the best-selling middle grade novel.
Artemis Fowl Story
Here is the fullest synopsis for the new Kenneth Branagh movie to date.
Disney's "Artemis Fowl," based on the beloved book by Eoin Colfer, is a fantastical, spellbinding adventure that follows the journey of 12-year-old genius Artemis Fowl, a descendant of a long line of criminal masterminds, as he seeks to find his father who has mysteriously disappeared. With the help of his loyal protector Butler, Artemis sets out to find him, and in doing so uncovers an ancient underground civilization—the amazingly advanced world of fairies. Deducing that his father's disappearance is somehow connected to the secretive, reclusive fairy world, cunning Artemis concocts a dangerous plan—so dangerous that he ultimately finds himself in a perilous war of wits with the all-powerful fairies.
Artemis Fowl Movie Production History
Long before the anti-hero craze hit mainstream TV drama, Artemis Fowl was making immoral decisions and trying to leverage innocent bystanders for money, power, or to rescue family members in this series of middle grade novels.
Artemis is like a cross between Gotham's Bruce Wayne, James Bond, and pretty much every supervillain worth their salt. Throw in some high-tech gadgetry and a secret magical underworld policed by fairies and you've got the perfect ingredients for a blockbuster film adaptation — which is why it's so surprising that this movie adaptation hasn't progressed further in the last decade.
The Artemis Fowl films have been in development hell for the last 14 years. To put that in context, Harvey Weinstein bought the rights in 2001 through Miramax Films (which was later purchased by Disney) — aka the same year the first Harry Potter film was released and studios started selling their first borns to find the next big YA/children's book film adaptation.
read more: Join the Den of Geek Book Club!
Over the years, directors like Lawrence Guterman and Jim Sheridan have been attached to the Artemis Fowl film. But, in 2013, the latter left the project and Disney announced that they would be producing a version of the film with the Weinstein Co., with Robert De Niro and Jane Rosenthal as executive producers.
Personally, I'm overjoyed to see this film adaptation move forward, especially with the right writer. Though Branagh has proven himself a highly competent director, the Cinderella script was a bit thin. Snarky Artemis Fowl needs a writer up to the task of quippy one-liners and balancing the fine line between child anti-hero and lonely kid with too much money and not enough family members.
Kayti Burt is a staff editor covering books, TV, movies, and fan culture at Den of Geek. Read more of her work here or follow her on Twitter @kaytiburt.