News
Arnold Schwarzenegger zombie movie starts shooting
Arnold Schwarzenegger and Abigail Breslin start work on Maggie, a new zombie feature...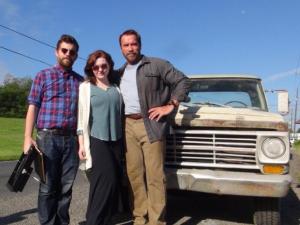 With Escape Plan, co-starring Sylvester Stallone, heading into cinemas in Novembers, and with Sabotage (nee Ten) and The Expendables 3 already lined up for 2014, Arnold Schwarzenegger has been a bit of a busy man.
Next year, he's expected to take a sizeable role in the new Terminator movie, which is being directed by Alan Taylor for a 2015 release. But before that, there's another project he's sneaking in. The man himself has confirmed on his Twitter feed that shooting has now begun on Maggie, a movie in which he co-stars with Abigail Breslin.
Directed by Henry Hobson (who's previously worked as a titles designer on the likes of The Lone Ranger, The Hangover Part II and the mighty Rango), the movie sees Breslin play a teen girl who becomes infected by a zombie. Her family – including Schwarzenegger – then have to try to come to terms with her slow transformation.
Maggie is expected to be released towards the end of next year.