News
Army of the Dead: Cast and News for Netflix Zombie Movie
Dawn of the Dead and Justice League director Zack Snyder is making his big return with another zombie movie, Army of the Dead!
Zack Snyder, the director who first cut his teeth on the zombie genre with 2004's Dawn of the Dead remake, is helming a new undead nightmare for Netflix. The movie is called Army of the Dead, a project that's been in gestation for more than a decade.
Originally conceived as a sequel to Dawn of the Dead by Snyder and screenwriter Joby Harold (Awake), the film is set in a quarantined Las Vegas during a zombie outbreak. Amid the chaos, a father hires a group of mercenaries to help him break into the containment area and find his missing daughter. 
The movie sat in the Warner Bros. vault for more than ten years until Netflix found the project and negotiated the rights, effectively bringing Snyder's zombie action movie back from the dead. For the director, this means going back to his roots, and as he describes it, there are "no handcuffs on me at all" at Netflix. In fact, after spending years on the superhero movie hamster wheel with Watchmen, Man of Steel, Batman v Superman: Dawn of Justice, and Justice League, Snyder sounds relieved to be able to work on something other than a licensed product.
"I love to honor canon and the works of art," Snyder said to THR, "but this is the opportunity to find a purely joyful way to express myself through a genre. It will be the most kick-ass, self-aware — but not in a wink-to-the-camera way — balls-to-the-wall zombie freakshow that anyone has ever seen. No one's ever let me completely loose [like this]."
The film will feature an updated script written by Snyder and Shay Hatten. Here's your first look at the show's principal cast as shared on Twitter by Zack Snyder: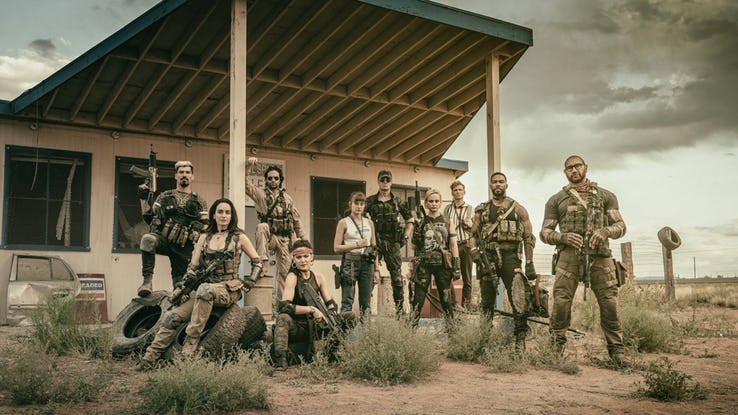 Here's everything else we know about Army of the Dead:
Army of the Dead Cast
The cast of Army of the Dead has been rounded out. The sizable influx of cast members, reported via THR, consists of the following:
Hiroyuki Sanada (Westworld, The Last Ship), Omari Hardwick (Power, Kick-Ass), Chris D'Elia (You, The Good Doctor), Garret Dillahunt (Fear the Walking Dead, The Gifted), Raúl Castillo (Vida, Atypical), Nora Arnezeder (Origin, Mozart in the Jungle, Matthias Schweighöfer (You Are Wanted, The Command), Samantha Win (Wonder Woman, Mortal Kombat: Legacy) and Rich Cetrone (Sleepy Hollow, Man of Steel).
They join the following previously cast actors:
Dave Bautista (Guardians of the Galaxy) has been cast in the role of the movie's protagonist dad who's trying to save his daughter during a zombie outbreak.
Ella Purnell plays his daughter Kate, according to The Wrap. Rounding out the cast are Ana De La Reguera (Goliath), Theo Rossi (Luke Cage) and Huma Qureshi (Kaala).
Ana de la Reguera (Power, Goliath), Theo Rossi (Luke Cage, Sons of Anarchy) and Humesh Quereshi, an Indian film actress of films like Badlapur, Dedh Ishqiya, are also onboard.
Army of the Dead Release Date
Army of the Dead doesn't have a release date as of yet.
Production commenced on Monday, July 15, starting in Albuquerque, NM, later set to shift over to Atlantic City, NJ, set to shoot in a casino. The film is working with a budget that could reach up to $70 million, according to Deadline, with Zack and Deborah Snyder and Wesley Coller producing. Consequently, it's safe to say we won't see this zombie flick until 2020 at the earliest. 
John Saavedra is an associate editor at Den of Geek. Read more of his work here. Follow him on Twitter @johnsjr9.