News
Arachnophobia Reboot Developing with James Wan Producing
Steven Spielberg's Amblin is in talks to join with James Wan's Atomic Monster for an Arachnophobia reboot. Better get some bug spray.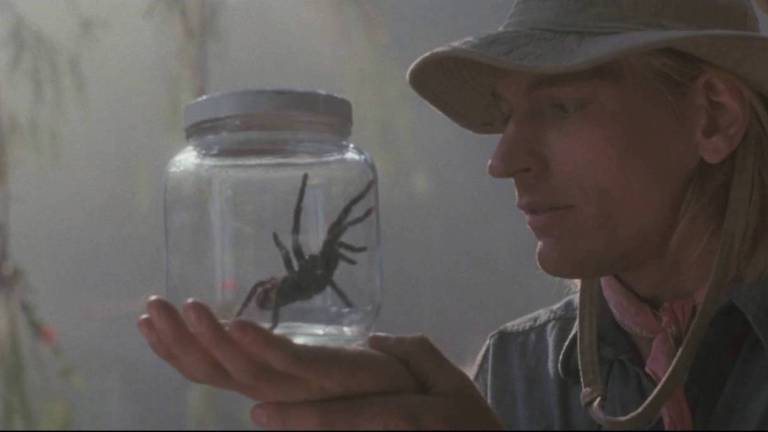 To be quite honest, even after decades of movies with computer-generated horror, and ghosts going bump in the night, nothing unnerves this writer more than seeing a spider crawling on the wall beside his bed (or the thought of one doing so while asleep). Like sharks during beach season, it's a primal fear to dread something tiny yet potentially devastatingly poisonous—such lurid nightmares are also quite lucrative too. Hence Amblin having success with Arachnophobia in 1990. The original horror-comedy was a success for the Steven Spielberg production company and his frequent producer Frank Marshall (who directed the spidery picture). So why not in 2019 or 2020?
Hence word from Deadline that early talks have begun between Amblin and James Wan's production company, Atomic Monster, to bring the kitschy intellectual property out of the cobwebs in the attic. The news likewise reveals that while Wan will not direct the picture, he will produce and shepherd it. This is not that surprising considering that while he is still best known for being a populist horror director, having recently helmed both The Conjuring and The Conjuring 2 for Warner Bros., he is currently finishing up Aquaman. The latter is a new superhero movie set in the mercurial DC Extended Universe, but which he has directed intriguingly as an old fashioned adventure movie. In fact, if early buzz is accurate, it could be a lot like something Amblin might've made back in the day….
This also would follow in Wan's successful track record as a horror producer after movies like Lights Out and Annabelle.
Arachnophobia was of course the strange mixture of laughs and scares that followed what happened when a scientist brought a new species of highly poisonous and fast-breeding arachnid from the Amazonian rainforest to the American heartland in California. With creepy-crawlies running amok, a town is destroyed and Jeff Daniels and John Goodman got to ham it up, at least until the latter's on-screen exterminator got exterminated.