Reviews
Appleseed Ex Machina DVD review
James checks out an adequate - but not dazzling - sequel to the 2004 manga opus...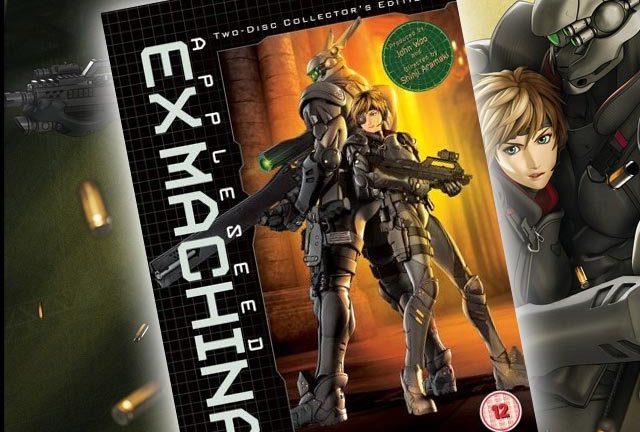 Masamune Shirow has enjoyed massive success off the back of his wildly popular "Ghost in the Shell" franchise, so it's only natural that people would want to go back to his other work and try and replicate that success with another property. The latest attempt at doing so is Appleseed, a reinvention of Shirow's late-80s buddy-cop manga about a female policewoman, Deunan, and her cyborg partner, Briareos, which was turned into an anime film in 1988 and then re-imagined as a CG-animated direct-to-DVD feature in 2004. Appleseed Ex Machina is the sequel to that film.
One of the largest and most immediate problems with this release is the voice track. It's not terribe, per se – the English audio does lack any environmental effects, meaning that speech at a birthday party sounds the same as speech in a car or speech on top of a tall building, but the acting is solid and only one character has anything like the horrible dubbing most anime is subjected to. Even so, the release completely lacks a Japanese voice track. It's an astonishing oversight. Not to get into the "Dubs versus Subs" argument here, but shouldn't the choice be down to the viewer? I wouldn't hesitate to call this an unforgivable omission for an import film.
Aside from that – well, it's not a bad movie. It's mostly action-based, and takes itself very seriously. There's not much in the way of comic relief in this film, though one of the characters does appear to be played by Europop survivor, Robyn, which kept me amused throughout the film. The big problem, really, is lack of depth. There's a fairly generic plot, based around zombifying brain implants, but you can see it coming a mile off.
Inter-personal tension comes from the introduction of Tereus, a new ESWAT member who inhabits a clone of Briareos' long-destroyed human body, and who finds himself drawn to Deunan. Seeing their mutual attraction, Briareos wonders if he shouldn't back off and let someone who isn't a cyborg get close to Deunan. Unfortunately, despite the potential philosophical implications of that, unlike Shirow's other popular work, Ghost in the Shell, Appleseed Ex Machina has no philosophical spine that can take that story to the next level, and it ends up as little more than a standard, if futuristic, love triangle.
With that in mind, it's probably a good movie for young teenagers – the advanced CGI on display means that the action is amazing-looking, and the plot is an order of magnitude beyond Good vs. Evil simplicity, even if there isn't much to it beyond that. It deals with a lot of futuristic concepts like cloning and cyborg augmentation that are bound to please any sci-fi junkie, and the film stands up fine even if you haven't seen the first one (though it's left fairly ambiguous as to whether Deunen and Briareos) are supposed to be formally romantically involved or not.
The DVD package is fairly standard, though there's a nice commentary which is fairly interesting, even if it does seem largely designed to play up John Woo's involvement as producer, even though that doesn't really add any extra credibility to the film. There are a couple of smaller feature documentaries too, but nothing that's going to justify buying it if you're not a big fan of the movie. Even so, there's not a huge amount that could've gone into it, and certainly the trouble of recording a commentary at all should be commended, as a lazier release could've easily omitted it.
If you liked the first Appleseed, Ex Machina will certainly satisfy you by being a substantial improvement in terms of pacing and look, but ultimately I wouldn't recommend it as an essential purchase for everyone.
Feature:
Extras:
Appleseed Ex Machina is released on June 2nd