News
Apostle Trailer and Release Date for Thriller from The Raid's Gareth Evans
Legion's Dan Stevens stars in The Raid director Gareth Evans's dark Netflix thriller, Apostle.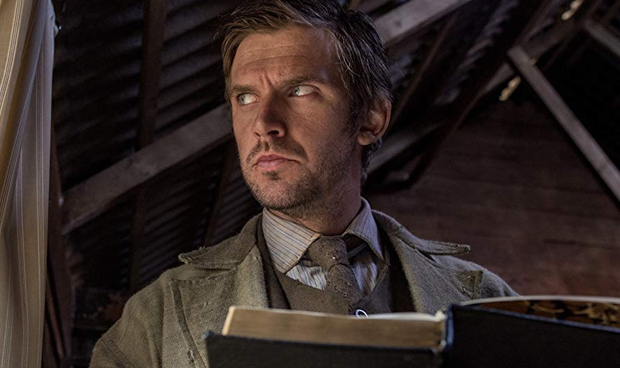 Gareth Evans, director of the intensity-imbued action cult classic, The Raid: Redemption, is tackling a period thriller for Netflix that's filled with revenge-fueled rampages, called Apostle.
Legion star Dan Stevens tops the Netflix marquee for Apostle, fielding a dark thriller set in the early 20th century depicting the daring rescue of his character's sister, who has been abducted by a religious cult; a rescue that, given the involvement of Gareth Evans, will likely be an elaborately choreographed intense small screen cinematic spectacle. Indeed, Evans is onboard as director and writer.
Apostle Trailer
The Apostle trailer has arrived, depicting Dan Stevens investigating a colossal cauldron of crazy in the form of an island-isolated religious cult who's holding his sister for ransom. We see Masters of Sex's Michael Sheen play the group's leader, embracing a different form on therapy, nabbing unwilling patients for impromptu trepanations with a rusty hand drill… when his ilk isn't branding people or tying them to burning crosses. However, it wouldn't be a Gareth Evans movie if there wasn't at least a little bit of chop-socky combat, and, indeed, we see a moment in which Stevens picks up a stick and unleashes fury on some the glazed-eyed zealots.
Apostle Release Date
Apostle is set to premiere on Netflix on October 12.
Here's the official synopsis:
London, 1905. Prodigal son Thomas Richardson (Dan Stevens) has returned home, only to learn that his sister is being held for ransom by a religious cult. Determined to get her back at any cost, Thomas travels to the idyllic island where the cult lives under the leadership of the charismatic Prophet Malcolm (Michael Sheen). As Thomas infiltrates the island's community, he learns that the corruption of mainland society that they claim to reject has infested the cult's ranks nonetheless – and uncovers a secret far more evil than he could have imagined. Written and directed by Gareth Evans (THE RAID), APOSTLE is a harrowing occult fable where the only thing more horrifying than madness is the sinister reality behind it.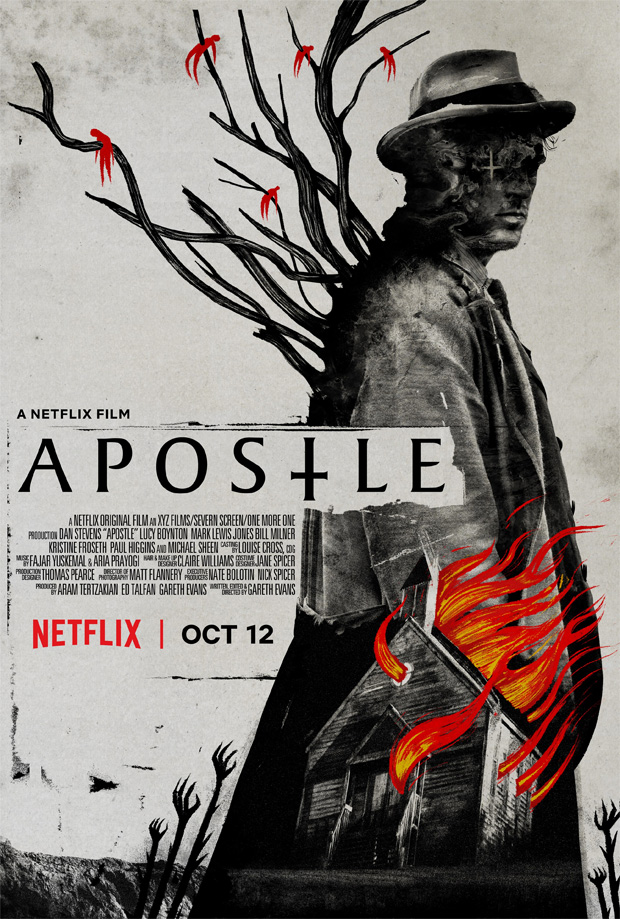 Apostle Details
Apostle will be headlined by Dan Stevens, star of FX's Legion. The English actor came to prominence on television's Downton Abbey before transitioning to prominent film roles, notably as the dangerous titular character of 2014's The Guest and as Sir Lancelot in 2014's Night at the Museum 3. He famously played the Beast, opposite Emma Watson's Belle, in the live-action Beauty and the Beast film, also fielding roles in Marshall, The Man Who Invented Christmas (as Charles Dickens) and will join Natalie Portman, Jon Hamm and Zazie Beetz in director Noah Hawley's astronaut love triangle drama Pale Blue Dot.
further reading: Gareth Evans and the Influences of Apostle
Stevens is joined in the Apostle cast by Michael Sheen (Masters of Sex), Lucy Boynton (Murder on the Orient Express), Mark Lewis Jones (Star Wars: The Last Jedi), Bill Milner (iBoy), Elen Rhys (The Bastard Executioner), Kristine Froseth (Rebel in the Rye) and Annes Elwy (Electric Dreams).
While Apostle resides in director/writer Gareth Evans's action wheelhouse, the film seems to be a nuanced update to his action/thriller repertoire. Evans arrived on the scene with the 2006 torture/revenge thriller Footsteps, followed by 2011's The Raid, 2013's found-footage horror sequel V/H/S/2 and 2014's sequel The Raid 2. His current docket consists of a mystery actioner called Blister and he's rumored to be in the running for Warner's mooted DCEU spinoff movie Deathstroke, which – should it move forward – would star Joe Manganiello, who was supposed to debut the character in director Matt Reeves's Ben Affleck-starring The Batman, the status of which is now up in the air.
Joseph Baxter is a contributor for Den of Geek and Syfy Wire. You can find his work here. Follow him on Twitter @josbaxter.