News
Anton Yelchin Documentary Trailer & Release Date
Check out the trailer for the upcoming documentary celebrating the life and art of actor Anton Yelchin.
The trailer just dropped for Love, Antosha, a documentary that celebrates the life and work of actor Anton Yelchin, who died unexpectedly in a freak accident at the age of 27 years old in 2016.
Despite dying at a young age, Yelchin, who was born in Russia and moved to the U.S. when he was only six months old, had a vibrant career. He started acting professionally when he was only nine years old, starring in films and TV shows alongside actors some of western film's most celebrated actors. He was perhaps particularly known for his role as Chekov in the Star Trek reboot films, as well as for his work in Like, Crazy, alongside Felicity Jones, and Green Room, alongside Patrick Stewart.
The documentary, which was begun by Yelchin's parents, Viktor Yelchin and Irina Korina, and directed by Garret Price, includes interviews with many of Yelchin's colleagues and friends, including Chris Pine, John Cho, J.J. Abrams, Jennifer Lawrence, and Kristen Stewart.
The film is not meant to be a simplistic glorification of Yelchin's life, but rather a complex look at Yelchin as a human and artist. The movie uses his journals, writings, music, and photography to explore Yelchin's perspective and life.
"Credit to his parents, they were very upfront and said we want to give you complete autonomy to tell the story. There was no pressure to deify Anton for an hour and a half," Price told the Salt Lake Tribune. "I'd done documentaries where estates have been involved and challenges present themselves to showing the subject in the best light. But this humanizes him and makes him relatable."
"The challenge of a story like this is it ultimately ends in tragedy but I didn't want to make a tragic story," Price added. "I wanted to make an inspiring story."
Check out the Love, Antosha trailer below…
Here's the official synopsis for Love, Antosha:
From a prolific career in film and television, Anton Yelchin left an indelible legacy as an actor. Through his journals and other writings, his photography, the original music he wrote, and interviews with his family, friends, and colleagues, this film looks not just at Anton's impressive career, but at a broader portrait of the man. Born in the former Soviet Union to a family of artists, Anton and his parents came to the U.S. when he was six months old. He started acting at nine. He had a genuine curiosity and love for people, for art, and for family. And a willingness to explore, and be open with, the darker parts of himself. Love, Antosha explores his successes and his struggles, and let's viewers get to know this extraordinary person the world was cheated from seeing grow old.
Love, Antosha opens in L.A. on August 2nd and in New York on August 9th.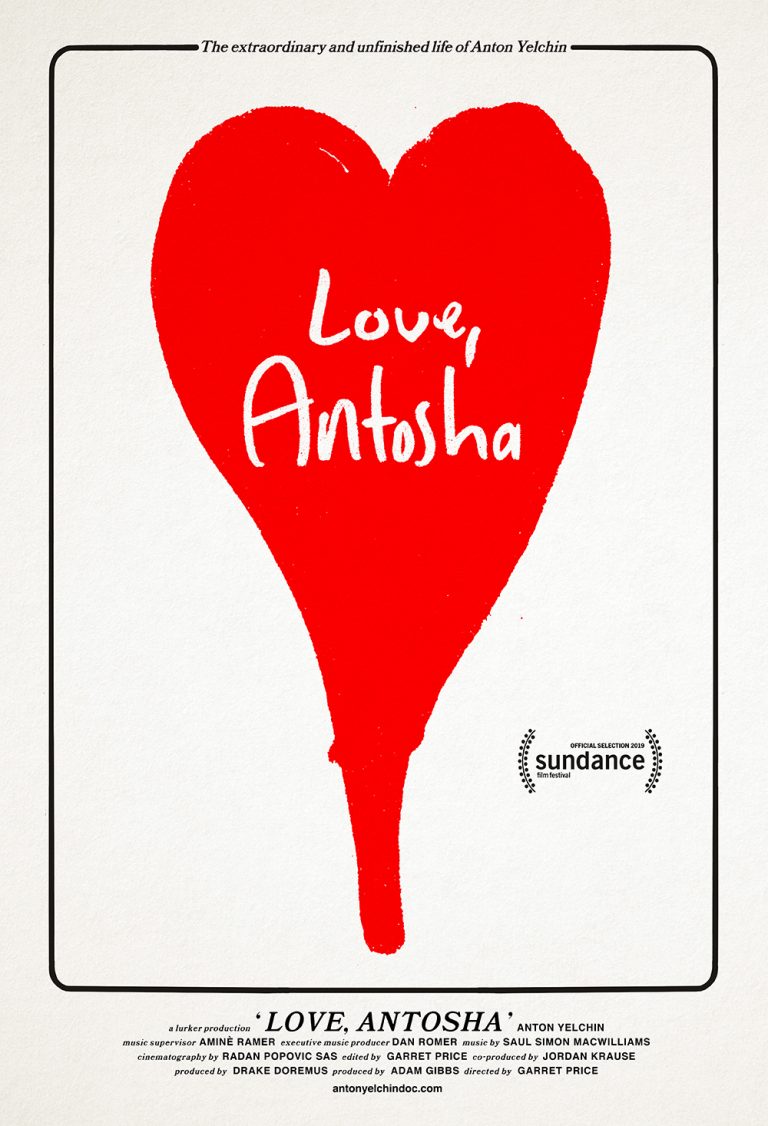 Kayti Burt is a staff editor covering books, TV, movies, and fan culture at Den of Geek. Read more of her work here or follow her on Twitter @kaytiburt.