News
Ant-Man and the Wasp Ending Explained
Wondering what that Ant-Man and the Wasp ending was all about?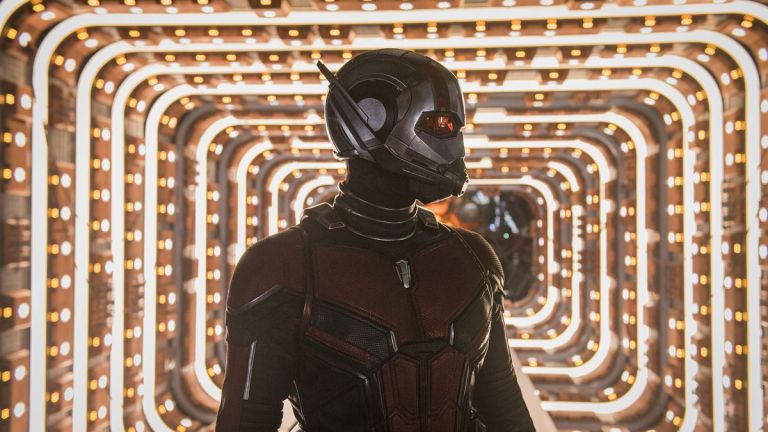 Warning – this article contains massive Ant-Man and the Wasp spoilers.
Ant-Man and the Wasp has been billed as a self-contained adventure in the Marvel Cinematic Universe, and to a large extent it is. That includes the film's ending, which wraps up the story fairly neatly but does leave a couple of aspects to be considered (that's not including the much more provocative mid-credits scene, which we will address in a separate article).
Essentially, the last act of Ant-Man and the Wasp is a race: both Ghost (Hannah John-Kamen) and black market tech dealer Sonny Burch (Walton Goggins) are attempting to steal Hank Pym's (Michael Douglas) lab from Pym, his daughter Hope Van Dyne/The Wasp (Evangeline Lilly) and their reluctant partner Scott Lang/Ant-Man (Paul Rudd). It helps that the lab has been shrunk down to the size of a small suitcase and can be easily snatched.
Meanwhile, in the lab itself, Hank journeys in a special craft into the Quantum Realm, where a signal sent via Scott has led him to believe he can retrieve his wife Janet Van Dyne (Michelle Pfeiffer), who has been lost for 30 years in that mysterious subatomic universe. But the window in which Janet can be found is closing fast, and Hank has to get out of there — hopefully with Janet – before it does.
Happily, the film ends with Janet retrieved, the lab safely returned to its rightful owners and Sonny Burch under arrest. Scott also avoids being caught out of his home during the last few hours of his house arrest and becomes a free man, while his crew's new business, X-Con Security, lands a major client that saves them from going under.
Most interestingly, Ghost's phase-shifting, which was caused by an accident in her father's lab and is slowly killing her, is reversed by Janet, who has come back from the Quantum Realm with strange new powers that she uses to begin aiding Ghost/Ava.
This is perhaps the most intriguing aspect of the ending because we only glimpse Janet's new abilities — referred to as Quantum Healing Energy — at the end of the film, but it seems as if they could play a significant role in the MCU.
Exactly what Janet Van Dyne has become, and how her newfound powers will manifest themselves, remains to be seen, whether in Avengers 4 or a third Ant-Man movie. 
Ant-Man and the Wasp is out in theaters now.