News
Anon Trailer: Clive Owen and Amanda Seyfried Netflix Sci-Fi Film
Gattaca director Andrew Niccol has a new sci-fi movie headed for Netflix, called Anon, starring Amanda Seyfried and Clive Owen.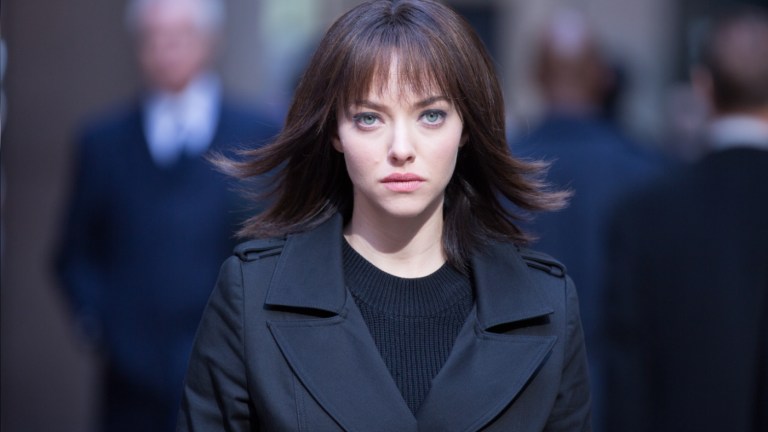 Anon, the upcoming Netflix film by writer/director Andrew Niccol, is a promising offering. If Niccol's name doesn't sound familiar, then he's the filmmaker behind The Truman Show (which he wrote) and the wonderful Gattaca – a film we absolutely do not go on about at tedious length whenever we get the chance. 
Like Gattaca and In Time, Anon is set in the near future. Clive Owen plays a detective who meets an unidentifiable woman played by Amanda Seyfried – unusual, given that technological advances mean that every detail of human existence is recorded in a database called The Mind's Eye.
Anon Trailer
The Anon trailer showcases enough technological, augmented reality-based, nightmares to ensure that no one will want to play Pokémon GO ever again.
Indeed, the near-future technology-driven dystopia that Niccol depicts here centers on the aforementioned Mind's Eye database, a system that has not only abolished the concept of anonymity, but essentially obliterated the concept of privacy altogether. Consequently, Detective Sal Frieland (Owen), who's investigating some odd murders, starts to experience reality-altering concepts – possibly attributed to a compromise in the system – such as objects that randomly appear and disappear, flickering stairs, trains, as well as a room full of rats. However, the truth behind his (presumably technological) delusions may rest with a young woman (Seyfried) who keeps appearing to him, who, in a rare instance, has no digital footprint whatsoever, revealed to be a fixer and master hacker (or "editor").
Anon Release Date
Anon will arrive on Netflix on May 4.
Here's the poster…
Anon Details
If you're into that sort of thing, here's a full synopsis, straight from Sky Cinema – the studio bankrolling Niccol's latest opus:
In a modern world where advanced biosyn implants mean everyone is subjected to a relentless visual stream of information they call the 'Mind's Eye', privacy and anonymity as we know it has vanished. With everyone's personal information on public display and each person's life recorded down to the millisecond, personal information is downloaded to a vast grid called 'The Ether', a database which law enforcement can access and use to prosecute criminals.

In ANON, Sal Frieland (Clive Owen), is faced with a series of shocking murders which appear to be linked.  Unable to identify the killers it soon becomes apparent that what they have in common signals a major breakdown in the system on which society has come to rely.

As he delves into the case, Frieland encounters a woman seemingly with no identity (Amanda Seyfried). Something he initially assumes is a minor glitch becomes the first clue that security of 'The Mind's Eye' has been compromised, sending Frieland off on a mission to find a someone who effectively doesn't exist before they kill again. 
Not all of Niccol's films strike box-office gold, but there's always something interesting going on in them. In Time wasn't in Gattaca's league, but it still made for a diverting sci-fi twist on Bonnie And Clyde. The writer-director's most decent film, Good Kill, was a quite underrated thriller about drone warfare – Ethan Hawke's leading performance alone made it good value.
Call us biased, but we rather like the sound of that. Anon hits UK and Irish cinemas, as well as Sky Cinema, on the 11th May. There'll surely be a trailer coming down the pike soon, so we'll pass that along when we get it.