News
Animated family films trailer roundup
They may not keep the kiddies calm this summer, but here are a few of the animated family flicks for the rest of the year and beyond...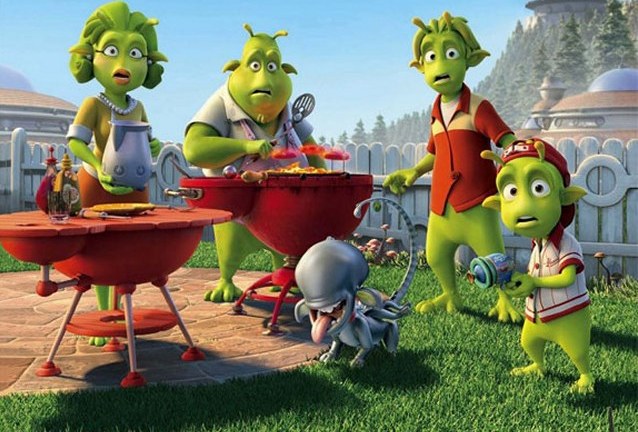 If you're scrambling to locate those missing Jenga logs and scrubbing sticky smeared substances off of DVD discs prepping for the kids' summer vacation, the following clips may be some sort of small comfort.
We've rounded up a few reminders that, despite the offerings of the last month or so, Hollywood's not all rom-com, bro-mance or big booming spectacle and gunfire choruses. The G-Force guinea pigs and pals patter into theatres at the end of July (you'll find that trailer here), but what's next?
Well, there are a few things in the works for the Mini Yous and Mes that at least guarantees you'll have more of a selection to add to the family fare disc collection for future summers.
We can't promise Coraline or Up quality, of course, but these upcoming animated films include some A-list acting talent: Neil Patrick Harris, Bruce Campbell and James Caan in Cloudy, Gary Oldman and John Cleese bigging up Planet 51, and Steve Carell and Will Arnett on voice duty for Despicable Me.
Have a look at the lastest trailers and their anticipated release dates.
You could always use the promise of future cinema trips as rewards for good conduct over the next few weeks – but new parents, be careful. Most kids have better recall on promises made than an elephant with a PDA complete with scheduling software. So use caution with your behavioural bargaining…
Cloudy With A Chance Of Meatballs (18 September 2009 UK and US)
Planet 51 (29 November US, 4 December UK)
Despicable Me (9 July 2010 US, 15 October 2010 UK)
Also due in October this year in the UK, and November in the States, is Roald Dahl's Fantastic Mr. Fox, a stop-motion animation film with the voice talents of George Clooney, Meryl Streep, Michael Gambon and Bill Murray. We'll be sure to bring you the trailer as soon as one surfaces.
Both shores will close out the year with Alvin And The Chipmunks: The Squeakquel in December and Disney's hand drawn fairy tale reworking of The Princess And The Frog (see the teaser video here) in the US, which hops to our shores in February 2010. Understandable. The Atlantic's big. That's a lot of hops.