News
Angel Has Fallen: New Trailer Arrives
Gerard Butler's Mike Banning is falsely-accused and on the run in the explosive Olympus threequel, Angel Has Fallen.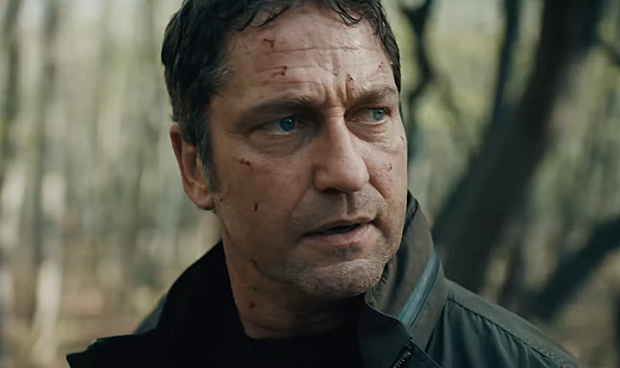 Angel Has Fallen will continue to prove that Gerard Butler's Secret Service agent, Mike Banning, officially has the worst luck ever when it comes to his security details. Seriously, how many calamities can one bodyguard stop?
Interestingly, the film franchise launched with 2013's Olympus Has Fallen, would fall short in its sequel, 2016's London Has Fallen, (critically at least – it still did a fair amount of cash at the box office). However, like its protagonist, Banning, the franchise keeps kicking, still bearing the "Fallen" branding. The threequel will see another director turnover, this time placed in the hands of Ric Roman Waugh.
Angel Has Fallen Trailer
A new trailer for this blockbuster action threequel has arrived! Watch it below:
And here's the first trailer:
Angel Has Fallen Release Date
Angel Has Fallen will arrive at theaters on August 23.
Angel Has Fallen Details
As the official synopsis for Angel Has Fallen reads:
When there is an assassination attempt on U.S. President Allan Trumbull (Morgan Freeman), his trusted confidant, Secret Service Agent Mike Banning (Gerard Butler), is wrongfully accused and taken into custody. After escaping from capture, he becomes a man on the run and must evade his own agency and outsmart the FBI in order to find the real threat to the President. Desperate to uncover the truth, Banning turns to unlikely allies to help clear his name, keep his family from harm and save the country from imminent danger.
Ric Roman Waugh stepped in as director for Angel Has Fallen, working off a screenplay by returning franchise scribes Creighton Rothenberger and Katrin Benedikt.
Waugh, a veteran stunt coordinator who served on an array of iconic films dating back to the 1980s, eventually made a transition to directing, making a notable impression with a trio of prison-themed crime dramas with 2008's Stephen Dorff-starring Felon, 2013's Dwayne Johnson-starring Snitch, culminating with the 2017 film-festival-fave Shot Caller, which sees Game of Thrones star Nikolaj Coster-Waldau as an innocuous family man who, after spending time in prison, evolves into a deadly gang leader.  
Waugh completes a tripartite of helmers for the Fallen film franchise after Antoine Fuqua handled 2013's Olympus Has Fallen and Babak Najafi took the reins for 2016's London Has Fallen. Additionally, star Gerard Butler is producing Angel Has Fallen with partner Alan Siegel through their G-BASE company, joined by Danielle Robinson, Josh Thompson, Matt O'Toole and Les Weldon. Avi Lerner, Trevor Short and Boaz Davidson are onboard as executive producers.
Angel Has Fallen Cast
Gerard Butler is set to return as the perennial John McClane of Secret Service agents, Mike Banning, presumably readying another raucous executive branch rescue. The Angel Has Fallen title would seemingly suggest that the target of the terrorist attack in the film this time will be the President's plane, Air Force One ("Angel" being its codename). And that also suggests that it's long past time we dug out our DVD of Air Force One.
He is joined in the cast by Morgan Freeman, Jada Pinkett Smith, Lance Reddick, Tim Blake Nelson, Piper Perabo, with Nick Nolte and Danny Huston.
Aaron Eckhart, however, will not be returning for his franchise role as the embattled President Benjamin Asher; a bit of news that we revealed exclusively back in October 2016. Thus, should "Angel" makes its titular fall, it won't be President Asher who takes the header this time, but, rather, his successor, Morgan Freeman's Allan Trumbull. Indeed, there's only so many times a particular Commander-in-Chief can be abducted by terrorists and blown up before he makes the saner decision to cash out.
Joseph Baxter is a contributor for Den of Geek and Syfy Wire. You can find his work here. Follow him on Twitter @josbaxter.