News
Analyzing the James Bond: SPECTRE Trailer
The first teaser trailer for James Bond 24 has been released, but what did it tell us about the upcoming movie, SPECTRE?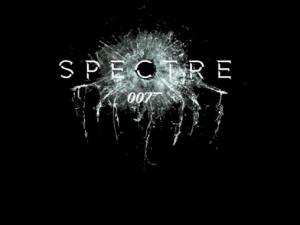 After letting the sky fall when it crum-balled to the tune of a billion dollars at the global box office, SPECTRE may be the most anticipated James Bond movie since the last one. Daniel Craig's fourth feature as 007 won't arrive in UK cinemas until October, but the response to the teaser trailer released over the weekend has been very positive.
Four is hardly a magic number for Bond actors. Sean Connery's fourth outing was the less-than-stellar Thunderball, Roger Moore's was the all-too-interstellar Moonraker and Pierce Brosnan closed out his four-movie tenure with the infamously poor Die Another Day.
That makes Craig the fourth actor to rack up four turns as Bond, and if you're superstitious about this sort of thing, maybe that's why this looks to be the combo breaker. Teasers seldom give us much to go on, but with nothing in the way of action scenes to show off, it's a good sign that returning director Sam Mendes can still build this much suspense with snippets of dialogue and out-of-context shots.
Assuming that most of us haven't been searching for spoilers and leaks about story details, this is the most exposure we've had from the film so far. So, what did we learn from the first 97 seconds of footage from SPECTRE?
The sky has fallen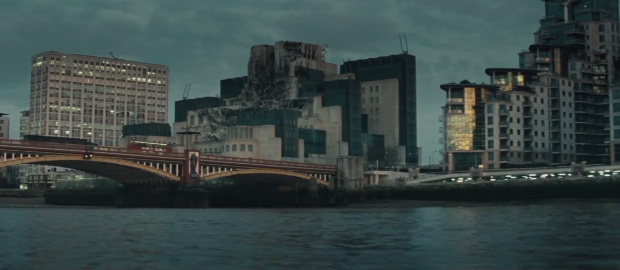 More than any other era before him, Daniel Craig's tenure as Bond has been characterised by running storylines and inter-connected threads. Although Skyfall was a clean break from the Vesper-iffic twosome of Casino Royale and Quantum Of Solace, this one immediately looks like it will pick up some of the remaining pieces from the previous instalment.
For starters, there's the brilliant opening image of the ruined MI6 building, which apparently hasn't been rebuilt since Raoul Silva blew it up in his revenge scheme against Judi Dench's M. It's a stirring image that immediately reminds us of where MI6 and the 00 section stood in Skyfall – outmoded in a modern Britain and ostensibly fit to be torn down.
On a more personal front, Bond is given a box of personal effects retrieved from the titular estate by Moneypenny. She calls him out on having a secret that he's not sharing with anyone and from what we see of the contents of the box, it relates back to his childhood, and a charred photo of a man with a young Bond and another, unseen child.
Clearly, the creative team aren't done probing Bond's backstory after the finale of the previous film, and this may be just one of the ways in which we can expect the film to pick up where Skyfall left off. But then they really don't seem shy about raiding the continuity of the Craig films.
Quantum leap
When Jesper Christensen revealed he would reprise the role of Mr. White in SPECTRE, he was seen to have let the cat out of the bag by some commentators. He hadn't been announced as part of the returning cast at the big press conference in December, after all. But here he is, front and centre in the teaser trailer, looking much worse for wear than when we last saw him in Quantum Of Solace.
The more pressing thread left dangling from the less well regarded 2008 film was the omni-presence of an organisation called Quantum, of which Mr. White and arch-baddie Dominic Greene had been members, pulling the strings to destabilise global relations. The classic Bond movies used to have an organisation like that too, called, er… SPECTRE!
Once again, it appears that Mr. White will be slightly condescending about what's really going on in Baddie-land, although we don't think Bond is the one who roughed him up here and he certainly doesn't look best pleased to see the ring with SPECTRE's octopus insignia. Maybe Mendes is planning to retcon Quantum into the rebooted version of SPECTRE (whose acronym stands for SPecial Executive for Counter-intelligence, Terrorism, Revenge and Extortion, fact fans!)
As many have observed on Twitter over the weekend, Christensen's delivery of the line "You're a kite dancing in a hurricane" sounds like Mr White might have called Bond something extremely rude, but just in case you need clarification, he definitely says "kite".
Hello, ladies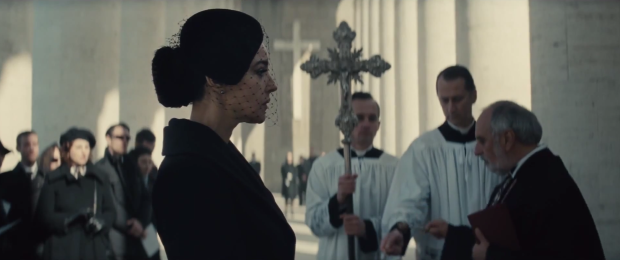 We're familiar with Mr White and Moneypenny from previous instalments, but it's notable that the only new character we really get a proper look at in this teaser is Lucia Sciarra, played by Monica Bellucci. Bond appears to encounter her at a funeral service, where she's dressed all in black and a widow's veil.
Much has been made of Bellucci's status as the oldest 'Bond girl' in the series' history, but given the lack of Lea Seydoux's Madeleine Swann in this trailer, it's not yet clear if Lucia is the woman who is usually unceremoniously fridged early on in the plot (see: Caterina Murino, Gemma Arterton or Bérénice Marlohe) or the lead female love interest who'll make it at least as far as the climax (see: Eva Green, Olga Kurylenko, or… er Judi Dench.)
Principal photography is still underway on SPECTRE, so the lack of Seydoux's character in this teaser doesn't necessarily suggest anything either way. We know that Andrew Scott and Dave Bautista play important roles too and they don't appear here either. But given the pattern that's emerged with female roles in the rebooted Bond films, it would be nice if they bucked the trend.
Hoyte van Hoytema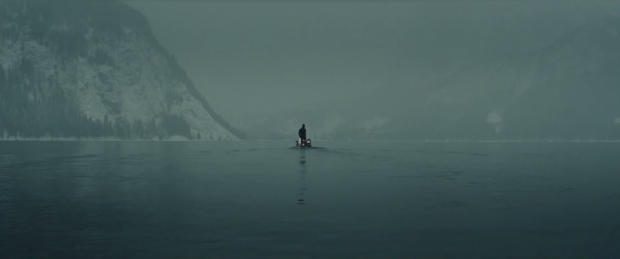 We knew that cinematographer Hoyte van Hoytema (Tinker Tailor Soldier Spy, Interstellar) was stepping into Roger Deakins' sizeable shoes on this installment of the series, so this doesn't count as something we've learned. But it's worth mentioning because SPECTRE, like Skyfall, looks bloody gorgeous so far.
The most beautiful shot in the trailer is pictured above, as Bond skims across a fjord, through mist and snow, apparently on his way to Mr White's remote hideout. It's the kind of stuff that will look breathtaking on a big screen, with Thomas Newman's score, and more than enough reason for the recently announced IMAX release.
Skyfall was nominated for an Oscar for Best Cinematography, a first for the franchise – can SPECTRE make it two in a row?
Head of the table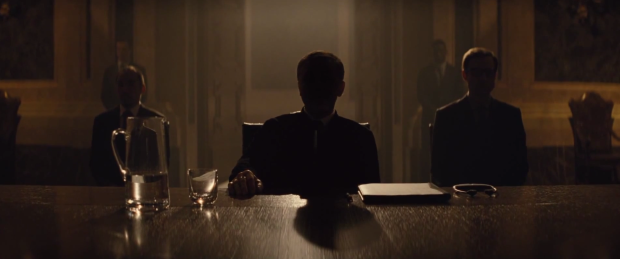 The teaser culminates in a big reveal. Well, a reveal that's proportionate to a teaser trailer anyway. You can only just make out that it's him, but it's backed up by that unmistakable voice, so that every 007 fan gets to pinch themselves and squee as we realise we're really getting Christoph Waltz as a Bond villain. As with our first look at Javier Bardem's Silva in the superb Skyfall teaser, Waltz is silhouetted in the darkness here, rather than exposed for the money shot.
Waltz was announced in December as playing a character called Oberhauser, a character who features in Ian Fleming's Octopussy, as an Austrian climbing and skiing instructor who formed a strong paternal relationship with Bond after the death of his parents. In the short story, we mostly find out about him in flashback, after Oberhauser was murdered by a British officer that Bond is investigating.
If this is really who Waltz is playing, we assume it will be a heavily re-negotiated version of that character, integrating the history with Bond into a more developed antagonist. Frankly, most discerning fans have twigged that Christoph Waltz might be playing Oberhauser in the same way as Benedict Cumberbatch played John Harrison in Star Trek Into Darkness.
His position at the head of the table at the end of this teaser, cloaked in shadow, would certainly point towards a more iconic villain. And if Waltz really is playing one Ernst Stavro Blofeld, as many have guessed, it's an inexpressible fanboy thrill to see him gathering fellow bastards around a table, which will only be magnified if Mendes reclaims some of the booby traps spoofed so well in Austin Powers.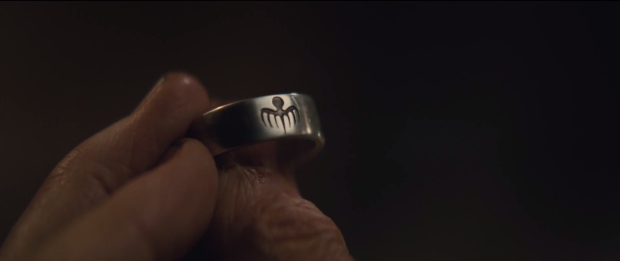 That just about covers what we've learned from our first glimpse of SPECTRE and there are plenty of questions left to be answered here. What will we learn about Bond's past? Is Christoph Waltz really playing who we think he's playing? Is Sam Smith really doing the theme song for this one?
But a teaser should leave us with questions, and as teasers go, this is another belter from a franchise that's older than the very idea of a franchise, that has really nailed the mystique of marketing in the last couple of instalments.