News
An evening with Dolph Lundgren
Duncan enjoys an evening with movie man-mountain Dolph Lundgren, in which the actor spoke at length about his career and movie roles...
The man himself, Dolph Lundgren, recently came back to the UK to promote the forthcoming release of The Expendables on Blu-ray and DVD, and we caught up with him for an in-depth interview (which will be published closer to the disc launch), but were also fortunate enough to be invited along to An Evening With Dolph Lundgren.
For those of you curious to know what the evening entailed (as I was before it started), there was a group of Dolph fans assembled in the London Film Museum for a 20 minute Q&A lead by Empire magazine's Chris Hewitt, followed by another 20 minutes of audience questions, finishing with a signing and photo opportunity.
All this took place in the museum's historic debating chamber, a round room which felt like a more regal version of the House of Commons. Only in the centre of it sat Dolph Lundgren on what can only be described as a throne. Very surreal, but equally, fantastic.
He was startlingly honest as he ran through his early life and career, proving to be (as I'd started to become aware earlier that day) incredibly funny and charming. If he won over his (mostly) male geek fans with an openness to talk about everything from A View To A Kill to The Expendables 2, he also proved equally adept at being such an alluring physical presence, that the female members of the audience (including my fiancé) became somewhat… infatuated. I, for example, failed to notice, as she did, "his incredible thighs", but that's the beauty of cross appeal.
Dolph started the evening by explaining that his native Sweden has finally forgiven him for a faux pas he made decades ago at the start of his career, when he was asked if he wanted to conduct the interview in English or Swedish. He chose the former, which apparently didn't go down very well. He joked about how they thought he must've forgotten Swedish after only making two American movies, by behaving like an arrogant "asshole."
He made no attempt to cover up his involvement in presenting Eurovision (Melodifestivalen), in which he sang the Elvis song A Little Less Conversation dressed in a tux, played a drum solo, before smashing blocks of wood and ice…
It's a clip that has officially been my 'happy place' for several months. He even sang the title for us, while explaining that presenting made him more nervous than any film, as he had to memorise every contestant's name in front of a live audience of 10,000 people.
When asked about his involvement in The Expendables, he explained how he'd stayed in touch with Stallone over the years, but hadn't seen him much until they had fun meeting up for the premiere of Rocky Balboa.
Lundgren was then sent the Expendables script, and was sold on it after only reading two pages. He stated that "Stallone has a very special style of writing" while drawing attention to the fact that Stallone is also incredibly funny in person, which most people don't really know.
On reading his character of Gunner Jensen, realised he was a "psychotic drunk" and thought "I can do that…" In fact, he made several references to liking an alcoholic beverage, or two. Who can imagine what a night on the tiles with Dolph Lundgren would be like? The mind boggles.
Chris Hewitt asked if Jensen was all there in the script to begin with, and Dolph replied that he was, for the most part, and that it always seemed like Jensen, Micky Rourke's Tool and Stallone's Ross were the original team. Though in one version of the script Gunner was actually shown taking drugs, but it was taken out for being "a little too much."
It was mentioned later that perhaps there'd be a place for him to exploit his real life scientific expertise in a future Expendables film, A-Team style, if they were trapped in a tight spot and needed the skills that only he possessed to escape. Fingers crossed…
Talk turned to the gruelling training routine that he and Sly undertook for Rocky IV, humorously stating it was no doubt similar to Chris Hewitt's daily workout "looking at your legs" (which were feeble in comparison to Dolph's). That was before laughing and pointing out he was "just kidding", at the same time giving Hewitt's leg a squeeze, to which Hewitt simply replied "ouch!"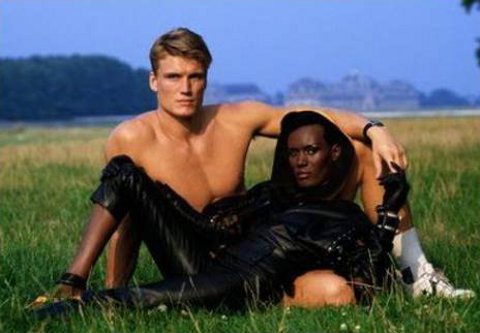 On getting his break in A View To A Kill, he candidly said how he'd been working security at a concert for "stunning" 80s diva Grace Jones, who "saw this young, innocent Swedish blonde and thought hmmm…" and he "ended up becoming her… well, toyboy." He'd then been on set with her (as Jones played Bond villainess May Day) and during a scene with Christopher Walken was spotted and asked to fill in.
"You wanna be in the movie?" they asked him, then "take this gun, stand here, hit this mark," and that was that.
He also told an anecdote about the mighty Christopher Walken, and how everyone had heard all these great things about Walken's acting, particularly on stage, yet when Walken was rehearsing all people saw was a man quietly mumbling to himself in the corner.
The actor about to the play a scene with him started to question how well it would turn out, but when the cameras rolled Walken exploded into one of his onscreen rants and the opposing actor literally "staggered" back and "forgot all his lines!"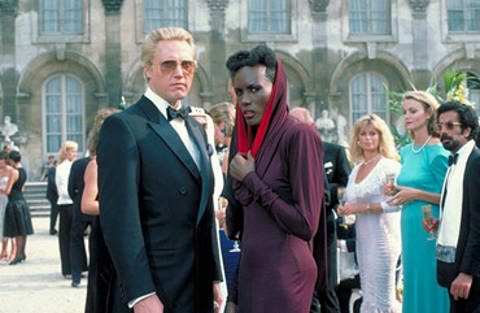 Dolph discussed his early acting lessons, mentioned his Albright MIT scholarship, but when asked if he'd tried to avoid typecasting after Ivan Drago said "I didn't really know what I was doing… I just tried to meet as many girls as I could!"
When asked what the experience of working on Masters Of The Universe was like, he dryly retorted "It was cold, because my costume was the size of a watch strap!" He gave more detail about how he spent night after night, running around the streets in the middle of winter with hardly anything on, and that Masters held the record at one point for the greatest number of night shoots in a film.
He also pointed out that back in the 80s it was weird to be playing a toy, in comparison to now, when the likes of Transformers are huge blockbusters. Who could've imagined that the future would contain the words "Steven Spielberg presents Transformers"?
"People would've laughed back then," he said.
When audience questions opened up, someone asked him if there was more mileage in Dark Angel (aka I Come In Peace), a question I'd put to him earlier in the day, to which he replied "That's funny… I've heard that three times today…" So I take pride in being one of those three, as it's a perfect property to revisit (especially as its other star, Brian Benben has aged equally well). You can read his response in the full interview to follow.
As the evening drew to an end and the queueing for a photograph and autograph commenced, there was an incredible feeling of respect for the man, whose presence and star quality was still very much alive, so it's yet another reason to celebrate The Expendables for giving him the chance to break heads on the big screen again.
A big thanks to Lionsgate for setting up such a novel and entertaining event, and for giving the fan in me a chance to get an autograph and picture without looking unprofessional – as I approached the signing desk he looked up, recognised me and said "Hey man! How's it going?"
There was a very brief chat, he thanked me again for earlier, and for a few brief seconds I felt indescribably cool. Plus, as I stumbled away, in a very uncool manner, I was asked "Did he just call you He-Man?"The Expendables is released on Blu-ray and DVD on 13 December 2010. Yay!