News
Amazon Hanna TV Series Release Date, Trailer, Cast, and More
Amazon's serial adaptation of the 2011 actioner, Hanna, will reunite The Killing stars Joel Kinnaman and Mireille Enos.
Hanna, the stylish 2011 action film, which elevated the career of Saoirse Ronan, is set to be adapted as a TV series by Amazon Prime. Interestingly enough, the series will also serve as a reunion platform for two of its announced main players in Joel Kinnaman and Mireille Enos, who co-starred on the 2011-2014 AMC-later-Netflix murder-mystery series, The Killing. 
The Hanna TV series will essentially adapt the story of director Joe Wright's 2011 film, centering on the titular character (Ronan), a teenage girl who spent her entire life detached from civilization, raised to be a ruthlessly efficient fighting machine in rural Finland by her father, Erik (Eric Bana), until they attract the attention of Marissa Wiegler (Cate Blanchett), a relentless C.I.A. agent with a vendetta, who wants to kill Erik and covet Hannah for sinister purposes. Likewise, the Amazon series will see the character dynamic replicated in a longer serialized form.
Hanna Release Date
Like Amazon's Jack Ryan and Homecoming before it, Hanna will debut all of its eight episodes at once. Hanna Season 1 debuts on March 29 on Amazon Prime. 
further reading: Jack Ryan Season 2: Everything You Need to Know
Hanna Trailer
You know you think you're sick of movie and TV trailers featuring weird, moody covers of popular songs…but then you hear what the Hanna trailer has in store for The Smashing Pumpkin's "Bullet with Butterfly Wings." All of the femme fatale action is pretty cool too.
The first teaser trailer for Amazon's Hanna is titled "Baby Heist" and it absolutely delivers what it promises.
Yep, that's a heisted baby.
Hanna Details
While Joe Wright won't be returning to the director's chair for the Hanna series, the job of heading the pilot falls to Sarah Adina Smith, who wrote/directed the 2016 Rami Malek-starring film, Buster's Mal Heart, with TV work such as episodes of HBO's Room 104 and TBS comedy Wrecked, as well as an upcoming episode of FX's Legion. However, the script will be in familiar hands, since David Farr, who co-wrote the 2011 film will be handling writing duties here. Besides the 2011 film, Farr's CV mostly includes television entries, notably the successful miniseries adaptation of John Le Carre's The Night Manager, MI-5 and recently with an episode of Amazon anthology series Philip K. Dick's Electric Dreams and episodes of BBC crime series McMafia. As Farr expresses of the project in a statement:
"I'm thrilled that Hanna has managed to attract a visionary director and actors of the caliber of Mireille and Joel to play our adult leads. And in Esme Creed-Miles I believe we have discovered a star of the future – she is going to be a very special Hanna. Hanna aims to be both a raw-knuckle ride and a deeply touching family drama. It has the visceral excitement of a genuine conspiracy thriller but also the simple humanity of a rites of passage drama. Hanna is in a very unusual family. She's a very special teenager. But all teenagers think they're abnormal. She's just a little more abnormal than most."
The Amazon Hanna series will brandish an array of executive producers consisting of JoAnn Alfano for NBCUniversal International Studios, Andrew Woodhead for Working Title Television, Becky Clements for Tomorrow Studios, Marty Adelstein (a producer from the original film) and the duo of Tim Bevan and Eric Fellner for Working Title. Additionally, Tom Coan will co-exec-produce and Hugh Warren is onboard as producer. Tim Bevan and Eric Fellner for Working Title.
Hanna Cast
Esme Creed-Miles will play Hanna. Here, Creed-Miles, whose only onscreen roles were in 2017 films Dark River, Undercliffe and Mister Lonely, tackles her first lead role. According to the description, her Hanna is "an extraordinary teenage girl who has lived all her life in a forest in Northern Poland until becoming the heart of an unraveling conspiracy. Hanna feels she must leave the confinement of the forest to experience life, but once in the world, Hanna is hunted by Marissa and others connected to Hanna's hidden origins and exceptional abilities."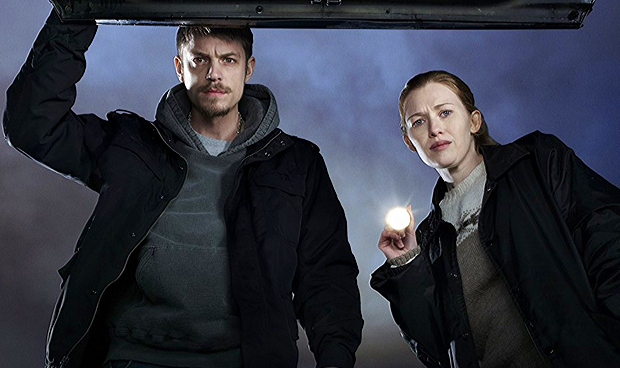 Joel Kinnaman will play Erik, who is described as "a hardened, intuitive and uncompromising soldier and mercenary, who, for the past 15 years, has raised his daughter in the remote forests of northern Poland. Isolated from the world he once knew, he has trained Hanna in every method of survival, with his only goal, to keep her safe. But, his teenage daughter begins to seek freedom from the restricted haven he has created."
Mireille Enos will play Marissa, who is described as "an efficient and ruthless agent who has risen up the ranks of the CIA. However, beneath her cool exterior is a deeply buried secret that continues to haunt her. The reappearance of Hanna and her father Erik threaten to expose the past she has worked to repress."
Stay tuned for everything else we find out about Hanna.
Joseph Baxter is a contributor for Den of Geek and Syfy Wire. You can find his work here. Follow him on Twitter @josbaxter.