News
All Time Comics: The Movie?
The new Fantagraphics cape books will move to film soon from the sound of things.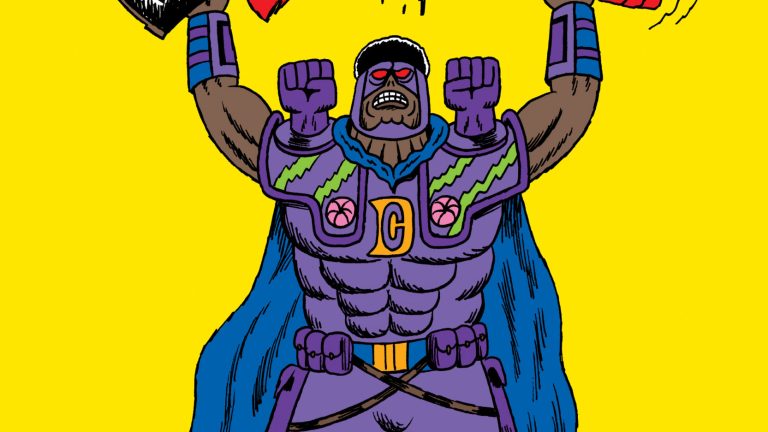 Just ahead of the release of the first book in their line, Josh and Sam Bayer, co-creators of All-Time Comics, annouced that there will be movie tie-ins to the retro-chic shared universe superhero comics coming in March from Fantagraphics. The Hollywood Reporter…uh…reports…that the two brothers have divided some of the labor according to their partuclar talents. Josh, the indie comics pro, is handling much of the writing on the comics side, while Sam, the Hollywood director, will be bringing these stories to film in his own way.
This shouldn't be terribly surprising. Sam is one of the most influential music video directors of all time, having directed the videos for Nirvana, Smashing Pumpkins, Bowie, Blind Melon, Garbage, and My Chemical Romance among literally hundreds of others. It makes perfect sense that he would want to use his talents to cross mediums, and it makes just as much sense that he'd bring top shelf talent to the project with him.
Joining Sam in adapting Crime Destroyer(of which you can see preview pages below – it's delightfully bonkers) will be Lamonica Garrett (Sons of Anarchy, The Last Ship), who confirmed on Twitter that he's playing CD; Steve Jones, the guitarist for the Sex Pistols; and Jackie Chan's stunt crew, who are all apparently still alive and able to walk, somehow. Bayer told THR "It's an old school approach combining classic artwork by veteran artists with a younger generation and punk aesthetic."
At the THR link, you'll find preview art from All-Time Comics: Bullwhip, but before you go, we've got some pages from All-Time Comics: Crime Destroyerby Josh Bayer, Ben Marra and Herb Trimpe, the first issue out in the series. You're going to want to take your time with this Trimpe art – I opened the files and sighed "oh that's that good Bronze Age shit right there" and that was 2 days ago. Crime Destroyeris out this March.