News
Alita Cast, Trailer, Release Date, Story Details, and News
Here's everything you will need to know about James Cameron and Robert Rodriguez's upcoming Alita: Battle Angel movie.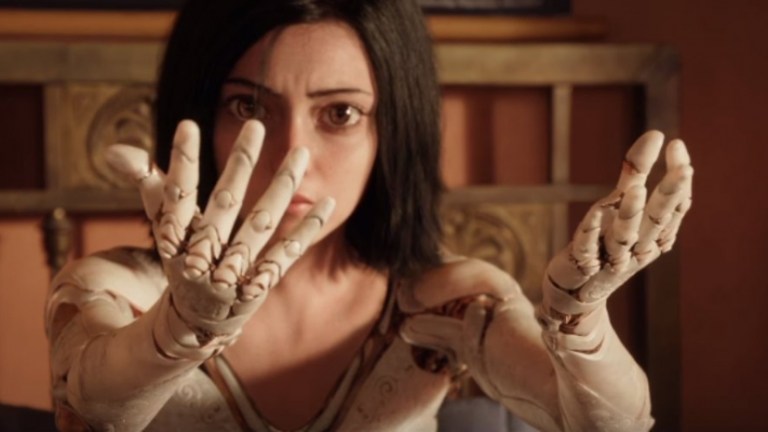 The Battle Angel Alita movie, now titled Alita: Battle Angel, is one of the most curious attempts at a new franchise scheduled for 2019. For years, James Cameron was set to direct, but he'll be tied up in the Avatar universe for the rest of our lives. So now, Robert Rodriguez (Sin City) has stepped in to helm the project, which was originally slated for 2018, but is finally going to make landfall in time for Valentine's Day.
"Robert and I have been looking for a film to do together for years, so I was pumped when he said he wanted to do Battle Angel," James Cameron said in a statement when Rodriguez was first announced as director back in October 2015. And by all accounts it's been a pretty smooth transition and production in spite of a release date delay. Here's what you need to know.
Alita Cast
The absolutely stacked cast for Alita: Battle Angel includes plenty of Oscar winners, such as Moonlight's Mahershala Ali as the villainous Vector, A Beautiful Mind's Jennifer Connelly as the antagonistic Chiren, and Inglourious Basterd's Christoph Waltz as the very interesting character of Dr. Dyson Ido. But most impressively, the movie stars Rosa Salazar as the title cyborg, who will be squaring off against an absolute murderer's row of talent in the villain department. She is currently best known for appearing in The Maze Runner films, as well as Netflix's Bird Box. Relative newcomer Keean Johnson also plays Alita's new friend (and maybe something more?), Hugo.
The film also features Ed Skrein (Deadpool, Game of Thrones), Eiza González (From Dusk Till Dawn, Baby Driver), Lana Condor (To All the Boys I've Loved, X-Men: Apocalypse) and Jackie Early Haley (Watchmen, Shutter Island) in supporting roles. The movie tales of a cyborg made from mysterious ancient parts by a seemingly kindly if eccentric scientist (Waltz's Ido), but as Salazar's Alita tries to become a "real girl," including finding love and her full capabilities, secrets from her past converge with threats from other cyborgs…
Alita Trailer
Check out all of the trailers that have been released so far.
Alita Release Date
Alita: Battle Angel will now open on Feb. 14, 2019, moving it back from its previous Dec. 21, 2018 date.
further reading: The Must-See Movies of 2019
Alita Story Details
Here's the updated official synopsis:
From visionary filmmakers James Cameron (AVATAR) and Robert Rodriguez (SIN CITY), comes ALITA: BATTLE ANGEL, an epic adventure of hope and empowerment. When Alita (Rosa Salazar) awakens with no memory of who she is in a future world she does not recognize, she is taken in by Ido (Christoph Waltz), a compassionate doctor who realizes that somewhere in this abandoned cyborg shell is the heart and soul of a young woman with an extraordinary past. As Alita learns to navigate her new life and the treacherous streets of Iron City, Ido tries to shield her from her mysterious history while her street-smart new friend Hugo (Keean Johnson) offers instead to help trigger her memories. But it is only when the deadly and corrupt forces that run the city come after Alita that she discovers a clue to her past – she has unique fighting abilities that those in power will stop at nothing to control. If she can stay out of their grasp, she could be the key to saving her friends, her family and the world she's grown to love.
Indeed, we've seen several 20-minute previews of the film highlighting the story, as well as the production effects. At San Diego Coimc-Con, we were there when Robert Rodriguez said the following about the attempt to emulate anime's style.
"When I first saw Jim [Cameron's] artwork that he did in 2005, it was that," Rodriguez said of his title character's digital countenance. "She had the large eyes, she was like a manga character brought to photo-real life. Which, you know, we've been seeing those kind of eyes since Astro Boy in the '30s, but never photo-real. And I thought, 'Wow that's such a brilliant idea.' Even my daughter, she draws manga stuff all day long. [Now] they can see it come to life in a way they've never seen before. Photo-real, 3D, as if you can reach out and touch it."