News
Alien: Covenant – Last Supper Prologue Clip Released
Check out the first clip that reveals James Franco is the captain of the film's crew as they sit down for dinner. Things could get meaty.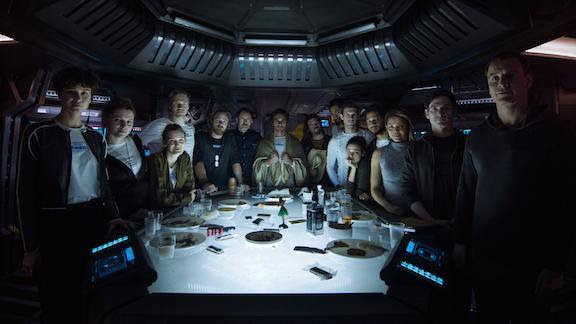 Earlier this week we saw an image of the "Last Supper," which confirmed the long rumored about news that James Franco would be playing the film's (likely not long for this universe) captain. Now, we can see them feast on the fine meal in the below clip. They even have a knowing wink and fake out nod to a similar meal between space truckers in a little movie called Alien. We expect it will be one of the few actual false alarms in the tale.
Alien: Covenant is Ridley Scott's second prequel to Alien, as well as a sequel to 2012's divisive Prometheus. However, the picture promises to be far scarier than the latter and gorier than either. It's a a science fiction blood bath when years after we let Elizabeth Shaw (Noomi Rapace) and Davi (Michael Fassbender) for their star voyages, the all couples crew of the Covenant, a kind of Noah's Ark for space colony explorers in the future, find themselves on a proverbial paradise. There's just one problem, it's crawling with biological matter that is like the World's Fair of body horror attractions and deformities.
Oh, and Fassbender's David is on it with hopefully some answers about the previous film's engineers.
Alien: Covenant, which stars Fassbender, Katherine Waterston, Billy Crudup, Danny McBride, and Rapace will be hugging moviegoers' faces in theaters on May 19, 2017.