News
Alien: Covenant – How Carl Sagan Changed the Direction of the Franchise
During our chat with Alien: Covenant star Billy Crudup, the actor reveals the impact a talk with Carl Sagan had on Ridley Scott.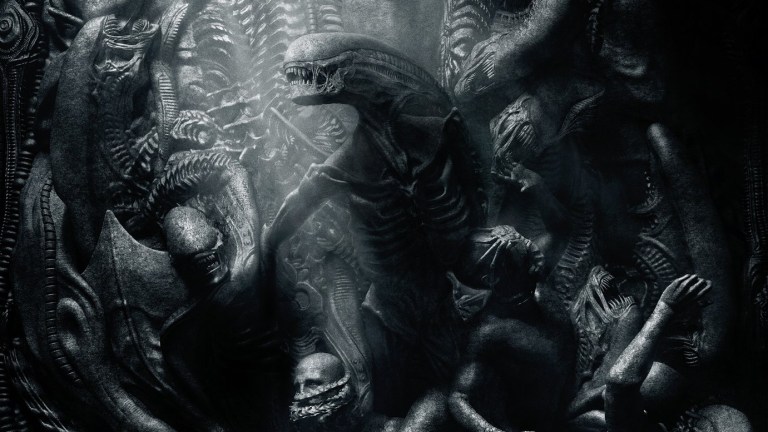 With Alien: Covenant on cusp of release, the hype is now in full force as fans anticipate returning to the world of xenomorphs, especially as director Ridley Scott is also finally revisiting the slimy creature onscreen for the first time in 38 years. Nevertheless, he is doing so in a very different context. After many decades, the filmmaker is obviously intrigued by more than the visceral, existential, and body horror he defined in the original—he now is out to make a Creation myth for the monster that still haunts moviegoers.
It's a concept inherent in the Renaissance-esque biblical posters, and it is also a major element to the character of Capt. Oram (Billy Crudup), the second string officer who is forced to take command of the titular Covenant spacecraft after an early tragedy in the film. It's a post he is also unsure he has the confidence of his crew in because unlike so many of the other scientists, he's a believer in Christ, God, and all the nice things that will be challenged in the Hell he is about to enter. It's a paradox that lies at the center of Alien: Covenant and Prometheus, and it is something I asked Billy Crudup directly about when Den of Geek chatted with him and Danny McBride and Jussie Smollett earlier this week.
Crudup intriguingly revealed why he thinks religion is so important to Ridley Scott and these Alien prequels, as well as how Dr. Carl Sagan, an astronomer who created the original Cosmos TV series, crucially influenced Scott. That advice might've also had a role in the new direction of these films too, one where scientists increasingly look for meaning in their existence and creation, and often find unimaginable oblivion for their troubles.
"I don't know if it's the concept he originally started with when he made the first movie Alien," Crudup considers. "But I think as he's gotten older and thought about how the series has stuck around in his own consciousness, he's begun to evolve with it and think, 'Maybe this is what I've been after the whole time? This idea of Creation mythology and what happens if we as human beings create technology that can then be creative. Will they attempt to be gods? Are we attempting to be gods by creating artificial intelligence? Are they going to develop Creation myths about the humans that made them?'"
Crudup also intriguingly revealed Scott's repeated anecdote about an impactful meeting with the original Cosmos host.
"He kept saying this thing that he had this conversation with Carl Sagan, and he kind of sort of dropped this over dinner in New Zealand when we first started shooting over there," Crudup recalls. "He was like, 'You know, Carl Sagan and I were talking,' and at first you're like, 'Oh yeah, please go on from there.' He says, 'Carl Sagan told me mathematically it's impossible to imagine humanity without a creator.'" Crudup trails off and smiles at the implication. "And I was like, 'I have nothing to say to that.' Really, I mean, I'm convinced. Where would you like me to go from here? You are now my leader. Anything you say. So that was part of the character for me."
As for the character himself, Crudup is aware that the paradox of science and faith makes Oram integral to the mythology that Alien: Covenant is attempting to build.
"So the part of it that was interesting to me was not just that he was a person of faith but he's also an empiricist, he's a scientist. So he has these competing things happening in him where he has a fundamental core that there must be a core, there must be some divine inspiration for humanity, and yet he has an empirical mind that understands the operations of science. I think that competing agenda is working in Ridley too. I think Ridley is highly proficient in what he does; I think he's an artisan. And I think he understands the practical way to create these stories, which is a very technical achievement. And at the same time, it's hard for him to understand that humanity is a mistake of some kind."
Humanity may not be a mistake, but once you know how and why the xenomorph was created in Alien: Covenant, you may wish to ask its creator(s) if they were attempting to play God or the Devil. Perhaps both.