News
Alien 5: Sigourney Weaver Talks Ignoring Later Sequels, Alien: Covenant
Sigourney Weaver talks about how Alien 5 ignores the later sequels, the fate of Jonesy, and the differences of Scott and Cameron.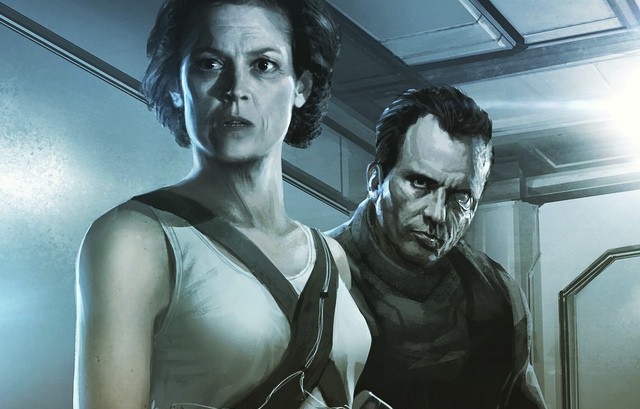 It's safe to say that the Alien franchise has truly stood the test of time. How could it not when 30 years after 1986's Aliens, and 37 years since Ridley Scott's chilling original Alien, that Alamo Drafthouse can devote an entire day to it? Indeed, across the country April 26 was "Alien Day," and with Sigourney Weaver personally appearing to christen the event's first year at an Aliens screening in New York, things were definitely frosty—particularly when Alien 5 came up in discussion.
Of course, fans that filled the Town Hall Theatre in the heart of Broadway whooped and hollered to all their favorite lines from the classic James Cameron thrill ride—including "Game over, man" and "Get away from her, you bitch!" But the loudest applause came during a post-screening Q&A where Sigourney Weaver happily brought up the prospect of the long gestating Alien 5 that she is planning with director Neill Blomkamp (District 9). And fortuitously, given the film the audience just watched, she was quick to point out how this would be a direct sequel to Ridley Scott and James Cameron's first films—and not so much the sequels that unceremoniously killed off protagonists like Michael Biehn's Hicks and Carrie Henn's Newt off-screen and between films.
"He's such a great guy, Michael, and he's so wonderful in this part," Weaver said. "I think the part of Hicks is just a beautifully written part, this marine with a great heart and strength, and intelligence. In Neill Blomkamp's sequel, we'll see a lot more of them together." Simply mentioning the reunion brought cheers, as well as swift boos from the crowd when Weaver then added with a shrug, "We have to wait until after Prometheus 2 is made."
Ridley Scott's sequel to Prometheus, now called Alien: Covenant, promises to answer questions that have been teased in the series since the 1979 original film. And Weaver was quick to temper such partisan reactions from fans that want to see more of only Ripley and Hicks by noting, "I wish Ridley all the best on Prometheus 2 or whatever it's called now."
And on the subject of Alien 5, Weaver later elaborated on how she and Blomkamp look forward to exploring new aspects of Ellen Ripley's character that will see her find perhaps some peace—as well in a trip back to space.
Reflecting on the finale of the last Alien picture that she starred in—1997's Alien: Resurrection—she recalled the ending that featured Weaver's Ripley as now a clone (the original Ripley died at the end of Alien 3) flying to Earth with a cyborg replica of Winona Ryder. And Weaver revealed she was never really thrilled with the idea of doing an Alien movie set on Earth.
"There's the beauty of space, so we kind of just left the whole story hanging [in Alien: Resurrection]. And it always felt a little incomplete to me, like 'Hmmm.'"
So for Weaver, revisiting the universe's iconography from the vantage of the films that still influence generations of filmmakers has an inherent appeal.
"When Neill Blomkamp started to talk to me about the sequel to this movie [Aliens], I thought, 'Gosh, that would be so great to know that Ripley has a resting place, eventually.' And wouldn't it be great to end the series on—not that the other two didn't happen but they're in a parallel universe. I love them all [but] the filmmaker has to be inspired by what he is inspired by. And what he grew up with, and I think wore the tapes out of, were Alien 1 and Alien 2 in South Africa."
To this day, the impact of both films on her career—with Alien being Weaver's breakthrough starring role and Aliens being the film to earn her that first Oscar nomination—are as implicit as their effect on the rest of the science fiction genre. When asked to compare and contrast the filmmaking process on each film with two very different auteurs in Ridley Scott and James Cameron, Weaver gave an intriguingly thoughtful reply.
After recalling how Ridley Scott was his own camera operator on Alien, she said, "Ridley also doesn't like to rehearse, so when you watch the first one, we're improvising a lot. We really don't know what's going to happen. There were things that would change from the script a lot. Whereas Jim—Ridley is great. He really looks for the truth, he looks for something very visceral and real to him. He's got a real bullshit detector. Jim Cameron, because he wrote the script, he didn't operate the camera himself, we had at least two operators, but he was mostly in charge of everything else. So, they're really, really both brilliant and both different.
"I think Jim Cameron likes working with actors. At that point [in 1978], I think Ridley, again, I think he just wanted to turn us loose on each other and see what happened. And I think it worked really well for the film, and I think now he does enjoy working with actors, and he casts great actors in all kinds of things. But they're very different, each incredible in their own way."
And both will have an effect on the characters of Alien 5. In fact, Weaver even mused, however ruefully, that she imagines a scenario where the survivors of Scott's film and Cameron's film were united—for the record, the only other survivor in the first Alien was the cat Jonesy.
 "I think when we get back, we pick up Jonsey. The three of us, maybe the four of us."
Now, that would be an out of this world adventure. But whatever happens in the next one, don't expect the Predator from the Alien vs. Predator movies to show up anytime soon. As Weaver explained, she's never seen those films.
 "I haven't seen them but heard the Alien doesn't beat the Predator, and I thought 'Fuck that!'"