News
Alien 5: "I know it's going to happen" says Michael Biehn
Hicks actor Michael Biehn says Alien 5's "going to happen" and talks about the new, 20-something Newt...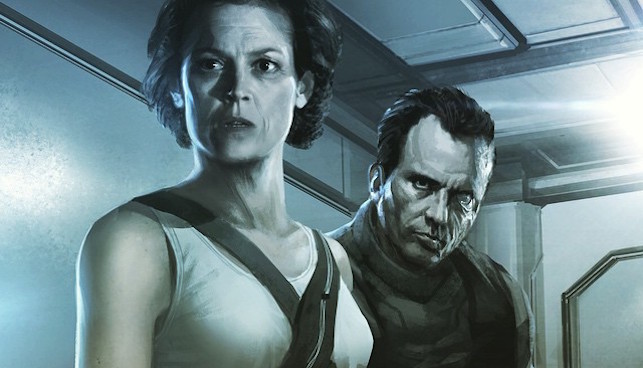 Update: When director Neill Blomkamp shared some pieces of concept art for his proposed Aliens sequel last year, it not only floated the possibility of a returning Sigourney Weaver, but also Michael Biehn's quietly-spoken Colonial Marine, Dwayne Hicks. As dreamed up by Blomkamp, Alien 5 would follow on from James Cameron's Aliens, ignoring the divisive (to say the least) Alien 3 and Alien: Resurrection and proposing an alternate timeline where Ripley, Hicks and young survivor Newt all survived.
Alien 5's had its ups and downs since, with Fox first reviving the project following a positive reaction to Blomkamp's artwork, and then the project going on the backburner again to make way for Ridley Scott's Alien: Covenant, due out in 2017. Speaking with Forbes in the wake of the Aliens 30th anniversary reunion at Comic-Con, Michael Biehn remains confident that Alien 5 will still happen.
"It looked like it was all go and then Ridley Scott decided that he was going to do a second and third film in the Prometheus series, but Sigourney says they are still doing their project," Biehn said. "I think it would be very embarrassing to Fox if they don't give Sigourney the movie that she really wants to go out on. I don't know when it's going to happen but I know it's going to happen…"
Biehn went on to talk about Newt, who in Alien 5 will be in her 20s. Artwork emerged of this older, tougher Newt last year, sparking a bit of online debate about who might play her. Emma Stone and Juno Temple were the names suggested by fans at the time, but also Biehn throws another bit of fantasy casting into the mix:
"I'm going to be in it and there's going to be a new Newt, she's going to be about 26 or 27 and looks a lot like Jennifer Lawrence to me, but I don't know."
Of course, Alien 5 is still a long way off yet, and Blomkamp probably doesn't even know who he'll get in to play Newt himself as yet. But Sigourney Weaver's clearly throwing her weight behind the sequel, so Biehn could well be right – Alien 5 could still come shrieking into a cinemas when we least expect it.
Alien 5 "Innovates in a lot of ways" says Sigourney Weaver
One of the major attractions at Comic-Con over the weekend was the 30th anniversary conference for Aliens. James Cameron, Sigourney Weaver, Bill Paxton and numerous other stars of the sci-fi classic all reunited to share their memories of making it, with anecdotes ranging from the construction of the Alien Queen to Bishop actor Lance Henriksen sitting in stunned silence when he saw a finished cut of the film.
Inevitably, talk eventually turned to Alien 5, Neill Blomkamp's sequel to Alien and Aliens which aims to split away from the events of Alien 3 and Alien Resurrection and give Ripley an alternate timeline. When asked about the movie, Weaver had long resisted plans to make a follow-up to Jean-Pierre Jeunet's Resurrection because, as its ending implied, it would have seen Ripley descend to her home planet at last. "I didn't want to go to Earth," Weaver said, "because I thought Earth was boring."
All that changed on the set of Chappie, Blomkamp's 2015 sci-fi film in which Weaver played the boss of the high-tech firm, Tetravaal. It was then that Blomkamp first began to sow the seeds for his proposed Aliens sequel; a few months later, he sent Weaver a draft of the script.
"Four months later I got a script that was so amazing and gives the fans everything they are looking for, plus innovates in a lot of ways," Weaver said.
But as we've previously heard, Alien 5 won't be appearing just yet, since Ridley Scott's Alien: Covenant is coming first. "[Blomkamp] has work to do and I have work to do," Weaver said of the stalled sequel. "I'm hoping when we finish those jobs we'll circle back and start to do it."
More news on this as we get it.
Original story follows…
We're still none the wiser as to when Neill Blomkamp will be allowed to shoot his sequel to Alien and Aliens, which is currently going under the incorrect moniker of Alien 5. Ridley Scott's Alien: Covenant is taking priority, and until that's done, Blomkamp's movie is stuck in hypersleep.
Still, Sigourney Weaver has been talking about the movie in a new interview, and she's been chatting about what to expect from Alien 5. This is the film that's set to pretty much ignore Alien 3 and Alien: Resurrection, and follow its own path.
"It's a great story and it's satisfying to me to give this woman an ending", Weaver has now revealed to Entertainment Weekly. There's also another bit of information to consider: that Alien 5 will also explore the motivations of the xenomorphs themselves:
"The script itself has so much in it that's so original, but also really satisfies the, I would say, the primal needs of the aliens. It's a tribute to all of the great work that the other directors have done, in a way, but goes in a completely new direction. I hope we'll do it".
As fleshed out by James Cameron, the primal needs of the xenomorphs seemed pretty clear in Aliens: to find new hosts and use them to hatch out more chestbursters. But there is much about the Starbeast that is still a mystery: what does it eat? Where did it come from? Which came first, the chestburster or the egg? Maybe Alien 5 will answer one or two of those questions without diluting the creature's mystique too much.
There's no certainty right now that the project will go ahead, but fingers remain firmly crossed. As Weaver herself points out, she's got lots of Avatar films to shoot, and Neill Blomkamp has The Gone World next on his slate. We'll keep you posted…