News
Alice Through the Looking Glass First Look Posters
Check out the first images of Johnny Depp and Mia Wasikowska in Alice Through the Looking Glass, a Wonderland sequel!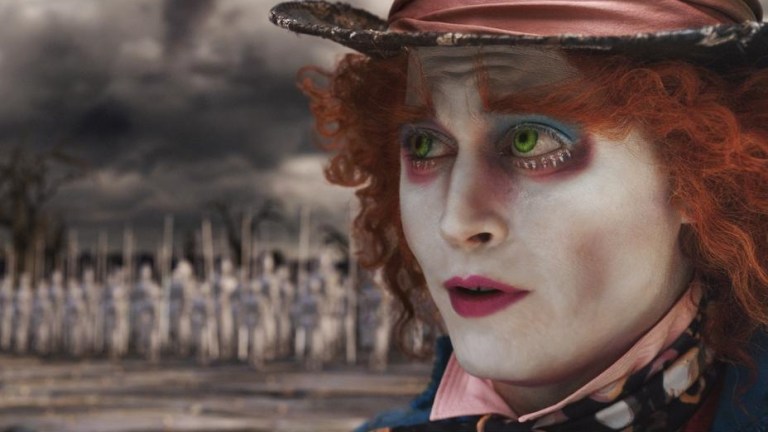 The fact that Tim Burton's Alice in Wonderland earned $1 billion in 2010 still astonishes. As the first major 3D film in Avatar's wake, and with Johnny Depp at the zenith of his popularity, it was inevitable that the movie would be popular, but a March film crossing 10 digits? There's a reason summer movie season essentially now begins around St. Patrick's Day.
But worry not about March of next year, because Disney is so confident in Alice Through the Looking Glass that it's opening the Wonderland sequel in the heart of the real summer movie season. Set to do the Futterwacken right next to 20th Century Fox's X-Men: Apocalypse on Memorial Day weekend, clearly the House of Mouse is still very confident in Depp's mad charisma as the Mad Hatter, as well as how for any moviegoing child of the last five years who's grown up with Mia Wasikowska's Alice as a constant staple.
Thus we now get our first look at both actors in the new movie with the first two Alice Through the Looking Glass posters, which show Mia Wasikowska and Johnny Depp in colorful new garb.
Alice Through the Looking Glass returns to the world of Lewis Carroll with an all-new tale that utilizes time travel and an impressive cast comprised of Anne Hathaway, Helena Bonham Carter, Rhys Ifans, Sacha Baron Cohen, Stephen Fry, Alan Rickman, Michael Sheen, Toby Jones, and Timoth Spall. The film is also written by the first Alice's Linda Woolverton and is being directed by James Bobin, The Muppets helmer who is taking over for Tim Burton.
The film opens on May 27, 2016, but D23 has just begun. Since the film completed principal photography almost a year ago, stay tuned for any possible Alice through the Looking Glass surprises to come this weekend.