Reviews
Adventures of a Taxi Driver DVD review
Holger is a bit disappointed to delve into the realm of 70s Brit-smut...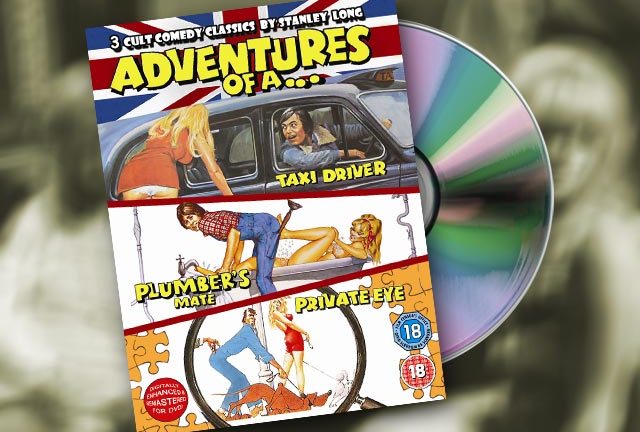 Here are some Confessions of a German cinema slave.
British sex comedies were never all that big in the Fatherland. We were more interested in watching Swedish tourists in the Alps than learning about English plumbers, window cleaners or, as in this case, taxi drivers and their sexual escapades.
In contrast to a lot of readers of this website I am therefore not all that familiar with this particular kind of sex comedy. Adventures of a Taxi Driver is pretty much the first film of its kind for me and I was very much looking forward to finding out what they were all about. When I popped in the DVD I was expecting a reasonably amusing movie with copious amounts of random nudity.
Trouble is…. It wasn't all that funny. And the nude scenes weren't all that many.
Let's take an example of a typical scene.
The first girl in the movie that Joe (Barry Evans), our bland and unexciting cruising Casanova, picks up, requests to be brought to the middle of a bridge just to jump off as she is heart broken about the boy friend who left her. Joe can convince her not to do that. When back at her place she unsurprisingly takes off her clothes and promises some unbridled passion. Needless to say her boyfriend then arrives who has seen it all before. The girl is of course a raging nymphomaniac and this is her way of picking up guys.
OK, there is always a risk of coming across all PC when complaining about jokes mixing suicides and nymphomania. This is after all typical of its time and in the interest of full disclosure I absolutely adore 1960s and 70s 'crumpet' output and am therefore certainly not averse to politically incorrect jokes of any kind.
That particular scene, however, just doesn't gel. All we see is that girl pretending to commit suicide, then inviting Joe over for a quick how's your mama, getting caught by the boyfriend and letting the taxi driver run off. There is not the slightest attempt at anything resembling witty exchanges or clever double entendres. Nothing. Not even some cheap manic eye rolling or frantic slapstick. No inventive visual gags or camera movements. Nothing. Nada. Zilch.
Did I say it wasn't funny?
So how about the nudity?
Well, Ms Suicidal Nympho really is the only gal taking her clothes off in the first half hour of the production. The next half an hour show some more girls au naturel and Girl #2 in particular even sees some action with the snake. That is: a python. Called Monty who lives with Joe and his buddies and manages to escape into the bed that Joe and the girl just happen to be in. (Monty. Python. Geddit?)
We also get to see a horse faced girl in the most pathetic attempt at portraying a posh totty ever. Unfortunately most of the ladies don't seem to have faces that go with their bodies. Judy Geeson does but remains dressed although she plays a stripper. In actual fact when Joe mistakenly picks up a female impersonator (har har) he can nearly be forgiven for that error given the overall quality of his other conquests.
The last third of the film again steers away from Joe's girl trouble and instead focuses on a very unexciting jewellery heist gone wrong.
Throughout the production Joe very annoyingly talks into the camera Alfie style, a concept that was already very much dated and clichéd at the time. True, there are a couple of very weak smiles that escaped my lips, but they were few and far between. The catchy theme song is sung by Adrienne Posta who also played Carol, Joe's jealous and hysterical fiancée, and is just as addictive/annoying as her overall performance in the movie.
Diana Dors is also in this film as Joe's mother in one of those depressing cameos she specialised in at the time. Rather than lift you up, it'll no doubt painfully remind you about the futility of human existence. One moment you're hot, then you're not and then you die a painful death. Or maybe it's just me.
Also watch out for Stephen Lewis as a doorman in a cameo that is over quicker than it will take you to finish reading this review.
Overall, this is a disappointingly weak sex comedy and certainly not an incentive for me to go and check out more of these…. though I undoubtedly will over time. Though I didn't really have massively high expectations, I sure expected more.
Adventures Of A Taxi Driver is available in the three-disc 'Adventures' box-set released yesterday. We have reviewed all three films: check out Adventures Of A Private Eye and Adventures Of A Plumber's Mate.