News
Action Point Trailer: Johnny Knoxville Taps Jackass Roots in Comedy Film
The Action Point trailer shows Johnny Knoxville in a familiar role: performer of obscenely insane stunts.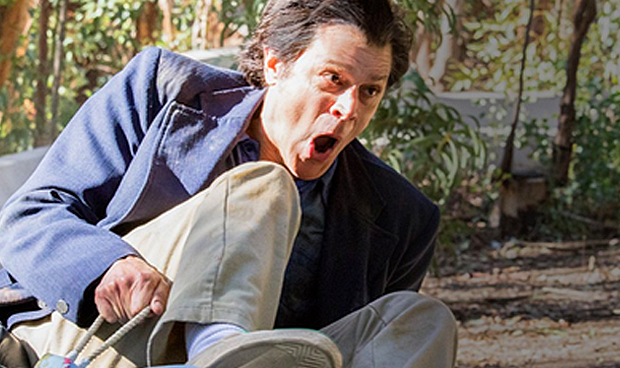 Action Point, a comedy movie, might just have the right formula to hit fans of MTV's classic early-2000s series, Jackass, affectionately in their rose-colored member berries. Here, star Johnny Knoxville, dips his toes back in Hollywood for a comedy feature as a theme park designer… who – in an astounding exhibition of character range – crashes into stuff on camera to the delight of his onlooking friends, one of whom is former Jackass and Wildboyz member, Chris Pontius.
Action Point Trailer
"Hold my beer." – Three words that may as well be the defining mantra for the Action Point trailer.
The clip kicks off with a How I Met Your Mother style flashback prologue, with Knoxville's character made up as an old man – seemingly a throwback to the 2013 Jackass revival feature, Bad Grandpa – explaining the painful, gravity-assailing, stunt-strewn process by which his theme park, the titular Action Point, achieved apparent success. We see him – as a 40-something man – reviving his run-down, rusted park with new features that eschew speed limits (and likely safety standards), testing said features himself, to violently hilarious outcomes. Oh, and there's free beer.
Here's the official synopsis:
Everyone's favorite daredevil Johnny Knoxville is back to his hilariously painful antics in the upcoming comedy Action Point. Knoxville stars as D.C., the crackpot owner of a low-rent, out-of-control amusement park where the rides are designed with minimum safety for maximum fun. Just as D.C.'s estranged teenage daughter Boogie comes to visit, a corporate mega-park opens nearby and jeopardizes the future of Action Point. To save his beloved theme park and his relationship with his daughter, D.C. and his loony crew of misfits risk everything to pull out all the stops – and stunts – making for another wild ride from the star of Bad Grandpa and Jackass.
Action Point is directed by Tim Kirkby, who's known from television work on shows such as Brockmire, Fleabag, You, Me and the Apocalypse, Grace and Frankie, The C Word and Veep. He works off a script baring shared credits by Dave Krinsky, John Altschuler and Johnny Knoxville himself.
For Johnny Knoxville, Action Point, is the latest starring vehicle, after recent (non-Jackass) appearances in features such as Skiptrace (opposite Jackie Chan), Weightless and Elvis & Nixon. During his early post-Jackass marquee-topping heyday, Knoxville starred or co-starred in films like Big Trouble, Men in Black II, The Dukes of Hazard and The Ringer.
Action Point Release Date
Action Point is set to arrive on June 1.