Reviews
Absolutely – Absolutely Everything DVD review
A mammoth 8-disc box-set will delight fans of this influential - and criminally little known - early nineties sketch-show...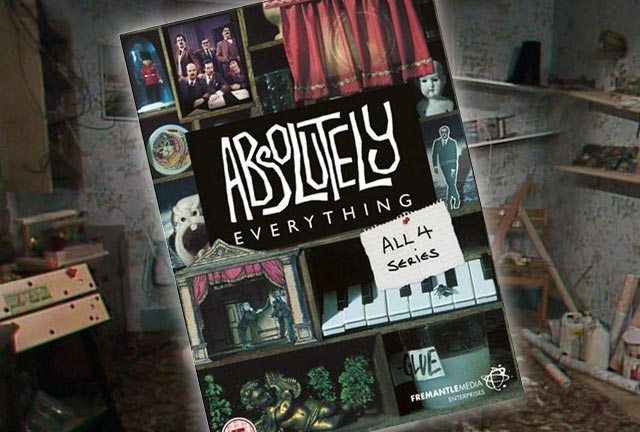 Both logic and history persuade me that there are some people out there who think that Absolutely – the off-beat Channel Four sketch show which ran four seasons from 1989-92 – was 'not bad', but in my experience I have only ever heard people comment on it in one of two ways. 'Great!' and 'Absolutely what…?'(some have even forgotten that they loved it, happily remediable with a nasal cry of 'Stoneybridge!').
Though the show never rose to the giddy ranks and almost instant cult-status of The Fast Show or Reeves and Mortimer's Big Night Out, nor the cast fill Wembley stadium like Baddiel And Newman, it can stand proudly in such estimable company from what many maintain to be the 'golden era' of British comedy, as it gave back at least as much as it drew from Britain's comedy heritage.
The show – written and performed by Gordon Kennedy, Morwenna Banks, Pete Baikie, Moray Hunter, Jack Docherty and John Sparkes – set off on its course in the last throes of eighties UK yuppiedom, before comedy became such a serious business (as Gordon Kennedy discusses in our interview with him). Perhaps the ad hoc approach of Absolutely would have been subject to far greater scrutiny had it started even a year later, when comedy was proclaimed 'the new rock'. Perhaps it would have been a different show. Perhaps it would have been better marketed, as it was – and arguably remains – Channel Four's best-kept comedy secret. But that may be about to change…
Thanks to the persistent efforts of Absolutely's biggest fan, Andy Savage (who sent a well-signed petition to Channel Four three years ago adjuring them to release the show on DVD, and who runs the definitive Absolutely fan site), the cast were persuaded to regain the rights and put out the new eight-disc box-set, complete with commentaries, documentaries amongst the extras.
The rrp of £34.99 has instantly dropped by ten pounds at Amazon and Play, and at that price it's almost cheap enough to take a chance on if you know nothing about the show, and for fans, 'bargain' doesn't begin to cover it. I have had some difficulty covering it myself – the series content runs at 880 minutes (14 hours) for four series over 8 discs. Nonetheless, I've valiantly struggled through it, and here are some highlights from this vast collection of oddball characters, running gags, musical skits and plain, wide-eyed madness…
SERIES 1 (discs 1-2)
Surreal stuff indeed. This is possibly the most Python-esque of the Absolutelys, with elaborate, character-driven sketch segues revealing the same loathing of pat punch-lines that fellow footlighters Cleese, Chapman et al demonstrated in the 1970s on the BBC.
The endlessly catchy theme-tune is rather subdued here, frequently hummed by a fly (let's not ask) or gargled by John Sparkes (!), and some of the sketches haven't found the pace of the later series, but there's still a mountain of eccentric – and very surreal – comedy to enjoy…
Here we first meet Moray Hunter's long-running, anorak-obsessed arch-bore Callum Gilhooley, a visit from whom is enough to sell him your flat for a tenner and start running; here too Morwenna Banks' schoolgirl, the ingenuous little tyke who knows everything (this popular character spanned four series and went on to release a single on which DoG writer Parsley performed); the peculiarly-dysfunctional 'tidy family'; Docherty and Hunter as the odd-couple Donald & George; and the Sparkes/Banks-fuelled Gwynedd & Denzil, painting a rather blasted vision of Welsh domestic life.
And here we meet Stoneybridge town council, whose home-made promotional video is one of the funniest pieces of footage I have seen in the last twenty years. Though immensely popular, the parochial Stoneybridgers start on a high that they cannot possibly maintain in their four-series stint, but remain reliably entertaining throughout (particularly when Stoneybridge is declared a monarchy in series 4).
Other highlights include the 'impossible job interview' where candidates are deliberately distracted and even asked to spell a raspberry; the foot theatre company; the lazy blokes who are can't even be bothered to reach out to a ringing phone; and the cowardly animal activists.
SERIES 2 (discs 3-4)
Here at last we find the snazzy new stop-motion title sequence and big-brass theme that hallmarks the remaining three series, and increasingly regular appearances by Sparkes' tic-hampered 'ex-military man'- a loving tribute to Jack Hawkins; a series of grim coppers who call on a man's house to report a fusillade of utterly trivial bad news; Gordon Kennedy's officious inspector who whistles every alternate word; Morwenna Banks' outrageous bohemian painter slavering over her male nude model; a protest march without any objective; an SAS-style assault squad consisting largely of antique furniture; and the hilarious 'thrumblenose' disease, where the sufferer's proboscis is magnetically attracted to the colour pink.
SERIES 3 (discs 5-6)
Fully in their stride and luxuriating in top-quality running characters, the Absolutely cast are now on perhaps their highest form. John Sparkes' 'Bert Bastard' character – an old man with shakey hands, a very dirty mouth and a lot of attitude – is truly coming into his own by now, and Fast Show fans will see clear signs of the rather more genteel 'Unlucky Alf' here. Sparkes scores another hit with the even more disgusting 'Frank Hovis', who performs his repulsive monologues on the toilet, and always seems to run out of paper.
The occasionally-shocking strand of surrealism that has been toned down since the more experimental first series still rears up later on, most clearly in Pete Baikie's very eccentric musical interludes, the music videos and certain sketches, such as the man in the waiting room who is so hungry that he is eating his own hand.
Gordon Kennedy's 'Jeff The Parkie' is hilarious when promoted to the cabinet at 10 Downing Street, as is Jack Docherty's vehement anti-sassenach campaigner, MacGlashan. In the meantime, Callum Gilhooley has been taken to court by his best friend in the hope of obtaining a restraining order…
SERIES 4 and extras (discs 7-8)
McGlashon's anti-English newspaper sets the hilarious tone for the final series of Absolutely, which exits undiminished in quality. Other highlights: Callum Gilhooley has an 'out-of-anorak' experience; Cybermen playing golf (that would cost a lot more to stage these days); Frank Hovis tells us far more than we want to know about his 'chapped anus' and 'sprained penis'; Pete Baikie's 'haha' song –taking the piss out of unfunny bumper stickers – proves an infectious link between quite a number of sketches; and Stoneybridge becomes a monarchy in itself.
The extras disc is an engagingly home-spun series of short documentaries by Gordon Kennedy, who seems to have gone round his mates' houses and videoed them recalling the show. But since his mates include David Baddiel (Morwenna Banks' partner), Paul Whitehouse, Jo Brand, Sanjeev Kahli and Ian Hislop, it's a great little home-movie that justly reflects the influence Absolutely had on emergent comedic talent in the nineties. In one of the segments, cameraman Kennedy and Jack Docherty are clearly pissed and having a great time reminiscing, and this only adds to the fun. There's also a picture gallery, a look at the raw pilot that sold the show and an engaging commentary track.
Absolutely Everything is a vast compendium of comedy genius. Very little of it is dated; even the self-centred yuppie philanthropists Peter and Jennifer Wells (Docherty and Banks) have proved durable. Some of the sketches are too long and quite a few misfire, but if you want 880 minutes of uninterrupted laughter for twenty-five quid, your options are relatively few, and in my opinion you won't get a lot closer to that ideal than this collection.
So well done, Andy Savage – you've done us all a favour!