News
A Quiet Place Box Office is Extremely Loud
A Quiet Place outperforms box office expectations and earns $50+ million during opening weekend. Black Panther also made history.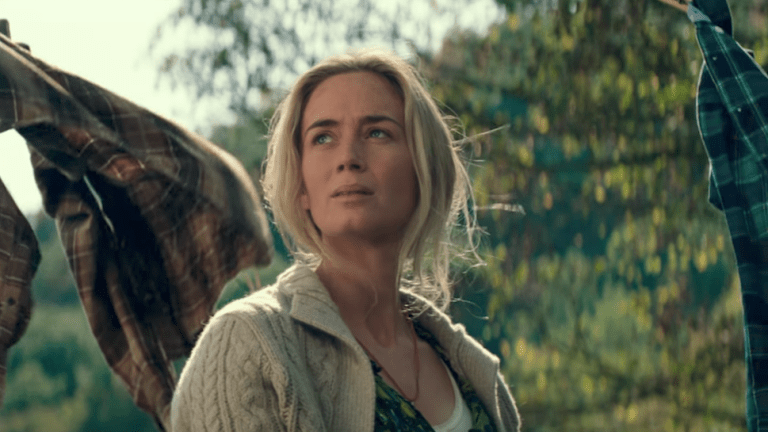 It is safe to say that if John Krasinski wanted to break away from how audiences perceived him, he did just that with a stunning directorial debut in A Quiet Place, an original horror movie that is high on both concept and quality. And now it's high on box office too. Opening with an estimated $50.4 million, the small budgeted indie horror movie vastly outperformed expectations for North American debut—and nearly tripled its official budget in three days.
The news follows a strong rollout by Paramount Pictures and Platinum Dunes, which debuted the Krasinski and Emily Blunt starring horror film last month as the opening night gala film of the SXSW Film Festival. The intersectional event for music, cinema, and tech began a robust campaign of raving word of mouth and glowing reviews that continued all the way up until the film's release, as well as a sharp marketing campaign that emphasized the original premise for a mainstream horror movie: if you dare make a noise beyond a few simple hand movements, you risk sudden death.
The movie was tracking well going into the weekend, with Paramount doing the typical studio spin of lowballing projections (so as to temper expectations) at around $20 million for the weekend. But even professional prognosticators proved too timid, with most seeming to estimate a weekend of closer to $30 to $40 million. However, the $50.4 million estimate again is almost three times the budget the film is listed at, which is $17 million. For contrast, consider that Steven Spielberg's Ready Player One grossed only over $3 million more during its four-day opening weekend last week. And while Warner Bros. has not released the official budget of that spectacle, one can assume it is easily more than $100 or even $150 million more than A Quiet Place, not including marketing.
This haul also reconfirms that original horror movies with strong word of mouth, or at least strong reviews, can play very well to robust openings. Obviously the most recent example is Get Out, which opened in February 2017 to $33 million. That film also had tremendous WOM and that ever elusive "A+" rating by the industry's WOM standard, CinemaScore (A Quiet Place earned a still very impressive "A.")
Get Out ended up having tremendous legs with a 5.33 multiplier on its opening weekend, which tapped out at $176 million in North America. It is unlikely that A Quiet Place will prove quite so leggy given it faces stiffer competition in April than Get Out did in February and March of last year (Rampage and the umpteenth Avengers movie are just around the corner). Still, it should hold far better than another recent critical horror darling, The Witch, which opened to $25 million but a toxic CinemaScore of "C-."
Also while A Quiet Place's over-performance is stunning, in a box office atmosphere as dismal as recent months, Ready Player One also continues to be a positive non-Marvel or Star Wars blockbuster story. The Spielberg throwback earned an industry estimate of $25.06 million, which (when contrasted with merely the movie's three-day span from last week) is a mere 40 percent drop for the original fantasy movie IP. This too indicates audience approval, as that is well down from the average blockbuster drop of 55 percent or greater, and suggests the film will likely hang on well to its box office perch in April, at least until Avengers.
Speaking of the caped and masked, Black Panther also continued its historic box office run this weekend, crossing $665.36 million with its $8.43 million take in the last three days. This makes it the third biggest film in North American history, surpassing Titanic's $659.4 million. Mind you, that number is unadjusted for the 20-year-old James Cameron romance. Even so, it is quite the milestone for Black Panther, which is the biggest superhero film of all-time in the United States, and has a shot still of becoming the second biggest in the world (it is currently behind both Avengers movies).