Features
A history of Nikkatsu: guns, girls, pigs and pantyhose
Dan looks back at the best films to come out of Japan's Nikkatsu studio...
Formed in 1912, Nikkatsu was Japan's oldest film studio, and prior to World War II, one the most prolific and successful. The Japanese government's control and consolidation of the film industry during the war years effectively forced Nikkatsu to cease movie production, and the studio spent more than a decade working solely in exhibition and distribution.
In 1954, the company resumed production, and entered a period that was not only a golden era for the company, but for Japanese cinema in general. Eschewing the period samurai films being made elsewhere, Nikkatsu focused on contemporary stories – action and crime movies, comedies and the increasingly popular 'wild youth' films, attracting young, imaginative filmmakers who had found it hard to flourish within the regimented structure of studios like Toho and Shochiku. Throughout the 60s, Nikkatsu produced bold, boundary-pushing films, with directors such as Seijun Suzuki and Shohei Imamura becoming important figures in the Japanese New Wave scene.
London's BFI Southbank is currently running a month-long celebration of some of Nikkatsu's key gems from this period. To celebrate, here's a look at five classic films from this great studio:
The Warped Ones (1960)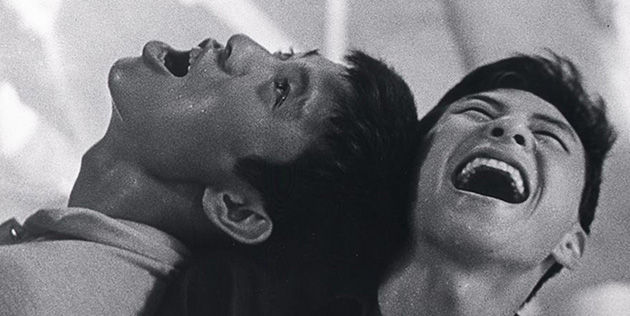 Although Nikkatsu is best known today for its thrillers, urban youth films formed an important part of the studio's output during the 50s and 60s. Influenced in part by the success of American films like Rebel Without A Cause, these freewheeling portraits of disaffected, sex-and-music loving teenagers proved highly controversial at the time. The Warped Ones was one of the wildest – the story of a pair of petty criminals and their hooker lover who blaze a trail of mayhem upon release from prison, it certainly goes further any of its contemporaries in the West.
Within the first ten minutes our jazz-loving 'hero' Akira has mown down the reporter responsible for his incarceration and raped his artist fiancé; director Koreyoshi Kurahara certainly doesn't strive to make his characters likable, but seems to blame society just as much as the kids for their aberrant behaviour. The Warped Ones is only 75 minutes long and moves with a crazed rhythm that mirrors the free jazz records that Akira listens to – the freeze frames, whip pans and abrasive editing help contribute to an electrifying viewing experience.
Pigs And Battleships (1961)
A former student of the great Yasujirō Ozu, Shohei Imamura was one of the key figures in Japanese New Wave and beyond, delivering a number of films throughout the 60s that combined powerful drama and pointed, often subversive satire about contemporary Japanese society. Pigs And Battleships was his fifth film, and one of his very best.
Set in port of Yokosuka during the US-occupied post-war years, it looks at the life of various lower class citizens – gangsters, pimps, prostitutes – as they eke out a living during a time of great financial hardship. Kinta is a well-meaning but impetuous young man who falls under the wing of local yakuza gang and is given the task of running a black market pig farm. His girlfriend Haruko is the film's heart, the first of several strong female protagonists through which Imamura was able to view the shifting attitudes towards gender and sexuality.
This is a sprawling, chaotic, sometimes harsh but always entertaining film, directed with restless energy and featuring a riotous, one-of-a-kind climax. Despite the acclaim, the film's savage satire – in particular its view of US/Japanese relations – ensured that it would be another two years before Nikkatsu trusted Imamura with another production.
Black Tight Killers (1966)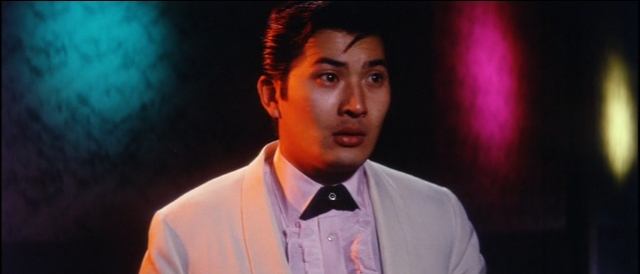 By the early 1970s, Nikkatsu's fortunes were waning, forcing the studio to turn to the sex-heavy Roman Porno ('romantic pornography') and Pinku genres to deliver thrills that audiences couldn't find on TV. Yasuharu Hasebe was one of the most successful directors at this time, but his earlier films also show the roots of the outrageous, explicit material he was to thrive in during the 70s.
Black Tight Killers was Hasebe's first film, following eight years working on other films at Nikkatsu, and is a loopy, pop-art spy thriller than mixes Bond-esque hijinks with sex, action and glorious psychedelic photography. The all-girl gang of the title are a troupe of foxy go-go dancing ninjas on the trail of stolen gold, while our hero is a bumbling serviceman trying to rescue his kidnapped girlfriend. It's a film that revels in its own ridiculousness; Hasebe takes any opportunity to play with lighting effects and show off the impressive production design, and if the action isn't quite up to the standards of some of Nikkatsu's other films of the era, any picture that features bubble-gum and jazz records being deployed as deadly weapons has got to be recommended.
A Colt Is My Passport (1967)
Joe Shishido was one of the era's most prominent stars – known both for his charismatic roles in any number of gangster and crime thrillers, and for his bizarre surgically enhanced cheekbones. A Colt Is My Passport was a definite high point for Nikkatsu's film noir output; it's a movie as much influenced by spaghetti westerns as American noir, with a twanging Morricone-esque score and a storyline that could have easily been transposed to the Old West.
Shishido plays a veteran hitman who finds himself in a tight spot when a job goes wrong and he is forced to hide out in a small guesthouse while formulating an escape plan from the gangsters on his trail. There is perhaps nothing new here – from the aging assassin to his younger protégé and the young woman also looking to escape with him – but director Takashi Nomura delivers a tight, gripping yarn that looks great and works its way to an hugely exciting final showdown between Shishido and his foes.
Branded To Kill (1967)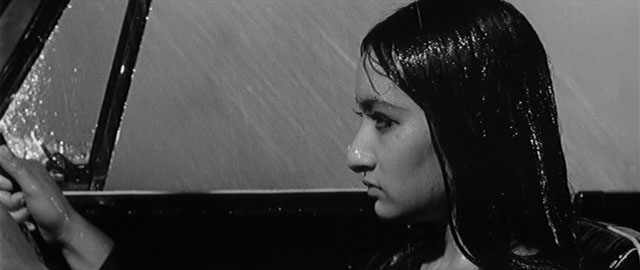 It is ironic that perhaps the best known Nikkatsu film over here is also one of the strangest – the whacked-out gangster yarn Branded To Kill, a film that led to the firing of its director Seijun Suzuki. By 1967, Suzuki had made more than 40 films for the studio, but when his bosses ordered him to turn in something more conventional than his last few movies, Suzuki went the other way, all but abandoning narrative and instead delivering a movie that delights in confounding.
There is a plot – Joe Shishido's taciturn, rice-addicted hitman finds him caught in a deadly triangle between two unstable femme fatales and Japan's greatest assassin – but Suzuki couldn't care less about it. Instead he bombards his audience with disorientating visuals, lashings of wild sex and gritty violence, bizarre editing choices, obtuse symbolism (largely centred around dead birds and butterflies) and nihilistic observations about what it means to be a killer. Shortly after Branded To Kill's release, Nikkatsu dismissed Suzuki from its roster and he didn't make another film for a decade; nevertheless, its reputation today as an experimental crime classic is as strong as ever.
Please, if you can, support our charity horror stories ebook, Den Of Eek!, raising money for Geeks Vs Cancer. Details here.