News
A Futile and Stupid Gesture Trailer: Will Forte Stars in Netflix Doug Kenney Biopic
Doug Kenney, the man behind National Lampoon, Animal House and Caddyshack, is spotlighted in this ultra-irreverent Netflix biopic.
While the legend of comedy writer Doug Kenney may not spring to mind with the current generation, it was a 1970s comedic supernova of sorts that came and went in the short span of a decade, one that was filled with transformative works like National Lampoon magazine, movie offshoot National Lampoon's Animal House and put comedy in the hole with Caddyshack.
Now, with the A Futile and Stupid Gesture trailer, Netflix unveils its biopic about the writer who, in 1980, fell to his death – purportedly accidentally – down a cliff in Kauia, Hawaii at the age of 33.
A Futile and Stupid Gesture Trailer
The A Futile and Stupid Gesture trailer arrives from Netflix, by way of EW. Like the man in focus, the trailer embraces its absurdities and even brandishes a prologue by comedian Martin Mull as an anachronistically-aged modern version of Kenney. However, Will Forte portrays Kenney throughout the bulk of the film, which chronicles the writer's career, starting with the former Harvard Lampoon editor's publication venture with best friend Henry Beard (Domhnall Gleeson). That, of course, becomes National Lampoon, a groundbreaking source of line-crossing comedy that rose to prominence in dorm rooms across America before spawning a film branding (tarnished as it may be today,) that started with the 1978 comedy smash, National Lampoon's Animal House.
After Kenney's tumultuous tenures with the magazine, his focus on screenwriting would manifest – alongside Harold Ramis and Brian Doyle-Murray – with another uber-quotable comedy of the period in Caddyshack. However, the 1980 film – now considered a sacred comedy classic – was contemporaneously scorned and arrived as a box office dud; something that supposedly sent Kenney – already dealing with personal demons – down a spiral of self-destruction.
Yet, the tragedy of how Kenney's life came to an end seems to be superseded in the film by its insanely irreverent humor, which manages to not only break the fourth wall, but the rules of time, space and mortality itself. Additionally, with the film's stacked cast portraying legendary comedy figures, the sight of Joel McHale playing a younger version of his former Community co-star, Chevy Chase, is an especially poetic thing to witness.
A Futile and Stupid Gesture Details
Besides stars Will Forte and Domhnall Gleeson, the cast also consists of Emmy Rossum, Joel McHale, Thomas Lennon, Jon Daly, Natasha Lyonne, Seth Green, Joe Lo Truglio, Paul Scheer, Matt Lucas and Annette O'Toole.
David Wain directed A Futile and Stupid Gesture, working off a screenplay by John Aboud and Michael Colton, which adapts the biography of the same name by Josh Karp. Wain is best known for the 2001 parody comedy film, Wet Hot American Summer, for which Netflix tapped him to revive as a franchise on 2015 prequel series Wet Hot American Summer: First Day of Camp and 2017 sequel series Wet Hot American Summer: Ten Years Later.
A Futile and Stupid Gesture Poster
The iconic 1973 National Lampoon cover depicting a pistol being held to the head of a dog with the caption, "If you don't buy this magazine, we'll kill this dog" is the subject of parody here.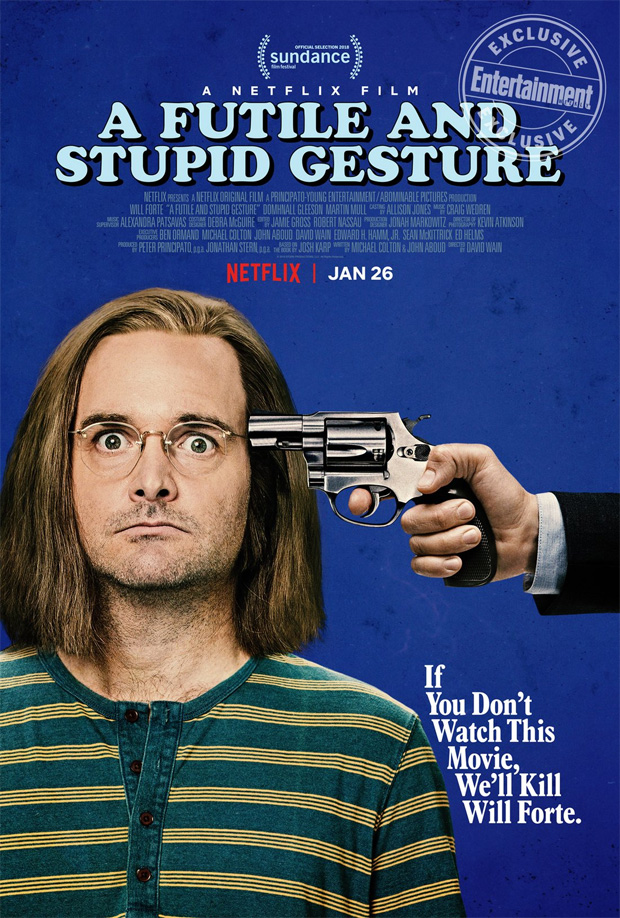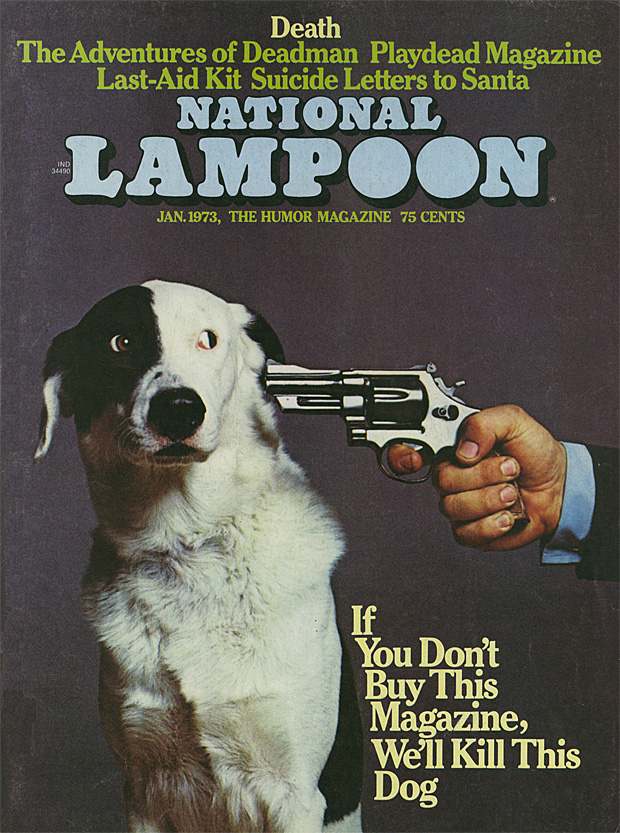 A Futile and Stupid Gesture Release Date
A Futile and Stupid Gesture will arrive on Netflix on January 26.