News
A Cure for Wellness: Release Date, Trailer, Cast, Review & Everything to Know
Gore Verbinski, of The Ring infamy, returns to horror with A Cure for Wellness. Here's everything, including even our review!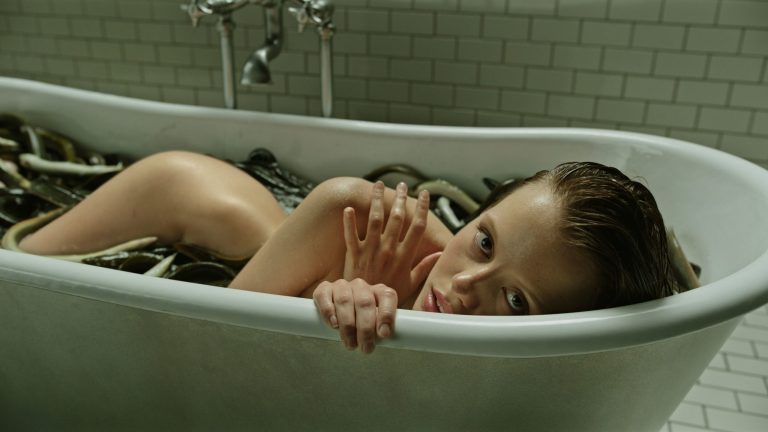 Director Gore Verbinski might still remain best known for the first three Pirates of the Caribbean movies (although we're massive Rango fans around these parts), but he also scored a sizeable hit with the American remake of The Ring, and now he returns to gothic horror of different kind with A Cure for Wellness. A movie about what happens when a derivatives trader finds himself staying for longer than intended at a wellness center in Switzerland, the picture seems positively demented. Indeed, Verbinski has mused he hopes it does for spas what Jaws did for the beach…
Here's everything you need to know, including our review.
A Cure for Wellness Review
While our David Crow enjoyed the movie for what it was, he certainly notes problems within its gothic haunts:
"An endless train bends into itself while hitting a curve, coiling like a serpent as it vanishes into a mountain tunnel; we're approaching a destination that could be Heaven or Hell. On this timeless vessel sits A Cure for Wellness' ostensible everyman, a young solicitor high on ambition, as well as the promise of wealth to be found at the end of his journey. For here, at the end of the world, the modern "West" meets its ancient counterpoint, and the only rules seem to be what you or they make them out to be. But when they are residents of an aging castle that time forgot, movie protagonists should beware.

I love these kind of Gothic horror stories, and the first hour of A Cure for Wellness, with all the Dracula undertones that come gushing out of it, is no exception. So it's kind of a shame that the movie is ultimately like so many Victorian music boxes found in its genre's ancestors: it's meticulously and ornately designed on the outside, with an exquisitely haunted affectation running throughout the entire presentation. But once opened, it's fairly empty within."
A Cure for Wellness TV Spots and Clips
First, check out the Super Bowl 51 spots, the first of which is really clever.
This one is a little more traditional…
And then here are some earlier ones…
A Cure For Wellness Trailers
It's a New Year. And with it, it's time to finally get healthy… by taking the cure. A Cure for Wellness that is.
Below is the full trailer, by the by.
And here's the first one:
A Cure for Wellness Story Details
A Cure for Wellness seems to be a strange and demented experience from Verbinski. Indeed, we've viewed the first half-hour or so, and can promise that the below synopsis is only scratching the surface of what to expect:
An ambitious young executive is sent to retrieve his company's CEO from an idyllic but mysterious "wellness center" at a remote location in the Swiss Alps. He soon suspects that the spa's miraculous treatments are not what they seem. When he begins to unravel its terrifying secrets, his sanity is tested, as he finds himself diagnosed with the same curious illness that keeps all the guests here longing for the cure. From Gore Verbinski, the visionary director of THE RING, comes the new psychological thriller, A CURE FOR WELLNESS.
We also spoke with Gore Verbinski in December and he offered some tantalizing details about what the film could represent.
"What is the contemporary illness?" Verbinski asked us. "We're born, we go to school, we work, and then get hit by a bus. What was it all for? [So we] take this kind of killer, this derivatives trader—he has it worse than any of us, right? He's going to fall from a higher place. So to take him to some place where—this idea where a diagnosis is a form of absolution. This idea where none of it's your fault, because you're not well. You're absolved by your doctor. Who wouldn't want a note from their doctor, in a way, to say, 'None of this is my fault?' Particularly if you're some corporate killer."
A Cure for Wellness Cast
A Cure for Wellness is being spearheaded by Dane DeHaan, who looks positively ready to crack as an even more ambitious and American version of Jonathan Harker. But also a very intriguing is Jason Isaacs in the role of Director Velmer, the head of the facility.
"Jason's always delicious to me," Verbinski tells us. "The thing we talked about very early on is it's very important to me as a healer, that there's a cost to every patient. Every time, he's here to help. He sees in Lockhart just a path to real destruction if he doesn't stop doing what he's doing. And there's that sense that I think he's more delicious the more he genuinely cares."
Verbinski later adds, "Velmer is not a fan of Western medicine, because it's too focused on blood, and he's much more interested in fluids, as our body's 64-percent water, and the cleansing of fluids. So he's developed some unique treatments in terms of purifying our fluids."
The film also stars Mia Goth as a mysterious and enigmatic young woman, whose mere visage distracts DeHaan's Lockhart long enough to drive him off course and into Velmer's care.
"When I was talking to Denise Chamian, the casting director, I said, 'Stop sending me these women.' I mean, I was like, 'Look at Shelly Duvall in The Shining,' because I was getting the traditional female leading lady. And Mia came in and read, and I was like, 'Done. This is it.' Because that's kind of who she is."
A Cure For Wellness Release Date
A Cure For Wellness opens on February 17, 2017.
A Cure for Wellness Images