News
A Bad Moms Christmas Trailer Puts a Price Tag on Wonder
You gotta be a bad mother to find the time to enjoy the holidays in the new Bad Moms Christmas trailer.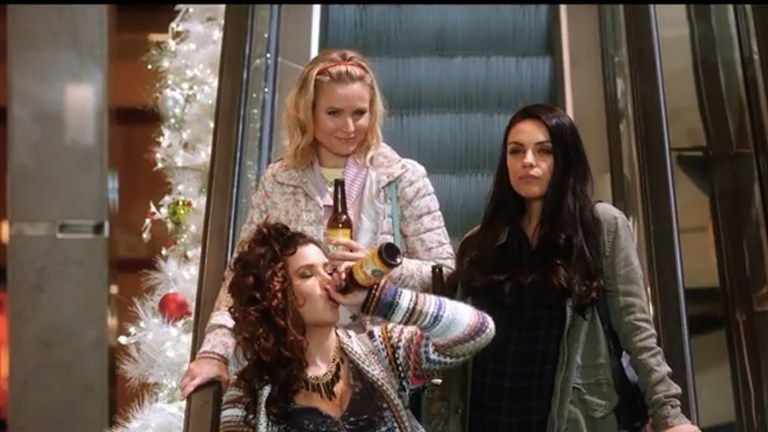 It's the most wonderful time of the year, unless you're a mom. For most mothers, Christmas is a lot of work. Between the wrapping, the shopping, the cooking  and the decorating, there is barely enough time for holiday cheer. That is not true in the upcoming comedy A Bad Moms Christmas. These are some bad mothers, and they have their own moms in tow to make this Easter, I mean Christmas, one the whole family will never forget, no matter how much therapy they get.
The original bad moms will get less than a little help from their own mothers, who have their own yuletime plans. When Simple family dinners become parties for almost 300 people, and there is no such thing as "alone" time, the mothers call a time out. 
You can watch the new trailer here:
Mothers won't waste time buying a tree this year after A Bad Moms Christmas trims the sap and breaks the balls. Why should mothers bust their asses from November to Yule time when they can renew, refresh and regift? The new A Bad Moms Christmas trailer brings back Amy (Mila Kunis), Kiki (Kristen Bell), and Carla (Hahn) from last summer's Bad Moms to deck the halls with season's greetings.
A Bad Moms Christmas was written and directed by Jon Lucas and Scott Moore. It also stars the moms' moms Christine Baranski, Susan Sarandon and Cheryl Hines, who are each staying with their daughters to make the holidays a little warmer and a lot more frenzied.
According to the official sypnopsis:
"A Bad Moms Christmas follows our three under-appreciated and over-burdened women as they rebel against the challenges and expectations of the Super Bowl for moms: Christmas. And if creating a more perfect holiday for their families wasn't hard enough, they have to do all of that while hosting and entertaining their own mothers. By the end of the journey, our moms will redefine how to make the holidays special for all and discover a closer relationship with their mothers."
Moms don't enjoy, they give joy, wrapping themselves up as giant stressballs from the day after Halloween to New Year's Day. They deserve more than shitty free massages for all that hard work. But even when they get a happy ending, their kids don't see the love behind the screams.
A Bad Moms Christmas also stars Jay Hernandez, Wanda Sykes, Peter Gallagher, Justin Hartley, and Oona Laurence.
A Bad Moms Christmas hits theaters on November 3, 2017.