Features
72 new comedies you probably haven't heard about
Sacha Baron Cohen and Will Ferrell's Sherlock Holmes movie, and 71 other upcoming comedies you may not have heard about...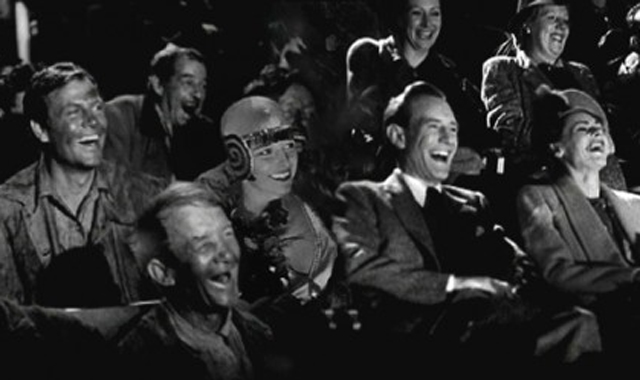 Some are done, dusted, and waiting to be released, some are only at the script stage, and some, probably, are little more than a glint in the filmmaker's eye, but they all share one thing: they're comedies, and the God of movies willing, at some point they'll be on our cinema screens. Join us then, in alphabetical order, on a quick jaunt through 72 forthcoming comedy movies you may not have known were on their way…
1. About Time
Richard Curtis' third directorial venture after Love Actually and The Boat that Rocked, his self-penned time-travel comedy has regular collaborator Bill Nighy lined up to star alongside Rachel McAdams and Tom Hollander. Filming begins this summer, with a planned 2013 release date. Expect fey British wit, and Bill Nighy's hair.
2. Absolutely Anything
Monty Python's Terry Jones is helming the CGI/live-action crossover sci-fi farce, with a bit of help from the vocal talents of Python pals Terry Gilliam, John Cleese, Michael Palin and, if rumour is to be believed, Robin Williams. It's the story of a group of aliens who give a human infinite power for a jape, and then sit back to enjoy the ensuing chaos. We want this made, and we want it made soon.
3. Alan Partridge: The Movie
Planned for a good while now, co-creator and all-round UK comedy doyen Armando Iannucci announced recently that filming was due to begin on the Alan Partridge movie this summer in time for an August 2013 release.The film will see Partridge attempting to "salvage his public career while negotiating a potentially violent turn of events". The script is by Coogan, Iannucci and Sacha Baron Cohen-collaborator Peter Baynham. Father Ted's Declan Lowney is to direct. 
4. Alone For The Holidays
From a script by Saturday Night Live's Seth Meyers and helmed by choreographer-turned-director Anne Fletcher (The Proposal, 27 Dresses), New York-set Alone for the Holidays is being prepped for a 2013 Christmas release date, though as yet, no cast members have been confirmed. Saying that, with James Franco, Michael Stipe and Real Steel's Shawn Levy producing, we imagine it'll only take a few phone calls to some mates and they'll be sorted.
5.  Baywatch
From the writer of the Police Academy reboot comes a big-screen Baywatch update, reportedly replete with cameo roles for the Hoff and Pammy Anderson. Jeremy Garelick's Baywatch is being billed as a comedy about "two unlikely prospective lifeguards who vie for jobs alongside the buff bodies who patrol a Californian beach", and apart from a Justin Timberlake rumour, no announcements have yet been made as to who's to fill those red cossies.
After many of us were forced to eat our hats when the 21 Jump Street remake turned out to be very funny indeed, we'll wait and see what comes of this one before passing judgement.
6. Blockbuster
The latest directing gig for Willow, Far and Away and The Banger Sisters writer/director Bob Dolman, Blockbuster tells the story of three friends who spend the summer of 1975 trying to sneak into a cinema to see Spielberg's titular blockbuster Jaws after being banned from their local theatre. Apart from a 2013 release date, little else is known about the picture, which sounds as if it'll depend heavily on its eventual cast's comedy dynamic.
7. Crystal Fairy
While making drama Magic Magic for Chilean director Sebastian Silva (The Maid), awkward teen portrayer extraordinaire Michael Cera snuck in a shoestring budget 12-day project aimed at the festival circuit:Crystal Fairy. The story of a hippy woman who meets Cera travelling in Chile, the actor's described Crystal Fairy as "…kind of a meandering movie, there's not really a thrust to it." Looking forward to that one then.
8. Dance of the Mirlitons
New(ish)comer Evan Greenberg has written and directed this 2013 comedy about a chubby young girl unexpectedly accepted into a prestigious ballet school who has to learn to survive in the über-competitive world of prima ballerinas. Don't Be Afraid of the Dark's very decent Bailee Madison stars as the lead, with support from Chloe Moretz and Kristen Bell. We're hoping for more Little Miss Sunshine than Angelina Ballerina.
9. Don Jon's Addiction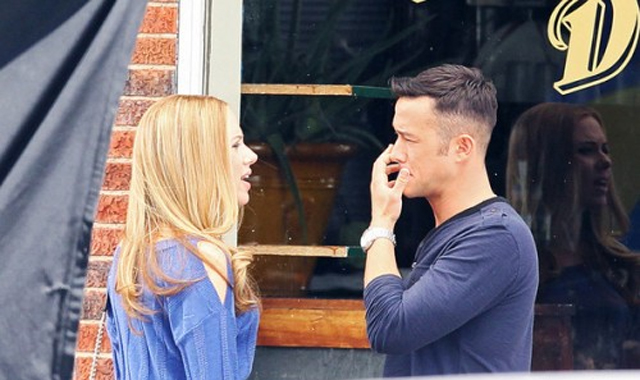 Joseph Gordon-Levitt's feature directorial and screenplay debut has an A-list cast including himself, Scarlett Johansson and Julianne Moore, and tells the story of a modern-day porn addict and Don Juan-type who attempts to become a better person. We have high hopes.
10. Elvis & Nixon
A comedy recreation of the real-life White House meeting between the titular pair, surely one of the most exciting thing about Elvis & Nixon is that it's written and directed by The Princess Bride's Wesley himself – Cary Elwes. Luke Wilson and Danny Huston star, though Eric Bana, previously linked to the Elvis role, is officially out. Still in pre-production, this one.
11. Emily The Strange
An advertising brand mutated into a series of graphic novels about a cynical goth teen, a movie version of Emily the Strange has been on the cards for a while with established star Chloe Moretz attached to the lead role. Emily-creator Rob Reger is executive producing the picture, but seeing as it's currently director-less, script-less, and Chloe Moretz's rising career means she's less likely to appear by the day, we'd best not hold our breath. 
12. Epic
Last Resort and My Summer of Love director Pawel Palikowski isn't known for his comedies (though a dark thread of humour runs through both of those previous pictures), so news that he's planning to tickle some funny bones with upcoming picture, Epic, starring Ben Kingsley, Ethan Hawke and Christopher Lambert, is something of a novelty. The film, still very much in the early stages, concerns an English filmmaker hired to direct an epic movie in Europe, and is not to be confused with the other hundred or so films going by variations on that name.
13. Fading Gigolo
Before his O Brother, Where Art Thou? co-star George Clooney entertained the notion of directing his own pictures, John Turturro had been doing it for years, with 2013's Fading Gigolo the actor/writer/director's fifth feature. It's the story of an older gentleman who becomes a male escort to make some quick cash and enlists the services of his Hasidic Jewish friend as pimp. Best of all? Woody Allen's in line to star, alongside Sharon Stone, Sofia Vergara and of course, Turturro himself.
14. For A Good Time, Call…
Co-written by cast-member Lauren Miller (Superbad; 50/50), For a Good Time, Call… is about two college graduates who start a phone sex line to make some dosh. Miller's hubbie Seth Rogen also stars, alongside Justin Long and Ari Graynor in another R-rated sex comedy from the gang. After premiering at Sundance this January, the film has put out its first trailer already and is due for limited release in the US this summer.
14. Fraggle Rock
Now, this one should require no explanation. A movie version of Jim Henson Co. TV show Fraggle Rock has been talked about for years now, and the recent addition of two new writers from the Rango crew means things are moving forward once again. We'll have to wait until 2015 to see it though.
16.  Frank Or Francis 
Writer/director Charlie Kaufman has left quite the gap between 2008's Synecdoche, New York and his next feature, 2013 comedy Frank or Francis. It's a musical satire of Hollywood starring (get this) Nic Cage, Steve Carrell, Elizabeth Banks, Jack Black, Catherine Keener and Kevin Kline. We couldn't be more jazzed about this one, which makes it a real shame that the project has been shelved for the time being.
17. Freezing People Is Easy
Another one that had us at hello (well, from hearing its cast-list at least): Kristen Wiig, Paul Rudd, Owen Wilson and Christopher Walken are all on board for Errol Morris' 2013 sci-fi comedy about cryogenics in the 1960s. Stranger Than Fiction writer Zach Helm is on scripting duties, which, for us, is another ringing endorsement.
18.  Fun Size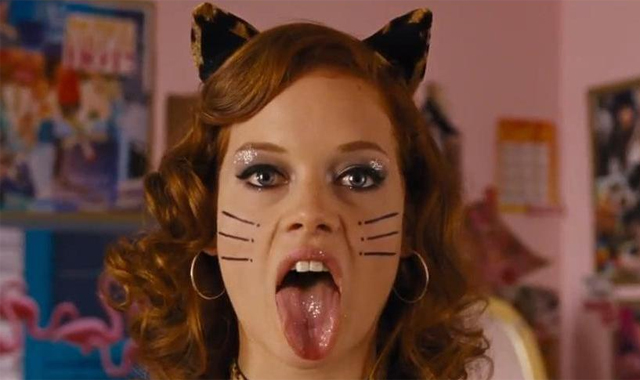 Out this October, Fun Size is a Halloween comedy from The Colbert Report writer Max Werner about a girl who loses her little brother whilst trick or treating. Project X's Thomas Mann stars with newcomer Jane Levy, Chelsea Handler and Jackass's Johnny Knoxville. Gossip Girl, The O.C and Chuck's Josh Schwartz directs. A trailer has already been released for anyone whose fancy has been tickled by that short description.
19. Get A Job
One of the increasing number of recession flicks out in recent years, Get a Job tells the story of a group of college graduates attempting to follow the title's advice in New York city. This 2013 comedy has an impressive young cast with Anna Kendrick, Alison Brie, John Cho, Miles Teller and Superbad's Christopher Mintz-Plasse, as well as the happily ubiquitous Bryan Cranston. Warning: Not to be confused with the Hawaiian movie of the same name, great though that looks.
20. Good Omens
Last year Neil Gaiman excitedly announced that Terry Jones and pal Gavin Scott were adapting Good Omens, the fantasy apocalypse novel he and Terry Pratchett co-wrote in 1990, though it seems that's as far as the project's gone. It wouldn't be the first Gaiman, or indeed Pratchett adaptation to take its time coming to fruition, as their intricately plotted worlds are notoriously difficult to bring to the screen without a Harry Potter-sized budget. We await the results of this one, and the mooted American Gods TV series, with interest.
21. Hell & Back
This R-rated animated film, currently in post-production, made some headlines when A-lister Mila Kunis was announced to be voicing a character alongside Danny McBride, Nick Swardson and American Pie's Jennifer Coolidge in the story of an infernal trip to retrieve a friend from Hades. Co-directed by SNL and Robot Chicken writers Tom Gianas and Ross Shuman, Hell & Back's unlikely to be one for the kids.
22.  Here Comes The Boom 
We'll be honest, if this one didn't star Fonzie, we may well have left it off altogether. Having said that, there must be some fans of Kevin James comedies out there, otherwise why would they keep letting him make them? Henry Winkler and Salma Hayek have the pleasure of appearing next to James in the picture, about a high school biology teacher who moonlights as a MMA fighter to raise money for the school's music programme. Here Comes the Boom is out this October, and if you can't wait until then, a trailer featuring Kevin James wearing a wrestling leotard is available online. 
23. Hong Kong Phooey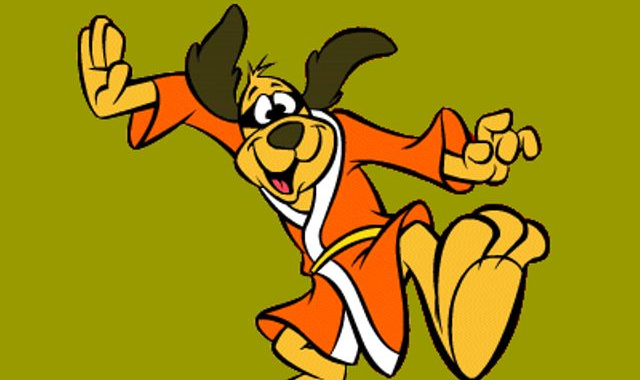 This promises to be an interesting take on the old Hanna Barbera martial arts hound cartoon, chiefly because it's listed as a live-action feature. Eddie Murphy voices the titular (and we're assuming, CGI) crime-fighting dog in the film, which is reported to be shooting this year for a 2013 release. An increasingly volatile movie presence, Murphy is certainly no guarantee of a picture's success these days, though his best work of late has been behind the barrier of an animated character.
24. I Give It A Year
Nice cast this, with Rose Byrne, Anna Faris, Rafe Spall, Simon Baker, Olivia Colman and Stephen Merchant all taking key roles in this currently-filming rom-com about what happens after instead of on the lead-up to a wedding. Two sets of newlyweds struggle to maintain marital harmony in the first year of marriage, I Give it a Year will hopefully be out in 2013.
25. Identity Thief
Thanks to Bridesmaids' Melissa McCarthy landing a lead in the flick intended for a man (and so joining an elite club comprising her, Sigourney Weaver, and Angelina Jolie), the Jason Bateman-starring and produced Identity Thief has enjoyed a higher profile than it might ordinarily. Jon Favreau also stars in this crime comedy from Seth Gordon (Horrible Bosses, Four Christmases), about a woman who half-inches Bateman's character's identity.
26. King Dork
Adapted from Frank Portman's Young Adult novel about an unpopular teen whose life changes when he reads J.D Salinger's The Catcher in the Rye and gets involved in some Scooby Gang-like mystery solving, King Dork has scored Project X's Thomas Mann as its lead. From director Matt Piedmont, whose Will Ferrell-vehicle Casa De Mi Padre was so ironic it forgot to be funny, it'll be interesting to see how this one works out.
27. Last Vegas
Only at the cast-gathering stage so far, Last Vegas has in some quarters quite understandably been dubbed the geriatric Hangover, treating as it does the story of four guys in their sixties on a stag do in Vegas. Michael Douglas was the first in the ring, and soon joined by Robert De Niro, Morgan Freeman and Christopher Walken for this twilight take on a familiar comedy premise, from the director of Cool Runnings. 
28.  Liberal Arts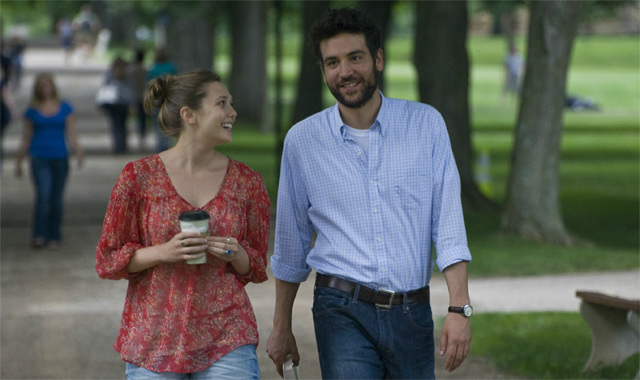 Another to premiere at this year's Sundance Film Festival, campus comedy Liberal Arts comes to UK cinemas in October. How I Met Your Mother's Josh Radnor plays a thirty-something who falls for 19-year-old college student Elizabeth Olsen when invited to return to his alma mater. Zac Efron also stars.
29. Lovesick
Marking Friends' Matt LeBlanc's return to feature films since 2003 comedy action pic Charlie's Angels: Full Throttle, Lovesick is an indie comedy from the pen of King of the Hill's Dean Young. Intriguingly, LeBlanc is to play a man who literally loses his mind when he falls in love (hence the title, we suppose), and who has to overcome the pathology so he can win his dream woman. So far it's just LeBlanc confirmed in the cast, so there's a fair way to go before we'll be seeing this one in cinemas.
30. Lucky Dog 
A comedy about two French Canadian Christmas tree salesmen who travel to New York to flog their wares, Lucky Dog boasts a very decent cast featuring the likes of Paul Giamatti, Sally Hawkins, and Paul Rudd. It's currently filming in New York, with Junebug's indie director Phil Morrison calling the shots. Expect a festive release date.
31. Married And Cheating
Another set for a 2013 release date, Married and Cheating looks to be following the Valentine's Day/Short Cuts model (with apologies to Robert Altman for the juxtaposition) as a rom-com following three couples, all of who share the common theme of adultery. Sarah Jessica Parker and Brendan Fraser are confirmed to be appearing, with rumours buzzing around Kiefer Sutherland, Eva Longoria, and Marisa Tomei.
32. Not Another Happy Ending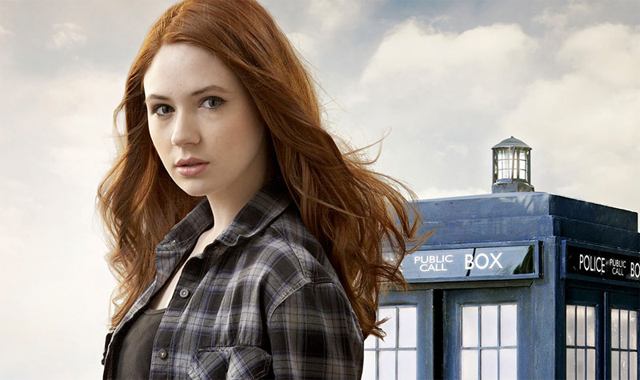 A UK comedy due to film in Glasgow later this year, Not Another Happy Ending comes from John McKay, who's carried over his working relationship with Doctor Who's Karen Gillan in We'll Take Manhattan to his new rom-com, also featuring Downton Abbey's Jessica Brown Findlay. It's about a publisher who needs his chief writer to fall out of her state of delirious love so she'll keep knocking out bestsellers for his firm. Inevitably, warm fuzzy feelings complicate things between the pair.
33. Parental Guidance
Billy Crytal and Bette Midler are pairing up for this grandparent comedy, due out next February in the UK. Crystal's character finds himself tasked with taking care of his grandkids when his daughter goes away for work, and "resorts to an old-style school of parenting". As long as things stay largely clear of The Sitter or The Change-Up territory, we're cautiously optimistic.
34. Pete And Goat
It's still very early days for the intriguingly titled comedy drama Pete and Goat, which already has Amanda Seyfried and Star Trek's Anton Yelchin attached as the leads. It's the tale of an "adventurous road trip" that takes place "on the second worst day of Pete's life" from Rememory director Mark Palansky. We wonder where the goat fits in…
35. Phineas And Ferb
Scoring one of the writers of Toy Story 3 has to be a boon for Disney's upcoming Phineas and Ferb movie adaptation, scheduled for a July 2013 release. A mixture of live-action and animation, the film will pick up the adventures of the step-brother pair and their pet platypus from the successful children's TV series.
37. Pierre Pierre
Longtime Sacha Baron Cohen collaborator, Larry Charles was due to follow up his most recent comedy,The Dictator, with Jim Carrey feature Pierre Pierre, about a French nihilist who smuggles a stolen Mona Lisa. News on the project has gone quiet of late, and it's unknown whether or not Carrey is still on board.
38. Pixels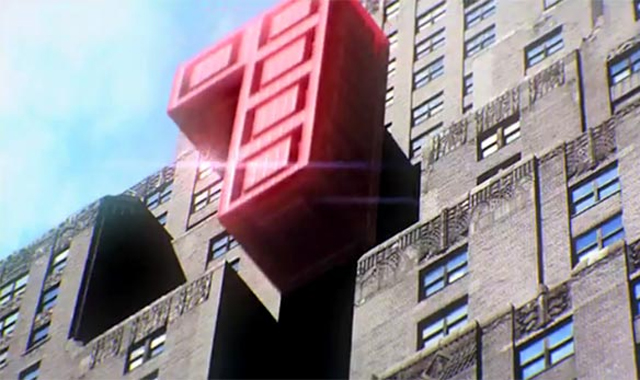 Another animation from Adam Sandler's Happy Madison production company (the first being the recently announced Tonka Truck toon), this one. The plot outline extends so far only to: "Pixels invade New York City!", though canny internet types will remember Patrick Jean's viral short on which the feature is to be based. So far, Pixels is only at the script stage, but has a May 2014 release date pencilled in.
39. Playing The Field
A comedy drama coming to the UK next January and boasting a title that makes it sound as if it belongs in a straight-to-video eighties bargain bin, Playing the Field stars Gerard Butler as a former pro-athlete who decides to give something back by coaching his son's football team, but who finds himself wanting to give something else entirely to the gaggle of soccer moms including Judy Greer, Jessica Biel, Catherine Zeta-Jones and Uma Thurman, who make a beeline for him. Expect cutesy rom-com fare, inside and out.
40. Relanxious
Gearing up to shoot this summer is another comedy with a less-than fantastic title, but a slightly more interesting premise. Relanxious is the story of a woman (Olivia Wilde) who suffers from anxiety attacks, who falls for a chap (Jason Sudeikis) with agoraphobia. Saturday Night Live and Portlandia's Fred Armisen also stars with Scott Pilgrim's Brie Larson.
41. Ruby Sparks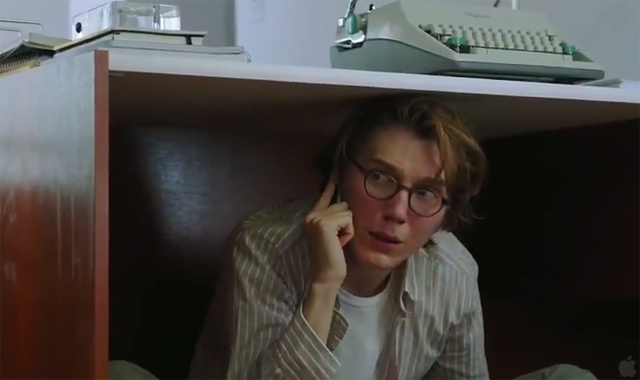 Out in the UK this October, Ruby Sparks is the screenwriting feature debut of Zoe Kazan, who stars in the magic realist picture with her other half, There Will Be Blood's Paul Dano. It's the first feature since 2006's Little Miss Sunshine to come from co-directors Valeris Faris and Jonathan Dayton, and features a novelist suffering from writers' block, who invents his dream woman by writing her. A bit like Penny Crayon, then?
42. Seven Psychopaths
Now, there's a title. From acclaimed In Bruges director Martin McDonagh, Seven Psychopaths stars (deep breath now) Colin Farrell, Woody Harrelson, Sam Rockwell, Christopher Walken, Tom Waits and many more. It's another story about a struggling writer, but this time one who gets embroiled with the L.A criminal underworld after his friends kidnap a tough guy's pet dog. Come its release this November, consider our ticket sold.
43. Squirrel To The Nuts
And we're back with the dodgy titles. Still, no matter, as Squirrel to the Nuts boasts another good cast in Owen Wilson, Olivia Wilde and Brie Larson, a screenplay by veteran actor/writer Peter Bogdanovich, and production by West Anderson and Noah Baumbach, all of which essentially makes it the world's indie-est movie ever. It's the story of a Broadway director who falls for a hooker-turned-actress, and is still in its infancy as yet.
44. Stretch Armstrong
It's not had the smoothest of rides, this one, with a previous iteration starring Twilight's Taylor Lautner having bitten the dust. Hasbro did a deal with Relativity Media though, which is bringing a Lautner-free version of the toy cupboard adaptation back from the dead. Currently at the scripting stage (we imagine stretching unfeasibly long distances will make up most of the character trajectory), we're unlikely to be seeing action-comedy Stretch Armstrong for a good few years yet.
45. The Angriest Man In Brooklyn
Filming in New York this autumn, we very much like the sound of this. A dark comedy about a man diagnosed with a brain tumour that allows him just an hour left to live, The Angriest Man in Brooklyn has nabbed Robin Williams for its irascible lead, with Mila Kunis and Game of Thrones' Peter Dinklage supporting. 
46. The Black Marks
Think Ocean's Eleven meets The Expendables meets Red meets (sort of) Wallace and Gromit: The Wrong Trousers. The Black Marks is a tale of a retired motorbike daredevil with a side-line in art heists who gets the old gang back together for one last… oh, you know the rest. Kurt Russell, Matt Dillon, Terence Stamp, and Jay Baruchel are lined up to star in the comedy which is currently filming in Canada.
47. The Comedian
The last time we saw Sean Penn he was sporting a Robert Smith bird's nest 'do' and hunting Nazis, but The Comedian sees him direct Robert De Niro and Kristen Wiig in a bittersweet comedy about an aging comedian. The plan is to shoot this summer so we'll keep you posted.
48.  The Croods
An original, non-Shrek or How to Train Your Dragon-related film from DreamWorks Animation (though one obviously with hope for a future franchise), The Croods stars the voice talents of Nic Cage, Ryan Reynolds, Emma Stone and Catherine Keener, and tells the story of the beginning of time. Early signs look a bit ace for this one.
49. The Curse Of The Buxom Strumpet
Winning the battle of the titles hands-down, 18th century-set UK zombie pic The Curse of the Buxom Strumpet stars Sir Ian McKellan, Gillian Anderson, and a host of other British acting talent in an extremely silly story about the residents of Upper Trollop attempting to escape a zombie apocalypse. Apparently, McKellan's scenes have already been shot, though the rest of the film is still in development. Never bodes brilliantly, that…
50. The End Of The World
Otherwise known as Evan Goldberg and Seth Rogen's 'let's make an apocalypse movie with all our famous chums' comedy, The End of the World takes place against the backdrop of a Hollywood Hills A-lister party, where the usual gang (Seth Rogen, Jonah Hill, Jason Segel, Danny McBride, James Franco etc) have to escape an apocalyptic event. Expect LOTS of famous cameos to pop up.
51. The Guilt Trip
Another from Mr Seth Rogen this, a film that went under the working title of My Mother's Curse and is due out in the UK next February. Rogen plays an inventor who embarks on a road-trip to promote his latest invention with his mother in tow. Colin Hanks, Community's Danny Pudi and Barbara Streisand also star in the comedy from The Proposal director Anne Fletcher and Crazy, Stupid, Love co-writer Dan Fogelman.
52. The Happytime Murders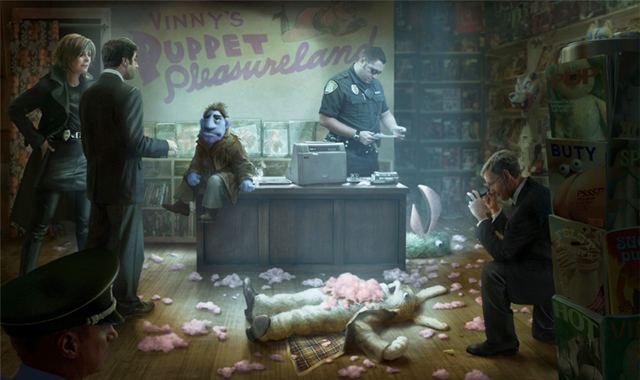 We've seen the concept art for Brian (son of Jim) Henson's The Happytime Murders and are happy to report it looks completely twisted. A noir detective story enacted by puppets (à la that episode of Angel, you know the one), Henson's film so far has only Katherine Heigl attached, and is currently at the script stage with a 2013 release date envisaged.
53. The Poisoners
A British WWI black comedy about a group of women who fall for German POWs, The Poisoners has a decent UK cast boasting the likes of Emily Watson, Game of Thrones' Lena Headey, and Anna Friel alongside German acting talent Ken Duken, Alexander Scheer and Hanno Koffler. Sommersby, Entrapment and Creation director Jon Amiel helms.
54. The Secret Life Of Walter Mitty
Familiar to many from the 1947 film about the now-archetypal title character, a daydreaming pulp fiction writer who lives in a world of fantasy, The Secret Life of Walter Mitty is getting an update. Ben Stiller is to take Danny Kaye's lead role from the original movie, opposite love interest Kristen Wiig. A shedload of other names are attached to the currently filming pic, from Patton Oswalt to Shirley MacLaine and potentially, Sean Penn. Expect to see it in cinemas in December 2013.
55. The Starving Games
Whether the above Friedberg/Seltzer pic really deserves a place on a list of upcoming comedies is yet to be seen, but since we weren't planning on putting together a list of pointless spoofs you'd need a lobotomy to enjoy, we've kept it here. It's The Hunger Games, but you know, with Friedberg and Seltzer doing their thing. Filming begins in October, which means it'll probably be out about a year after the movie it's parodying was released, so, you know, nice and timely then.
56. The To-Do List
This one's in the can already, though no release dates have yet been confirmed. It stars Parks and Recreation's Aubrey Plaza as a high school graduate who tries to gain more sexual experience before leaving for college. Arrested Development's Alia Shawkat, Community's Donald Glover, The OC's Rachel Bilson, Andy Samberg and SNL's Bill Hader also star.
57. The Way, Way Back
Seemingly another in a long line of teen comedies, that The Way, Way Back has attracted the attention of Steve Carrell and Toni Collette bodes pretty well for it. About to begin shooting this summer, it's about a teenager on summer break with a difficult relationship with his step-father and mother, but you know, it's hopefully better than that sounds. Alison Janney, AnnaSophia Robb and Sam Rockwell join Carrell and Collette in the film, which (and we love this) was co-written and co-directed by Community's talented Jim Rash aka Dean Pelton.
58. The Wedding
Robert De Niro and Diane Keaton play a divorced couple who pretend to still be together for the sake of a big family wedding in The Wedding, with support from Katherine Heigl & Amanda Seyfried. Filming's already wrapped on the picture, which is due out in the UK this October and comes written and directed by The Bucket List's Justin Zackham.
59. They Came Together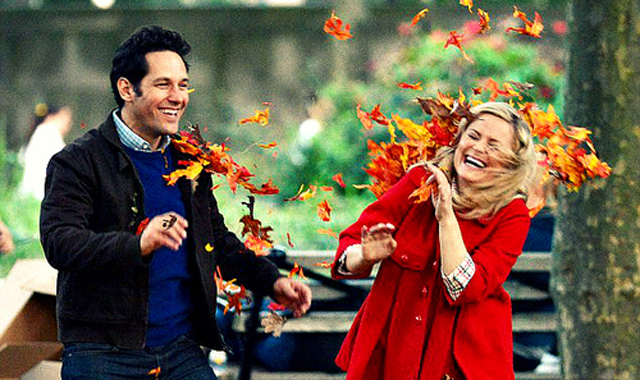 The newest comedy from Role Models and Wanderlust director David Wain, They Came Together is currently filming. Amy Poehler and Wain's constant companion, the lovely Paul Rudd, star in the film about a small business owner (Poehler) faced with losing her shop to a corporate development. On the basis of Role Models alone, this one's certainly worth a look.
60. Three Mississippi
In case any of you were anxious to see Adam Sandler back on your screens after Jack and Jill, Three Mississippi may be just the ticket. Sandler isn't yet 100% confirmed for the comedy about rival towns who hold an annual football game, though co-star Will Ferrell is, and it seems right up his strada. Slated to shoot in the autumn.
61. Torrente
Sacha Baron Cohen is rumoured to be playing Jose Luis Torrente in this English-language remake of the Spanish original about "…a lazy and corrupt cop who tries to polish his image and impress his sexy new neighbour by tracking down a local gang of drug traffickers" from a script adapted by The Dictator's Alec Berg and David Mandel. Stuck in an extended rewrite phase at the moment, we hear.
62. Townies
Nick Stoller, he of The Muppets fame, was only recently attached to direct Zac Efron/Seth Rogen comedy Townies, about a rivalry between a college frathouse and its peeved civilian neighbour. It's still early days for the picture, though with the Efron involved, it's sure to pick up publicity as things move along.
63. Turkeys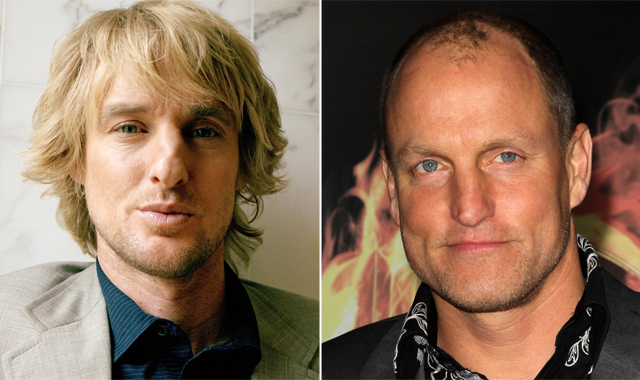 We hope this animation is as fantastically silly as it sounds: two turkeys, voiced by Woody Harrelson and Owen Wilson, discover a secret government lab time machine and travel back to stop their kind ending up on Thanksgiving menus. We don't think we can sell it any better than that. Pixar animator Jimmy Hayward is to direct.
64. Undercover Cop
Jason Segel said no to The Muppets sequel so he could broaden his horizons, and perhaps Undercover Cop is the kind of thing he meant? From a script by veteran screenwriter Steve Zaillian (Schindler's List, Hannibal,The Girl with the Dragon Tattoo), the film casts Segel as well… take a guess. So far this one is only at the script stage, so it could still go either way.
65. Untitled Buddy Cop Comedy
Here's one for the diary, Paul Feig's Untitled Buddy Cop Comedy starring Bridesmaids' Melissa McCarthy (we don't imagine she'll ever shake off that prefix) and Sandra Bullock. Bullock plays an uptight FBI agent forced to team up with a slapdash Boston police officer to take on the Russian mafia. It may sound generic, but with Freaks and Geeks' Feig at the helm, we're expecting good things.
66. Untitled Charlie Kaufman and Spike Jonze Project
Joaquin Phoenix, Samantha Morton, Rooney Mara, Olivia Wilde and Amy Adams in a film reuniting Being John Malkovich's Charlie Kaufman and Spike Jones. Do you really need to hear any more? Oh, okay. Well, it's about a man who falls in love with the voice of his computer, so a kind of Siri love story if you will. It's filming as we type, though we know as much about its eventual release date as we do its title.
67. Untitled Diablo Cody Project (working title: Lamb Of God)
The writer of Juno, Jennifer's Body and Young Adult is trying her hand at feature directing, and this as-yet untitled project is to be the result. We know Cody's script sees a young religious woman lose her faith and decide to commit all manner of earthly sins in Las Vegas, and we also know that Julianne Hough and Russell Brand are lined up to star, alongside Holly Hunter, Octavia Spencer and Nick Offerman, but that's about the extent of it. The movie's already in the can, and due out in 2013.
68. Untitled Sherlock Holmes Project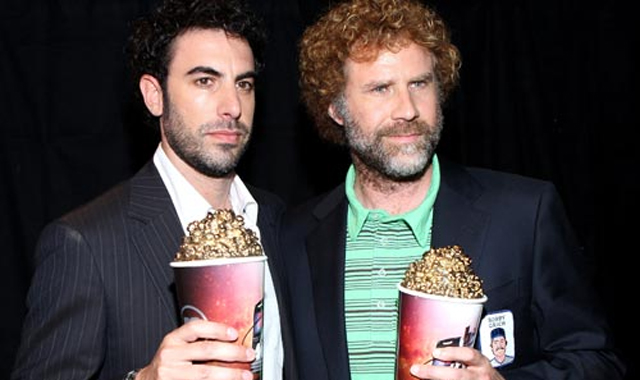 As paid-up, card-carrying Sherlock Homies (™Portlandia), we were surprised this in-development project passed us by. Sacha Baron Cohen and Will Ferrell, respectively, are lined up to play Holmes and Watson in "…a humorous take on Arthur Conan Doyle's classic mysteries". Judd Apatow is producing, and as-yet, no director has been added to the picture. Could it work?
69. Valet Guys
Kevin James. Adam Sandler. Two valet guys witness a murder and end up on the run. Hilarity, we assume, ensues. Valet Guys is aiming to shoot this year for a 2013 release date.
70. What's The Matter With Margie?
Fond as we are of Elizabeth Banks, it's less the cast than the writer that piques our interest for What's the Matter with Margie? Six Feet Under and latterly, True Blood showrunner Alan Ball has penned the script about a pent-up office worker who explodes (not literally, but then, you probably knew that). With Series 7: The Contenders' Daniel Minahan calling the shots, it all sounds like a very good bet. We'll have to wait until 2014 to see the fruits of Ball and Minahan's labour.
71. Writers
This one's been finished too, and will turn up in cinemas at some point next year. It boasts a hot young cast including Lily "daughter of Phil" Collins and the suddenly very much in-demand Logan Lerman. Greg Kinnear plays a novelist still obsessing over his ex-wife (Jennifer Connolly), in the film, with Collins as the couple's daughter. 
72.10 Things I Hate About Life
A sequel of sorts to The Taming of the Shrew-in-a-high-school 1999 movie 10 Things I Hate About You, …Life from original director Gil Junger was announced on these very pages not too long ago. Hayley Atwell is so far the only name confirmed to be starring in the film, which is the story of two strangers who attempt to end it all one day in the same place, at the same time, and who manage to talk themselves out of committing the act. It's too early for release dates yet, but if you were a fan of the writer/director's previous work, then this one will be worth keeping an eye on.
Follow our Twitter feed for faster news and bad jokes right here. And be our Facebook chum here.