Features
6 people who performed their real-life jobs in movies
Could you play out your everyday life with a focus-puller measuring your nose? Here are some who could...
There was always a male cop at LAPD with "Hollywood" attached to his name, whether or not he worked Hollywood Division. It was usually earned by the cop's outside interest in things cinematic. If he did an occasional job with a TV or movie company as a technical advisor, you could be sure everyone would start calling him "Hollywood Lou" or "Hollywood Bill"…
Joseph Wambaugh, Hollywood Station, 2006
Casting real-life cops to play fictional cops is practically a Hollywood institution now. Getting the government involved in military or action thrillers is also an old story; thousands of the troops, officers and officials who've paraded across our screens have been the 'real deal', even back to the dawn of cinema. The original The Day The Earth Stood Still was turned down for government/military co-operation due to its pacific message in a cold-war era, whereas, stupefyingly, the production of V For Vendetta had the full co-operation of the Blair administration in London.
On location, directors love the verisimilitude of casting locals able to bring authenticity to roles which mirror their own lives. In Star Trek IV: The Voyage Home, one of the best takes where Mr. Chekov is asking San Francisco residents for directions to 'the nuclear wessels' was with  a passer-by who had no idea what was going on. It's in the movie. For his deservedly acclaimed 1996 drama Sling Blade, Billy Bob Thornton cast his old hometown crony, carpet-shop supremo Rick Dial, as the proprietor of a lawn-mower repair business. Dial earned plaudits in the role, as well as further offers of acting – several of which he has taken up.
When it comes to acting some lucky people are born with great natural talent. Unschooled, they operate on instinct and can't understand why the rest of us find acting so tough.
John Badham, I'll Be In My Trailer, 2006
Badham goes on to describe a hiccup in the production of Blue Thunder, where producer Phil Feldman, who had acted briefly in The Godfather Part II, asked to play the part of an air-force colonel. "Usually I ask actors to read to read for the roles they are to play." says Badham. "This time I made an exception. A fatal exception…".
Feldman turned up on set with what Badham describes as that 'deer in the headlights' look. "That stage-fright 101 that directors recognise immediately. It's too late to fire the guy. You just have to live with the consequences…as we rolled cameras on his first take, he could hardly say his lines."
Blue Thunder co-star Malcolm McDowell was anything but sympathetic, standing in position grinning like a maniac. Quizzed on this by Badham, McDowell explained "We spend our whole lives learning how to make acting appear easy. Now everybody thinks they can do it too. I love the look on their face when they discover how hard it really is."
On that note of caution, here are some non-professional actors who really made an impression doing what comes naturally…
Reverend William O'Malley – Father Dyer, The Exorcist (1973)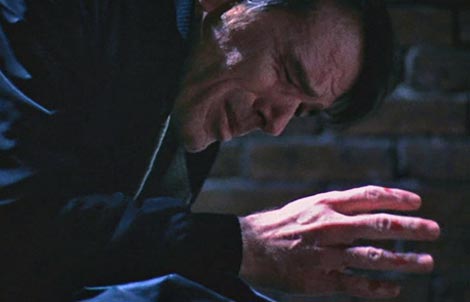 Though this lively Jesuit priest now refers to his participation in Friedkin's spine-chilling blockbuster as 'that pornographic horror film I once did', he still holds a yearly screening of The Exorcist on the floor of the dorm rooms at Fordham university where the Dyer/Karras scenes were filmed (and at which institution O'Malley still teaches). He answers questions about it afterward too. O'Malley had a natural charm unphased by the cameras, and had no problem nailing the part of the gregarious Jesuit priest who is best friend and confidante to conflicted psychiatrist-priest Father Karras (Jason Miller). He did have a bit of trouble crying at the death of his on-screen pal, though, which prompted Friedkin to pull out yet more of the shock tactics that had characterised his dealings with the actors during the shooting of The Exorcist. After endless dud takes in a freezing Georgetown location, Friedkin gave O'Malley such a hard slap that the exhausted priest broke down. And that's what made the cut.
Arthur Christiansen – 'Editor', The Day The Earth Caught Fire (1961)
Daily Express editor Christiansen made the jump – a familiar one in this list – from technical advisor on Val Guest's excellent eco-SF-thriller to actually playing himself. It's a very meaty part for a non-professional, with plenty of exposition and even some genuine emoting. Christiansen acquits himself adequately, and even shows some flair on occasion. However, Guest reveals in his commentary that the newsman was overwhelmed with the lengthy tranches of dialogue given his character, and had to be 'cut around' in order to assemble the best bits of a great many takes. Val Guest obviously had no complaints though, as he was to cast Christiansen as an editor again two years later in 80,000 Suspects.
R. Lee Ermey – Gny. Sgt. Hartman, Full Metal Jacket (1987)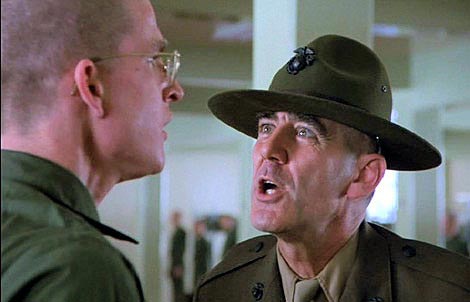 Ermey spent 11 years in the marines, rising to the rank of staff sergeant and then gunnery sergeant before a medical discharge found him studying drama and criminology at the University of Manila. His involvement as an actor (helicopter pilot – blink and you'll miss it) in Francis Ford Coppola's Apocalypse Now led him to become a military advisor for that film, and ultimately he was drafted into Kubrick's Full Metal Jacket in the same capacity. The rest is history. Sgt. Hartman is one of the most-remembered movie characters of the 1980s. If it had been played by a Broadway thesp, it still would have been a jaw-dropping performance, but knowledge of the casting's authenticity raised it to an ever higher level. Ermey brought a slew of barrack-house slang and invective into the public eye and went on to a continuing and distinguished career as a magnetic character-actor of range and power.
Richard Dawson – Killian, The Running Man (1987)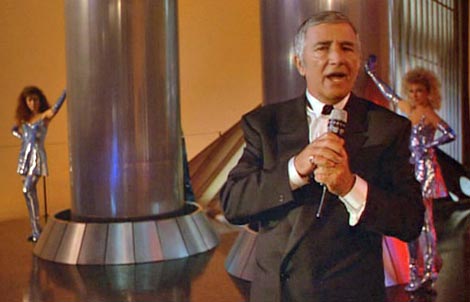 British-born Dawson had a strong background in acting when he came on board to play Arnold Schwarzenegger's glittery persecutor in The Running Man. But it wasn't his lengthy stint on Hogan's Heroes or various walk-ons in cinema or on TV that made him the natural choice, but rather his nine years of being a national institution as the cheery host of ABC's Family Feud. Killian was the first non-voiceover movie role Dawson had undertaken in 20 years, and remains his most recent performance in films.
Ben Sliney – Himself, United 93 (2006)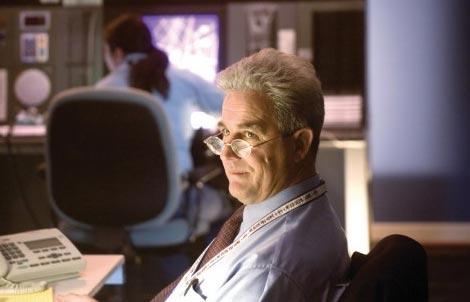 Director Paul Greengrass made a lot of 'authentic' casting decisions for his telling of the less-visual tragedy of 9/11. Real FAA air traffic controllers were used in the film, and the United 93 crew are entirely composed of real-life pilots and flight attendants, many of whom had worked for United Airlines. Ben Sliney was the man responsible for giving the order to shut down American air-space after the two collisions at the twin towers. Beginning as a technical advisor for United 93, Greengrass ultimately offered him the role, and it's hard to contend that anyone else could have done a better job. By the time United 93 was in production, Sliney had left his career in ATC behind to become a lawyer.
Eddie Egan – Simonson, The French Connection (1971)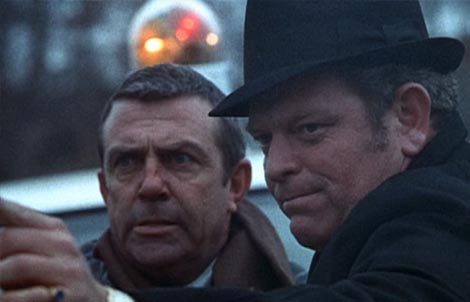 Director William Friedkin had been a documentarian in the sixties, and a great adherent to using reality over artifice. His casting of real-life narc-cop Eddie Egan was a happy enough experience to replicate with William O'Malley in The Exorcist two years later (see above). Egan and partner Sonny Grosso had already spent months shepherding Gene Hackman and Roy Scheider through the underbelly of 70s New York for research purposes, when it occurred to Friedkin that he couldn't do better than get the real thing to play the boss of Popeye Doyle. Grosso is also in The French Connection, in a slightly smaller part. Though most fans are aware of Egan and Grosso's involvement with the film, fewer know that both the driver and motorman on the famous subway-chase sequence were last minute stand-ins for actors who failed to show, and were indeed 'the real McCoy'.
Also of note:Wise Blood (1979) John Huston's quirky drama about an atheist preacher (recently re-released and reviewed by us) employed the talents of several locals, including the town prostitute and the sheriff, both of whom played out their real-life existences for Huston, and both of whom were very good.
Ransom (1996) Gossip columnist and television host A. J. Benza plays the inquisitive reporter at the party.
Seabiscuit (2003) Professional jockeys Gary Stevens and Chris McCarron play jockeys in Seabiscuit.
Judex (1963) Channing Pollock was a professional magician in the 1950s who went on to start an acting career, and here plays the eponymous illusionist.
Rocky II (1979) The Rocky saga is filled with as much authentic casting as Sylvester Stallone was able. Where possible, all the sports reporters in all the films have been played by real sports reporters, and boxing champion Roberto Durán can be seen sparring with Sly in this second entry in the story.