Features
50 films that nearly had very different casts
What might have been, in the headline-grabbing musical chairs of Hollywood casting...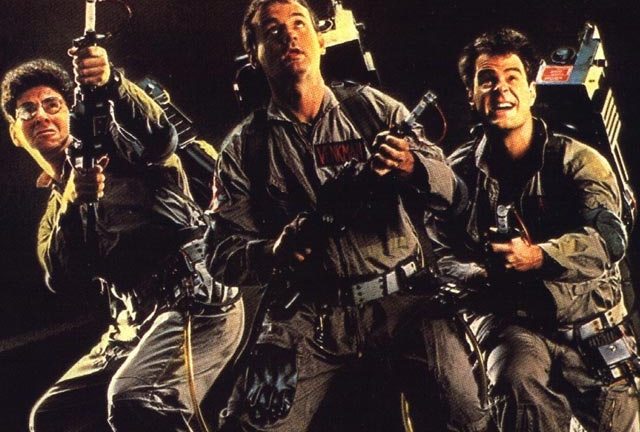 Ghostbusters (1984)Peter Venckman – John Belushi (role originally written for him) / Michael Keaton / Chevy Chase / Christopher Walken / John Lithgow / Christopher Lloyd / Jeff GoldblumSpengler – Michael KeatonLouis Tully – John CandyWinston – Eddie MurphyGozer – Paul Reubens (back when Gozer was a guy in a business suit)Janine – Sandra BernhardZuul – Anne Carlisle
Flash Gordon (1980)Flash Gordon – Kurt RussellDr Zarkov – Dennis Hopper
Star Wars (1980)Luke Skywalker – William KattObi Wan Kenobi – Peter CushingHan Solo – Glynn Turman / Billy Dee Williams / Perry King n.b. This role turned down by James Caan, Al Pacino, Jack Nicholson, Robert De Niro and Burt ReynoldsPrincess Leia – Jodie Foster / Terri Nunn (Berlin) n.b. Role turned down by Terri Lynn and Cindy WilliamsDarth Vader (voice) – Orson Welles
Apocalypse Now (1979)Willard – Steve McQueen (first choice) / Al Pacinon.b. Harvey Keitel shot as Willard for two weeks with Coppola before the director replaced him with Martin Sheen. Jack Nicholson reportedly turned down the role. Nick Nolte is said to have wanted the part very much.Kurtz – Jack Nicholson / Robert Redford / Al Pacinon.b. These were Coppola's second choices if Brando didn't come into line on the project.Pilot – Gene Hackman
Romancing The Stone (1984)Jack T. Colton – Sylvester Stallone (declined) / Christopher Reeve (declined)
Midnight Cowboy (1971)Joe Buck – Elvis Presley n.b. The King was famously kept out of what could have been the cinematic highlight of his career by Colonel Tom Parker because of the scene involving gay prostitution in the toilet of a cinema.
ET (1982)Mary (children's mother) – Shelley Longn.b. Long was offered the part but was already committed to the Ron Howard comedy Night Shift.
Doctor Doolittle (1967)Doolittle – Sidney Poiter / Christopher Plummer
Dogma (1999)Rufus – Samuel L. Jackson / Will Smith
The Birds (1963)Mitch Brenner – Farley Granger (unavailable)
North By Northwest (1959)Phillip Vandamm – Yul Brynner (first choice)Eve Kendall – Sophia Loren n.b. Cyd Charisse reportedly turned down by Hitchcock for the role after studio pressure to cast her.
Marnie (1963)Marnie – Grace Kellyn.b. Reportedly Princess Graces people in Monaco were unhappy with the thought of her playing a thief.
Jaws (1975)Quint – Sterling HaydenHooper – Timothy Bottoms / Jon Voight / Jan-Michael VincentChief Brody – Charlton Heston was reportedly turned down for the role, later causing him to snub casting calls for Spielbergs 1941.n.b. Robert Duvall turned down the role, as did Lee MarvinEllen Brody – Victoria Principal
Groundhog Day (1992)Rita – Tori Amosn.b. Considerations for the role of Phil Connors are said to have included Chevy Chase, Steve Martin, Tom Hanks and John Travolta.
Armageddon (1998)Harry S. Stamper – Kevin Costner (originally lined up for the Bruce Willis role)
Friday the 13th (1980)Alice Hardy – Sally Field (auditioned)Mrs. Voorhees – Estelle Parsons
Interview with the Vampire: The Vampire Chronicles (1994)Lestat– Johnny Depp (turned it down) / John Travoltan.b. Travolta was considered for Lestat pre-Grease/SNF, just before John Badhams Dracula and vampire spoof Love At First Bite killed the project. Role of L'Estat was inspired by Rutger Hauer, who was considered too old for the part by the time the green light came. Claudia – Rachel Wood
Mr. & Mrs. Smith (2005)Mrs. Smith – Nicole Kidman (original casting) / Catherine Zeta-Jones / Cate BlanchettJohn Smith – Johnny Depp / Will Smith
The Truman Show (1998)Christof – Dennis Hoppern.b. Hopper reportedly left the project after one day of shooting, to be replaced by Ed Harris.Truman – Gary Oldman (in Andrew Niccol phase of the project)
Dances With Wolves (1991)John Dunbar– Viggo Mortensenn.b.Reported that Mortensen will finally take the role in sequel The Holy Road.
The Deer Hunter (1978)Michael – Roy ScheiderSteven – Brad Dourif
X-Men 3: The Last Stand (2006)Kitty Pryde – Maggie Grace (original casting) / Summer Glau (auditioned)Angel – Mike Vogel / Nick Stahl (considered)
Oceans 11 (2001)Danny Ocean – Bruce Willis (original casting)Saul Bloom – Alan Arkin / Don RicklesFrank Catton – Danny Glover (offered)Basher – Ewan McGregor (considered)Terry Benedict– Warren Beatty / Michael Douglas / Ralph Fiennes
Crash (2004)Hansen – Heath Ledger (was in talks)District Attorney Rick Cabot– John Cusack (original choice)
The Big Lebowski (1998)Bunny Lebowski – Charlize Theron (considered)
Blade Runner (1982)Deckard – Dustin Hoffman / James Caann.b. Hoffman attached to project for six months.Rachel – Victoria Principal (choice of Philip K. Dick)Pris – Deborah Harry (original choice)
Independence Day (1996)Captain Jimmy Raven Wilder – Matthew Perry
Casablanca (1942)Rick – George Raft (canvassing)Ilsa Lund – Michèle Morgan / Hedy Lamarr (not Hedley)Maj. Strasser – Otto PremingerVictor Laszlo – Herbert Marshall / Dean Jagger / Joseph Cotten
Amélie (2001)Amélie – Emily Watson
Terminator 2 (1991)T-1000 – Michael Biehnn.b. This utter reversal of roles from The Terminator (1984) was finally considered too confusing for viewers.
Cleopatra (1963)Cleopatra – Susan Hayward (First choice) / Joan Collinsn.b. Collins was cast in the 1958 iteration of the production, but delays made her unavailable.Marc Antony – Marlon Brando / Stephen Boyd / Richard Johnson / Michael David / Peter Otoole / Peter Finch / Laurence Harvey
Nineteen-Eighty-Four (1984)O'Brien – Paul Scofield / Sean Connery / Anthony Hopkinsn.b. Richard Burton was 4th choice for the role after the above.
Doctor Zhivago (1965)Dr. Yuri Zhivago – Peter OToole (Declined) / Max von Sydow / Dirk Bogarde (considered)Tonya – Audrey Hepburn
Planet Of The Apes (1968)Dr. Zaius – Edward G. Robinsonn.b. Check out the special edition to see Robinson's full make-up test in the part.Zira – Ingrid Bergmann.b. Bergman later said to have greatly regretted turning down the part played to acclaim by Kim Hunter.Taylor – Marlon Brando
Logan's Run (1976)Logan – Jon VoightJessica – Lindsay WagnerFrancis – William Devane
Battlestar Galactica (1978) Cmdr. Adama – Mark Hamill (declined) Starbuck – Don Johnsonn.b. Johnson reportedly lost the part due to his Southern accent.
The Matrix (1999)Neo – Ewan McGregor / Nicolas Cage / Johnny Deppn.b. McGregor turned the role down to begin the Star Wars prequels.Morpheus – Gary Oldman / Samuel L. Jackson / Sean ConneryAgent Smith – Jean Reno
The 6th Day (2000)Adam Gibson – Kevin Costner
Batman and Robin (1997)Batman – David DuchovnyMr Freeze – Anthony Hopkins / Hulk Hogan / Sylvester StalloneAlfred – Anthony Hopkins
The Last Action Hero (1991) Benedict – Charles Dance (replacing Timothy Dalton)n.b. Alan Rickman was offered the role, but negotiations were unsuccessful.
Lethal Weapon (1987) Riggs – Bruce Willis (Considered)
Kindergarten Cop (1990) John Kimble – Bill Murray (original choice)
End Of Days (1999) Christine York – Kate Winslet / Liv Tyler
Labyrinth(1985)Jareth – Michael Jackson / Sting.
The Agony & The Ecstasy (1965)Michelangelo – Burt Lancaster (in delayed 1961 production)
Bowfinger (1999) Kit Ramsey/Jeffernson 'Jiff' Ramsey – Keanu Reevesn.b. Reportedly the Murphy roles were originally written for Reeves.
Apollo 13 (1995)Fred Haise – John Cusack (declined)Jim Lovell – John Travolta (declined).
Trading Places (1983)Billy Ray Valentine – Richard PryorLouis Winthorpe III – Gene WilderMortimer Duke – Ray Milland
The Aviator (2005)Howard Hughes – Jim CarreyKatharine Hepburn – Nicole Kidman (considered)Senator Owen Brewster – Bob Hoskins
Titanic (1998)Jack Dawson – Macaulay Culkin (considered) / Christian Bale (turned down)Molly Brown – Reba McEntireCal Hockley – Michael BiehnCaptain Smith – Robert De Niro (declined due to illness)