News
5 Reasons You Must See Alfonso Cuaron's Gravity
Gravity opens this weekend. Are you hyped yet? Good. Allow us to hype you up even more as we count down the five reasons why this should be your movie of the fall.
Unless you're being tossed around in the helpless openness of outer space with no signal to Earth, you've probably heard something about Gravity, the new astronaut thriller starring Sandra Bullock and George Clooney, and directed by Alfonso Cuarón. As many are bound to agree, it is a big beautiful wonder of a science fiction movie. In terms of its filmmaking, Gravity is a grandiose mix of live-action, computer animation and CGI, with sets and space suits rendered digitally. So in case you still haven't somehow done so: Get hyped for this film. Now.
To help with this process, you can check out our five-star review of the film here. And, just because we like to be thorough, here are five more reasons you should be hyped to experience what is undoubtedly one of the most impressive movies of the year.
***SPECIAL NOTE***
As an OCD viewer who aggressively eschews previews and trailers (why experience sequences like these for the first time via a bar's television?) I promise the following shall be spoiler-free. On with the list…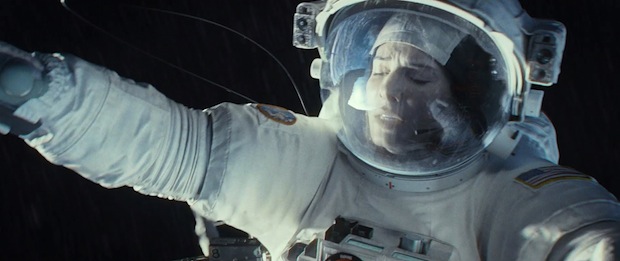 James Cameron and Guillermo del Toro Are Already Geeking Out About It
Since being unveiled at film gatherings like Fantastic Fest and the Toronto International Film Festival, Gravity has been psyching up geeks everywhere with its undisputed impressiveness. However it's not just rabid IMDb users and other movie pedestrians who are stoked up on Gravity, but director peers as well who are giving this achievement the kind of remarks they themselves slave to hear. James Cameron covered Variety in his exploded brain matter when he was quoted as gushing: "I was stunned, absolutely floored. I think it's the best space photography ever done, I think it's the best space film ever done, and it's the movie I've been hungry to see for an awful long time."
And then there's the kudos from Cuarón's longtime movie homie, Guillermo del Toro, who has been huffing Gravity glue since it was just an idea. Speaking to MTV News in 2011, del Toro remarked:
"The way they're making [Gravity] will I think forever change certain types of productions. The engineering and the ingenuity of the machines they've created to film that way is fantastic. I'm amazed at Alfonso in the last few movies, because he has completely transformed himself. It is incredibly well calculated, and very human."

 
Since then, the Pacific Rim director has indeed seen a final copy, and he has proven himself right. Talking to The Wrap after experiencing Gravity in Toronto he commented, "I think it is one of the most beautifully designed, elegant, powerful, sci-fi movies. It has certainly taken what he created in 'Children of Men' and pushed it even more."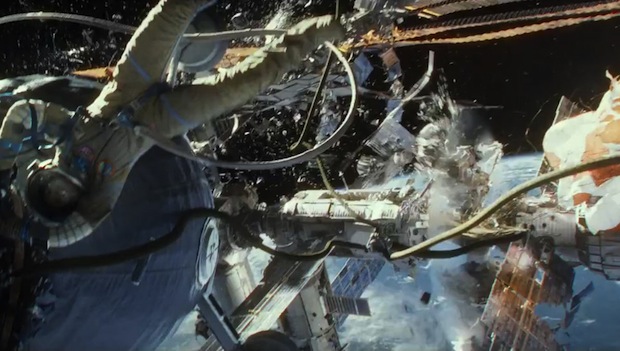 A Small Story with A Big Budget
Usually when a film has a budget of $80 million, it has a lot more onscreen than just two performers and is more often than not based on a franchise successfully road-tested in other mediums. But in the rare and exciting case of Cuarón's Gravity, it is a big studio project (based on an original screenplay) relying on the reputation of a very visual director who hasn't helmed a feature since 2007's Children of Men. It's worth pointing out though, that the scope of this film wasn't always this size. As cinematographer Emmanuel Lubezki revealed recently to The Los Angeles Times.
"Alfonso said it's going to be simple," Lubezki recalls, "we have only one actor. We build the rocket and then with three guys we can shoot the movie. But that is Alfonso. And of course, $80 million later, five years later and hundreds and hundreds and hundreds of people working on it, we have this movie."
To the credit of Warner Brothers, they stuck with Cuarón through his intense filmmaking process, which included investing in the development of technology used to make the film the unique and extremely detailed experience it has become. All of this was done without Warner Bros. seeing a single shot of the film until six months after Gravity was done shooting. In these aspects and more, Gravity is an achievement for films both big and small.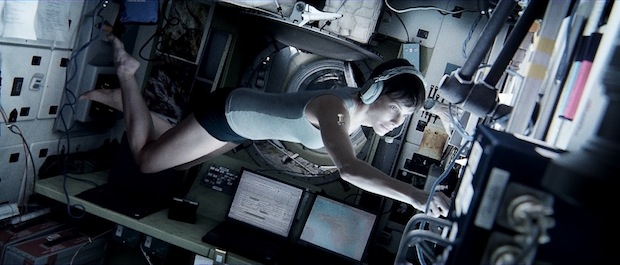 New Filmmaking Technology Cameron-Style
Like Cameron did for his little passion project Avatar, Cuarón had to wait for the ability of filmmaking technology to catch-up with the ideas he had to make Gravity a reality. (It is also said that when Cuarón saw the visuals in Avatar, he knew that making Gravity would be possible.) Also similar to Cameron, even when Cuarón knew he could start the project, he (and a massive crew) still had to invent various filmmaking technologies for Gravity.
Such includes a special wiring system used to present believable weightlessness, which took four years to develop. Along with this, there was also Lubezki's "Light Box," which (according to the film's press notes) stood over 20 feet tall and 10 feet wide. Because the filmmakers had to light for an outer space that could only be created with computers, the "Light Box" was used to achieve the type of illumination on an astronaut that traditional lighting could not do. Along with this, robots were used to capture these difficult shots precisely.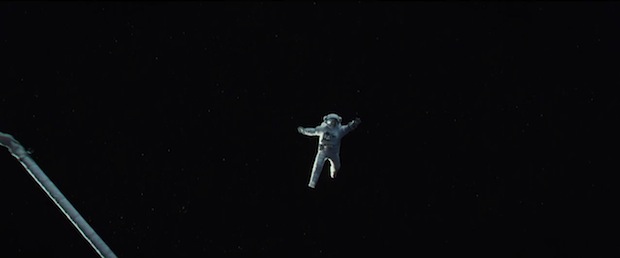 A New Type of Horror Experience
Encountering the extreme conditions of space is not new for movies that feature space exploration; the concept of such a setting often becomes the main conflict for movie astronauts, whether they're in Ron Howard's Apollo 13, Clint Eastwood's Space Cowboys, or Danny Boyle's Sunshine. However, no space film before has been able to so claustrophobically actualize the extreme levels of sucktitude that come with the horror of being lost in space. With its immersive POV perspectives and naturally flowing long-shots, Gravity is the very rare film experience that introduces a new type of horrifying phenomenon to audience members.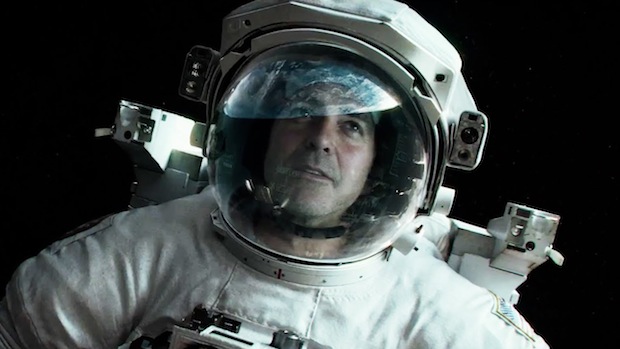 Space = Awesome
Like the case with our own explorations of space, it's always a special occasion whenever science fiction can take a viewer believably into the beautiful, open and damning environment that is the grandiosity of outer space. Sometimes it's as if the commitment to recreating the timeless atmosphere of the final frontier inspires something particularly creative in storytellers, which often leads to unique spectacle (whether the product is in the end good or bad). We've experienced this space excitement more recently, for example, in the seconds-long exterior shots of Elysium's out-of-this-world utopia, sequences that linger in the memory far longer than much else in that movie. Also, there was a special degree of campiness brought to play when Luc Besson's 2012 project Lockout with its space jail. Even the promise of a third Machete movie, Machete Kills Again … In Space has high hopes for craziness that will be elevated due to its ultimate location and its extreme environmental conditions.
The point is that space is awesome. Further, it is even more awesome as a setting for a film. And since Gravity is a film set in space, a fantastically masterful film at that, you should probably go see it as soon as you can.
Like us on
Facebook
and follow us on
Twitter
for all news updates related to the world of geek. And
Google+
, if that's your thing.