News
5 Possible Follow-Ups to Kick-Ass 2
Comic book writer, Mark Millar has seen box-office success with films like Wanted and Kick-Ass 2. Hollywood is already calling for adaptations of more of his work. Here are five that you might be buying tickets for soon.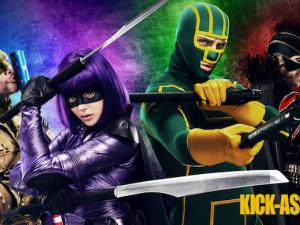 Kick-Ass 2 will be the third film adapted from the works of Mark Millar. Love him or hate him, he certainly leaves an impact wherever he goes. Known for his sometimes crass, always controversial portrayal of superhuman archetypes, Millar has made an impact in the DC and Wildstorm Universes with Superman: Red Son and his ultra-violent follow up to Warren Ellis' The Authority. He changed the way the world sees the Avengers in the pages of his industry-shattering Ultimates, and paved the way for the current creator-owned explosion with the debut of Wanted in 2003.
Millar has been a polarizing figure, many love him for his cinematic, balls-to-the-wall portrayal of some of comic's most enduring icons; others despise him for his lack of restraint and exploitative use of rape, drugs, and over the top violence. And while this vocal opposition can have a passionate hate for the writer's output, many comic book enthusiasts consider him one of the most vital voices of the medium in the 21st Century.
Yet what seems most important for the industry at the moment is that Hollywood has fallen on the "love" side of the Millar divide, which has led to several of his creations becoming big budget success stories, starting with Wanted in 2008, which was followed by Kick-Ass in 2010 and Kick-Ass 2 in 2013. Secret Service will also hit the big screen in late 2014 from Kick-Ass, Stardust, and X-Men: First Class director Mathew Vaughn. But these aren't the only books Millar had a hand in that could work on the big screen. Let's take a look at five more.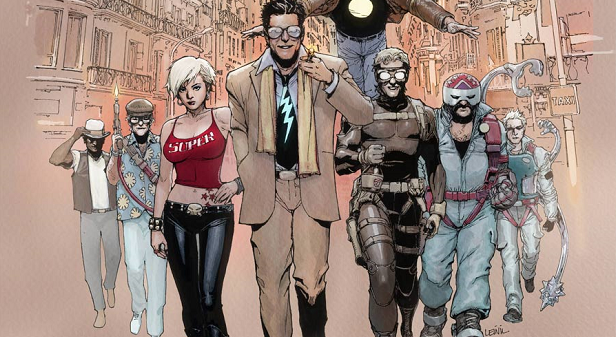 Super Crooks (2012)  
Wanted had an amazing cast and made a ton of box office, but it strayed from the central premise of the original comic. That comic was the story of the son of the world's great supervillain, and the freedom that rejecting societal morality gives a person. The protagonist of Wanted was not a good man, and he was every inch a super villain. The film was the same story, but left out any mention of supervillains (or heroes). While the book was a careful deconstruction of the super villain archetype (well, as careful as a comic can be featuring a character named Shithead, a villain made of poop) the film was a pretty basic but entertaining actioner. Super Crooks, co-created with artist Leinil Francis Yu, can be the super-powered villain film that Wanted was not.
Super Crooks is the story of a group of lovable super-powered cons who turn their focus away from the big cities protected by major superheroes and decide to pull off a major heist in Spain, because as Millar put it in an interview with the L.A. Times Hero Complex, "there is no Captain Spain." Super Crooks can be the comic book version of Ocean's 11, a snappy, hip action drama with superpowers and sexy criminals. Spanish director Nacho Vigalondo has already agreed to helm the project, but there has not been a whisper of the film in over a year. There certainly appears to be tons of superhero movies on the horizon, but Super Crooks will finally give the bad guys a chance to shine.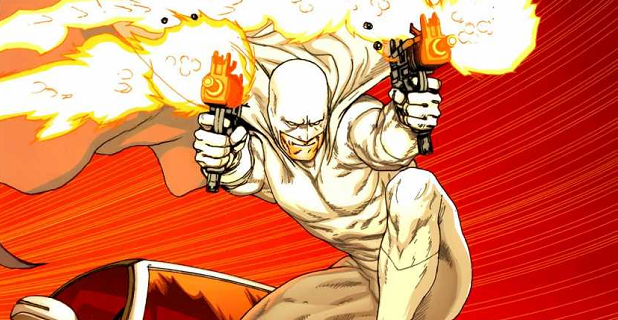 Nemesis (2010)
Imagine a film where Batman is a giant, raging, sociopathic ass-wipe…that's Nemesis. The original ads for the comic asked: "What if Batman was the Joker?" Millar further upped the ante by promoting the book in interviews with the question, "What if Batman was a (turn your heads kids) cunt?" DC was not happy, and Millar quickly changed the direction of the promotion, but that certainly did not water down the comic published by Marvel's Icon imprint in 2010 with artist Steve McNiven.
Nemesis is in every way the anti-Bruce Wayne, a rich, bored genius who uses his athleticism, billions of dollars, and detective skills to create chaos instead of helping the world. Instead of allying with the police, Nemesis chooses to destroy the life of Detective Blake Morrow, a very Commissioner Gordon-esque character, by exposing all of Morrow's secrets (like his wife's affair and his son's homosexuality). Nemesis even inseminates Morrow's daughter with her brother's sperm and alters her womb so an abortion will destroy her future hopes to have children. Yeah, it's that kind of book…a well-drawn, dynamically-paced polarizing train wreck that people either love or hate. The body count is huge, and the blood and atrocity flows freely, guaranteeing a hard R-rating.
Maybe Hollywood is ready for a big budget superhero snuff fest, because Nemesis was optioned at 20
th
 Century Fox with director Tony Scott (Man on Fire, Unstoppable) originally set to helm the project. Scott was well into pre-production when he passed the project on to friend Joe Carnahan (The Grey, Smokin' Aces). The project is still in development following Scott's tragic death in 2012, with Carnahan tweeting in December that he is writing the script.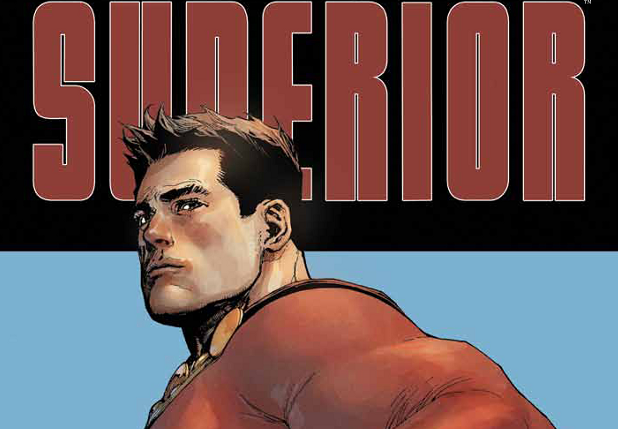 Superior (2010)
Like a modern day Billy Batson, Superior is the ultimate modern day wish-fulfillment comic. Co-created with frequent collaborator Leinil Francis Yu, Superior is the story of Simon Pooni, an angry twelve year old boy suffering from multiple sclerosis. The only solace Simon has in his life is his love for comics and super-heroes. When the lonely and bitter young man is granted the powers of his hero by a monkey named Ormon, Simon gets to live his dreams. Superior has the usual Millar edge, with Simon losing his virginity as Superior and loads of violence, but it is a little more gentle than what we have come to expect. Comic audiences could relate to Simon's love of the superhero and the often times solitary existence that some fans lead. Hollywood is more than ready for a film featuring a disabled superhero, and Superior was optioned by Kick-Ass and Secret Service director Mathew Vaughn, and would be a great metatextual contrast to films like Man of Steel and Marvel's Avengers.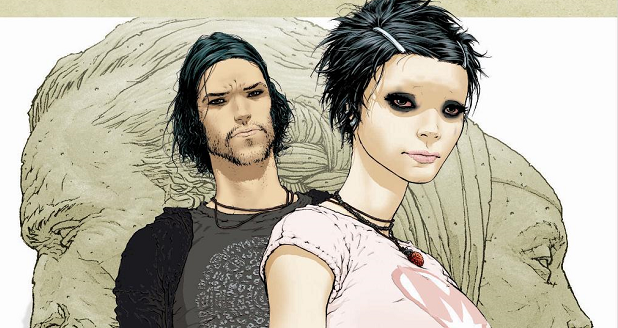 Jupiter's Legacy (2013)
Co-created with mega-popular artist Frank Quitely, Jupiter's Legacy is another superhero deconstruction, this time tracking the Golden Age of superheroes and their offspring of today. Only two issues have been published, and on the surface the book seems to be another cynical look at superheroes in a modern context. But if one delves beneath the glitz, violence, and sex of the book, one finds a careful expose on modern consumer and celebrity culture and how celebrity can be analogous to tragedy. The sons and daughters of the old time heroes were not corrupted by their powers but by the idea that they are consumable commodities to be used up and thrown away. Jupiter's Legacy would be the most complex film so far to come out of Millar's library as it focuses on a huge cast of heroes from two time periods, rather than a lone protagonist (or ragingly evil antagonist in the case of Nemesis), but the right filmmaker could do wonders with this property.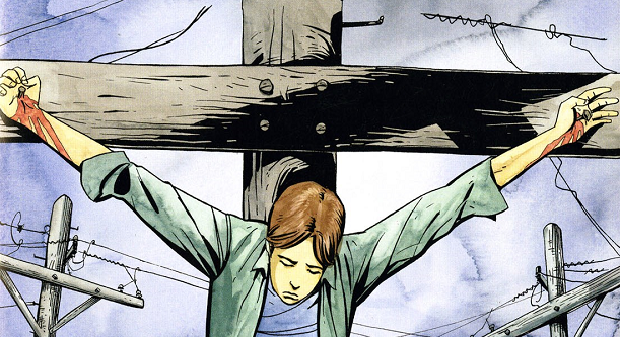 Chosen aka America Jesus (2004)
Published by Dark Horse, Chosen debuted at the same time as Wanted. Chosen, with art by Peter Gross, tracks the story of a young boy who discovers that he is the second coming of Jesus Christ. It is a careful reflection of the superhero coming of age origin stories from comics' Silver Age, but instead of being bitten by a spider or struck by lightning, the main character of Chosen gets his powers through the fact that he is God's son returned. Collected as American Jesus, Chosen used the classic superhero format to look at modern religion, media and morality. It is a fascinating and restrained (for Millar anyway) look at the greatest of powers and the responsibility that can only be felt by a person who discovers he is the most important boy that ever lived, and the twist at the end is a mindfuck of the greatest degree. I won't spoil it here, but it changes the entire nature of the narrative and sets up a story big enough for a number of sequels.
Like us on Facebook and follow us on Twitter for all news updates related to the world of geek. And Google+, if that's your thing!