News
4/20 Massacre Trailer Promises Contact High To Die For
The first intentional stoner slasher film 4/20 Massacre takes its hits in the wood.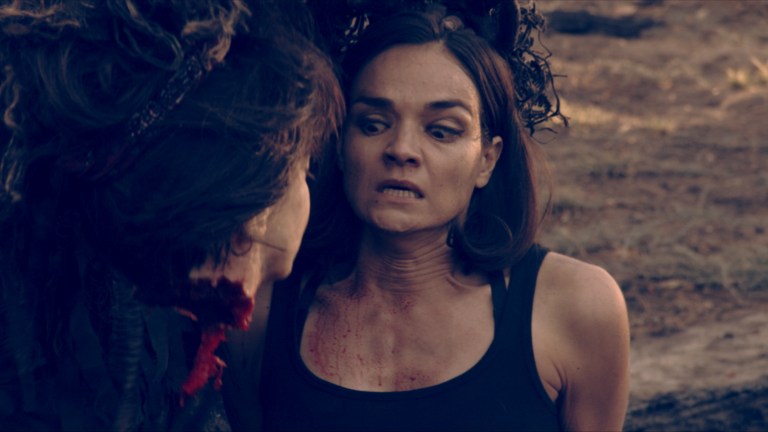 A very potent strain is stashed in the woods, according to the trailer for the upcoming stoner/slasher 4/20 Massacre. The independent horror film feeds the head, but kills more than the buzz  as it leaves nothing from a group of young hikers but a pile of stems and seeds.
4/20 Massacre was written and directed by Dylan Reynolds.The movie tells the "story of five women who go camping in the woods to celebrate a friend's birthday over the 4/20 weekend," according to the official synopsis. "But when they cross the turf of an illegal marijuana growing operation they must struggle to survive the living nightmare."
The film stars Jamie Bernadette who made her first screen appearance in Son of Sam (2008), and made Let's Be Evil, I Spit on Your Grave: Déjà Vu, Killing Joan and American Satan, Vanessa Rose Parker (Samurai Cop 2), Stacey Danger (Jean-Claude Van Johnson, and Divergent series star Justine Wachsberger.) The film features Marissa Pistone (Raze), Jim Storm (Dark Shadows), Mark Schroeder (Pretty Little Liars) Jim Round, Drew Talbert and James Gregory.
The film promises to serve up suspense, smoke and spine-tingling chills. 4/20 Massacre pits young stars against "cinema's next iconic movie monster in a frightening and funny comedy-thriller released just in time for the 'The Official Holiday' for weed enthusiasts," according to the press statement.
You can watch the trailer here:
4/20 Massacre premieres on VOD and DVD on April 3, from Film Chest. The film will be released theatrically beginning April 20th. The L.A theatrical will be held at California Institute of Abnormal Arts in North Hollywood and run thru 4/20 to 4/27.