Features
3000 words on the One Direction movie
When Peter Capaldi was cast as the 12th Doctor, we found ourselves with a big article on One Direction to write. And we've done it...
This bit is not part of the word count. Instead, it seems important to set the scene.
On Saturday 3rd August 2013, I sent out a Tweet from the Den Of Geek account, which looked something like this:
— Den Of Geek (@denofgeek)
August 3, 2013
Hence, this article. Which now begins…
The Wordcount Starts Here
If you were reading Den Of Geek back in 2010, you may recall we ran a series of blockbuster movie preview feature articles. Because we were having a light-hearted moment, we ran one for Sex And The City 2. If you clicked on that article – and it was only live on the site for about half an hour – you'd have got no more than four or five words, briefly advising you to, er, give the film a miss.
Now people who write for websites will generally tell you that you need armour plating to go into the comments section of an article you've written. In the midst of the constructive remarks, there's still a variable proportion that are nasty, hurtful, spiteful or just plain horrible. Fortunately, we don't get too many of those here, but the concept of sticks and stones breaking bones but words never hurting has long been disproved. That said, aforementioned proverbial armour plating is a massive help.
But there is a fine trade in armour-piercers. These are the comments that hit at a vulnerability in the piece itself, and leave you thinking that the commenter in question has hit the mark a damn sight better than you have. On this particular Sex And The City 2 piece, someone – and I'm paraphrasing – asked how we can complain when people make no effort to get into and understand geeky films, shows and such like, when we're giving equally short, unconstructive shrift to something others enjoy. They were bang on the money.
So: if you're expecting this to be a piece sneering at the One Direction movie, what right do I have to write that? One Direction may not be my ultimate cup of tea, but they're clearly good at what they do, and entertain far more people than I ever could. No: it seemed the only fair way to write this piece was to approach it head on, constructively, and to try and understand someone else's fandom, rather than throw proverbial bricks at it.
[Does quick word count. Only 344 words gone. Shit.]
The Concert Movie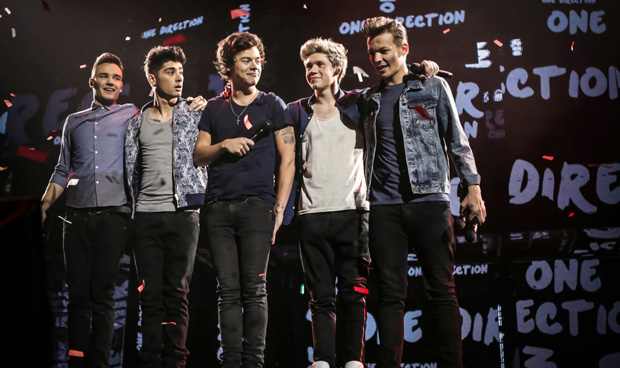 One Direction: This Is Us 3D is likely, commercially at least, to be the peak of the 3D concert movie (even though it's a bit more than that) at the box office. There are far better musical experts who can tell you just how dominant a boy band One Direction are, but whereas the likes of Hanna Montana, Justin Bieber, The Jonas Brothers, Katy Perry and Glee – at various points in their respective popularity trajectories – had differing levels of success on the big screen, This Is Us is expected to be particularly sizeable.
Going on US numbers (as it's in the US thus far that the concert movie has been the most popular), the top five to beat are currently:
Justin Bieber: Never Say Never ($73m)

Michael Jackson's This Is It ($72m)

Hannah Montana/Miley Cyrus: Best Of Both Worlds ($65m)

Katy Perry: Part Of Me ($25m)

Jonas Brothers: The 3D Concert Experience ($19m)
In sixth, incidentally, is Madonna's infamous Truth Or Dare: In Bed With Madonna. However, I don't expect One Direction: This Is Us to follow that tone, nor take the piss out of Kevin Costner in black and white.
This is, you may think, not a massively lucrative area of the market then. But that overlooks two things. Firstly, concert movies are cheap to make. After all, the concert is happening anyway, so whilst there's a bit more to it than pointing a camera and counting the cash, the main centrepiece of the movie is already paid for.
Secondly, concert movies arguably aren't designed for the big screen. In this case, Sony – the studio funding the movie – knows damn well that the real gold will be found when the film makes it to home formats. Then, One Direction: One Of Us DVD and Blu-rays will be on a stand in a shop next to a table of hot cakes, and said hot cakes will look decidedly chilly.
But then, One Direction: This Is Us is not a film that's banking solely on concert material, as has been trumpeted from the start. Say what you like about the project, but there's clearly been an effort here to offer something just a little bit more for your money.
After all, director Morgan Spurlock, who I'll come to shortly, has been clear that he's been following the five members of One Direction around on their world tour. As such, This Is Us is going to blend in concert material with a behind the scenes look at the band. Not a radical approach, granted. Concert movies have followed this path for some time, of course, and their heritage goes back decades. Yet it's arguably the best way to go.
Most recently, the surprisingly solid Justin Bieber: Never Say Never proved to be quite an interesting piece of work. Directed by Jon M Chu, who would go on to make G.I. Joe: Retaliation off the back off it (and he's apparently set to direct G.I. Joe 3 as well), the Bieber movie wisely divvied up its time, throwing in archive footage, old family and friend interviews and a glimpse of the furore that followed Bieber on his travels.
It wasn't particularly deep, but I was surprised, considering it was a promotional piece at heart, that it did occasionally offer the odd shade of grey glimpse of Bieber himself. Nothing dramatic, but just tinges of something more three dimensional than I was expecting.
Never Say Never was a film released at the peak of the Bieber phenomenon, although it did play primarily to the American market. Its $73m US gross was responsible for the lion's share of the film's near-$100m worldwide take.
(Naturally enough, Bieber is now in the 'being thrown at the wolves' stage of his career, where we're supposed to take glee in a young performer who's been built up by the media then being savaged by it. Like him or not, there's still a human being at the heart of all of this, one who's lived a surreal life away from the reality most of us take for granted. Sorry, grumpy bit over.)
"You're Turning Heads When You Walk Through The Door"
One Direction, however, are a band with a far broader appeal, and whereas the concert movie has, of late, been centred around American performers with a primarily American fanbase, things are a little different with One Direction.
The numbers simply don't lie here. Whilst One Direction have enjoyed phenomenal success in the UK, far eclipsing that of any previous winner or runner-up of any Simon Cowell's particular brand of bullying talent shows, what's different is that their fame has spread.
Justin Bieber is – or was – a mainly American success story. One Direction have topped the charts in many key movie territories: the UK, the US, Australia just for starters. They've also shifted concert tickets at an alarming rate, and are close to being legitimately called a global phenomenon. They've also ridden the social media wave exceptionally well, staying – at least in perception, but I think there's probably something to it – engaged and close to the people who got them where they are. They're enduring, where others have fallen far quicker.
And crucially, they're a phenomenon that's growing in popularity still. Furthermore, whilst we're hardly talking punk rock here, they do give off an image of not being entirely squeaky clean. The film itself has a PG rating, which further suggests that we're hardly going behind Harry Styles' bedroom door. But might we be getting just something a little more than a 90 minute promotional piece? It worked for the Bieber movie, and I suspect it might work here. That's where the need for a good director, one who can push his way through the commercial demands and legions of managers, is most pronounced.
"We're About To Make Some Memories"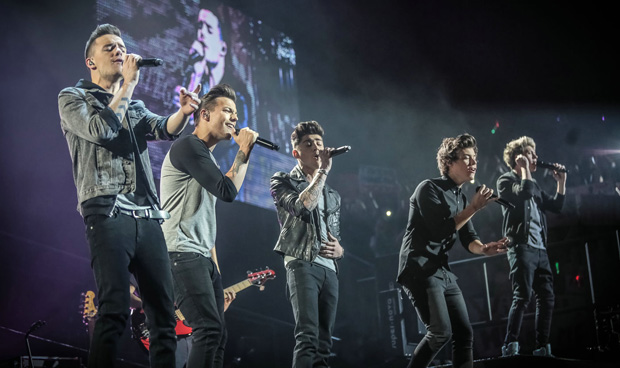 With that in mind, let's consider the Morgan Spurlock factor. A sporter of impressive facial hair at various moments in his career, Morgan Spurlock, for me, is an infuriating filmmaker at times. His best work, for my money, is the excellent and little-seen TV series he did, 30 Days (which was curtailed after three seasons). I've only caught some of the episodes, but Spurlock's basis for the show was to commit to spending 30 days in the midst of a certain lifestyle or situation. The opening episode, about living for 30 days on the minimum wage in America, was terrific, and packed more punch that many documentary films manage in twice the running time.
Then there's the project for which he remains – at least until now – the best known: Super Size Me. Super Size Me is a bumpy but interesting piece of work, that demonstrates Spurlock at his most committed. He chose a subject, and fully went for it (something that let down his sophomore movie, Where In The World Is Osama Bin Laden?), effectively putting his health on the line to make his point.
As a consequence of Super Size Me, there was a real sense that important things were at least being talked about. McDonald's, the subject of the movie, had little choice but to react to it. I can confirm that McDonald's coffee still has a flavour that could best be described as 'tinged with piss', though.
Back to Morgan Spurlock. I really didn't warm to his product placement film, The Greatest Movie Ever Sold, at all, though. For me, it didn't make much of a point by the time the credits rolled, and didn't get forensic enough to warrant the movie. But that's a personal reaction, and Spurlock is clearly a skilled filmmaker, capable of tackling interesting subjects and getting them to the screen. At his best, he's bold, committed, interesting and hairy. And I think that he's a strong choice for One Direction: This Is Us.
It's not the first time Spurlock has been linked with a project of this ilk, I've discovered. He turned down the chance to make the Katy Perry concert movie a year or two back, and also the aforementioned Justin Bieber: Never Say Never film, due to his schedule being utterly jam-packed. This time, he wasn't going to say no, and he's given every impression of a man who's thoroughly enjoyed following One Direction around, and making a film of them.
Encouragingly, as he told Empire, "For me, it's about telling the most honest story. We shot a lot of meetings with them where they don't agree on things. The goal was to make a movie that at least had something to say".
He expanded on this further when chatting to Total Film about the project. "We wanted to make sure that we gave you access to their lives, their families, their personal lives, their homes; moments that you would normally never get to share", he said. "If you look at what's happened to them really, it's been three years and their lives have been transformed completely. So to be able to have a window into that moment is a really unique and special opportunity to get to have".
Appreciating I owe Empire and Total Film a quality muffin for using a few of their words, Spurlock is making the right noises here. His reputation as a filmmaker is to hardly be a bystander, and his willingness to role his sleeves up and embrace a topic makes him a good choice for One Direction: This Is Us. I've got little doubt that the behind the scenes material will cut the mustard. How well he weaves in the concert footage – which presumably he has slightly less control over – will be the challenge.
[1968 words? Still 1000 to go? Oh, you've got be fecking kidding me.]
"Like Nobody Else"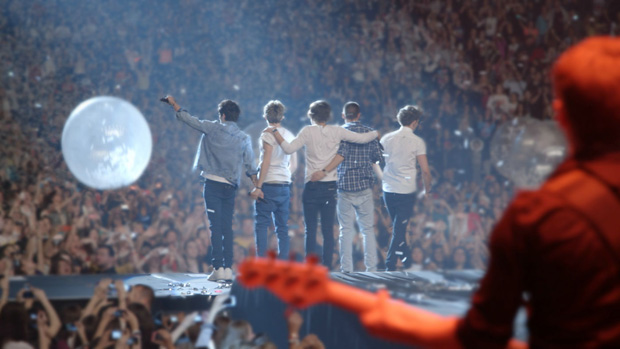 The problem that Spurlock and his team face, of course, is how broad to go. Because, in truth, One Direction: This Is Us plays to a pre-existing fandom, and the film surely has that firmly in its crosshairs.
At the press conference promoting the film, which took place earlier this week, Niall Horan – for One Direction newcomers, he makes up at least 20% of the band's line-up – talked about the broadening appeal of their work. "This year, I've noticed there's been a lot more boys at our gigs, which is great as we want to be opened up to as many demographics as possible". The film might just be a useful part of that jigsaw.
Still, it's hard not to see the attendees of the movie falling into two camps: people who love One Direction and want to see the film, and people who are dragged along by people who love One Direction and want to see the film. It would be remiss of me not to offer a link to the glorious gallery of dads at One Direction concerts that swept the internet a week or two back. You can find that here. 
All considered, appreciating that cinema plays to a broad audience, and an audience outside of that that One Direction usually plays to, it's still hard to see This Is Us being any kind of recruitment drive for the band. A few mildly interested people are bound to check the film out, but it doesn't have the feel of casual Friday night at the movies fodder. The box office of previous concert movies bear this out, with returns broadly in line with the popularity of the artist concerned, rather than the quality of the movie.
Even if One Direction: This Is Us turns out to be some kind of minor masterpiece, the truth is that any massive boy band inevitably polarises opinion. The vast majority of the film's audience have already made up their mind to see it, and an equally sizeable number will have quickly and easily opted to see something else instead. This is no recruitment drive, then.
But that doesn't mean that This Is Us won't be huge. In the UK, fans were camping out for the premiere for days beforehand. It's not much of a neck-on-the-line prediction to suggest that the movie is going to be a massive success in the home nation of One Direction. Yet the suspicion is that it'll enjoy success far further afield, and should comfortably cross the $100m box office mark worldwide. That will equate to no shortage of profit.
Will all of this lead to a One Direction: This Is Still Us? Quite possibly. Liam Payne – another 20% of the band – did admit that "there might be a This Is Us 2", adding the caveat that "let's see how this one goes and if people like it". Of course, there's a bit more to it than that. One Direction: This Is Us is – another dodgy metaphor just coming up – riding a massive bubble of popularity for the five members of the band. What's more, it catches them at a time where they've managed to avoid the traps that others before them have fallen into.
It's less a question of whether there'll be another movie, more a question of if One Direction can keep their insane levels of success going. Only Take That – with a decade break – have made such a jump, and even they had to go through the bit where one member of the band left, had a massively successful solo career while the others bumped along a bit. One Direction haven't just been successful, they've remained intact. They've got a big stadium tour next year, a new album this year, and the intention of making new records every 12 to 18 months. Even if they retain half the fanbase they've got ten years into the future, they'll remain a big deal in the world of music.
Will they be a big deal in the world of cinema? Probably not, but that's not where their ambitions seem to lie. Instead, music remains the focus, and further sojourns in the world of the movies are not likely to be plentiful.
"Stop The Tape"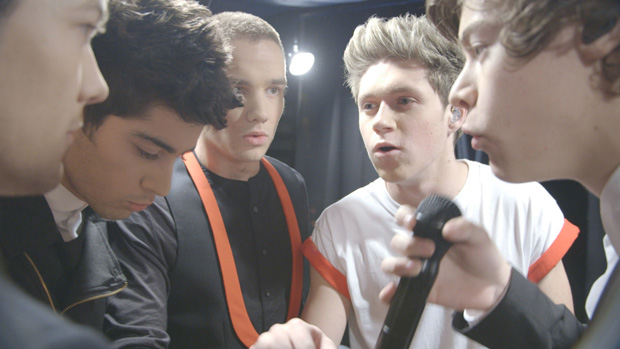 The One Direction movie arrives in UK cinemas on August 29th, and hits the US the day after. It's pretty much a global roll-out within two or three days, although if you live in Thailand or Vietnam, you've got to wait until December 13th. Sorry about that.
So I end, really, where I started. One Direction is a group that appeals to a lot of people, puts smiles on their faces, and makes music that's enjoyed by many, many millions of people globally. It's not really to my taste (he says, as he listens to the score from Crocodile Dundee while putting this final three paragraphs together), but I doubt many One Direction fans would be interested in my PowerPoint presentation on why Jason Statham should have been the 12th Doctor (not least because it would have saved me a few hours writing this. That said, I'm still delighted it's Peter Capaldi).
The whole point of fandom is surely to back and support the music, art, movies, theatre and writing that you like. That's what One Direction's fervent fan base has been doing, and what right do I have really to piss on that? And why should I? I remember getting ridiculed in the school playground for liking Doctor Who, and wondering exactly what I'd done that was wrong. Turns out, nothing. The same applies to fans of any form of (legal) entertainment.
So then. I'm finishing writing this just before I go and see the movie, and my abiding hope is that that fandom isn't taken for granted by the filmmakers, and that a good hour and a half is projected onto the screen. It grates that if it's successful, the One Direction movie will make Simon Cowell more money. But that aside, I don't begrudge the film, and its audience, one little bit.
[Wordcount check: 3000. Thank fuck.]