Reviews
300: Rise Of An Empire review
Classic literature makes it to the big screen in this epic sequel to Zack Snyder's 300...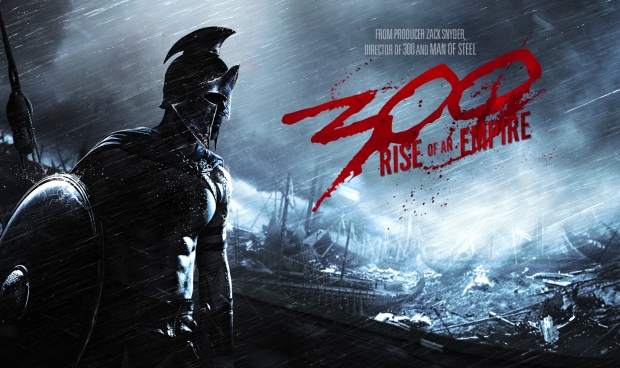 As a classical literature geek, I've always thought it's a great shame that there's such a dearth of epic Hollywood takes on a subject rich with unique tales and especially one that is so full of fantastical visual imagery.
A decade ago there was plenty of promise in Wolfgang Petersen's take on The Illiad, Troy, with its near perfect casting and lengthy run time, yet the end result was strangely flat considering the endless slew of brutal action described in the original text. Since then most films have either embraced full blown fantasy in the likes of Wrath Of The Titans (let's not mention the remake of Clash), or chosen more grounded tales such as the disappearance of the Ninth Legion as seen in both The Eagle and Centurion.
With the original 300 there was finally a contemporary film that portrayed a fictionalised chapter in history, throwing in man-gods and monsters against the infamous Spartans and it proved to be a massive worldwide success. A sequel had been mooted for years, but finally 300: Rise Of An Empire has made it to the big screen and I'm happy to say it was well worth the wait.
I have to admit I had reservations about Rise Of An Empire going in, as I'd struggled to connect the first film initially, only really growing to like it on a second viewing, largely due to Gerard Butler and his fellow cast members adding some much needed charisma to characters whose only ambition in life is to die. This time around, however, I was instantly hooked from start to finish by the second films' gloriously overblown dramatics and immensely exciting sea battles.
One of the most inspired choices made by the Rise script is not to settle in to the conventional trappings of being just a sequel, or prequel, but rather the story details events that happen before, during and after the original tale. It's quite a rare way to thread the narrative in a follow up film, but in much the same way as The Bourne Ultimatum, it works to both enhance the film before it and world build towards a much bigger picture. Also since most viewers will be 300 fans in the first place, there's an immediate sense of familiarity to that world, as it expands on the mythology set up by Frank Miller (who also sketched ideas for Rise of an Empire) – indeed by the time the film ends, there still felt like more of the story to tell and I certainly am now hungry for more.
While it was no secret that several of the surviving characters from 300 would appear again (most notably Lena Headey's Queen Gorgo and Fara… I mean David Wenham's Dilios) they're mostly kept to the background, while a new hero in the muscular form of Sullivan Stapleton's Themistokles takes centre stage and proves to be a fine lead at that, revelling in his first blockbuster lead role.
Man-god Xerxes also returns and gets some much needed backstory, though the main protagonist on the side of villainy is Artemisia, whose justifiable vitriol towards the Greek army drives the main thrust of the plot. As Artemesia, the magnificent Eva Green makes for a terrifying foe, here replete with British accent and the ability to embody a 'hell hath no fury' attitude like few others. One scene in particular sees the mutual hatred between her character and Themistokles play out in a scene of sexual roulette that will have you blushing behind your 3D spectacles.
In terms of true spectacle though, for anyone who's enjoyed the addition of naval battles to the Assassin's Creed game franchise, there's finally some grand scale sea warfare in a modern action movie, which is simply stunning and employs a level of classical strategy that was a joy to behold. I was fortunate enough to see 300: Rise of an Empire at the IMAX in 3D and the larger battle scenes really were very impressive, as was the look of the film as a whole – due to its comic book origins I can think of few films that lend themselves to 3D quite as much and I'm not generally a fan of it. It also manages to be, quite literally, eye popping at times.
Director Noam Murro has managed to stay true to the visual identity of Zack Snyder's movie, but also managed to add his own imprint to the ever violent proceedings. This time around the muted and dark blood shades are replaced with a much gorier red hue and the characters and battles are given a slightly rougher and grittier edge, which add to the overall impact of the action scenes and mark an improvement over the first films slightly too stylised confrontations. There's also a very real understanding of ancient Greek warfare that very few films have managed to adequately capture on screen, that really ramp up the levels of excitement to helmet shattering levels.
There are two main factors to consider when it comes to 300: Rise of an Empire: how much did you enjoy the first film and are you enough of a Classics geek to get excited about seeing large scale naval battles executed on the big screen? If the answer is resoundingly positive to both – as it was for me – then this is your film. Its colourful and crazy mythology really does make for a smashing night out at the movies..