News
3 From Hell: Trailer Arrives for Rob Zombie Devil's Rejects Sequel
Rob Zombie's Firefly family returns for a real day of the dead in the 3 From Hell trailer.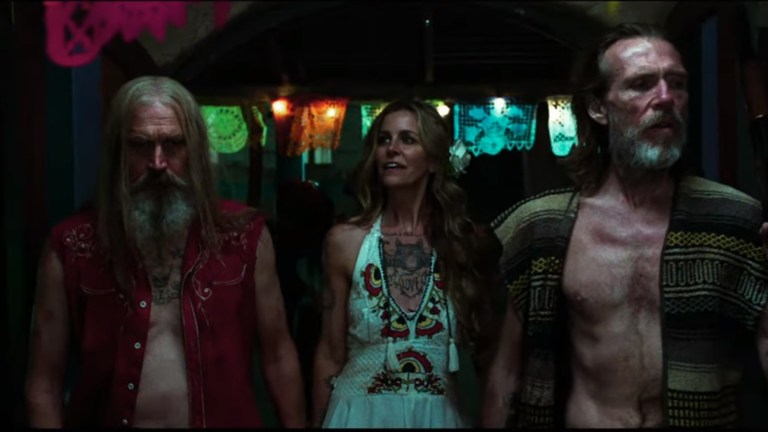 Free the three! Now we can have a real day of the dead. Just when you thought there was no justice in this world, the first full-length 3 From Hell trailer promises a bloodbath and a devil of a time. The odds were a million to one against Capt. Spaulding (Sid Haig), Otis Firefly (Bill Moseley), and Vera-Ellen "Baby" Firefly (Sheri Moon Zombie) surviving their standoff with the police at their last rampage, but with a little faith, nothing is impossible.
3 From Hell is a family movie. The Firefly family has a deadly tradition going back to 2003, with Rob Zombie's directorial debut House of 1000 Corpses making way for the 2005 sequel The Devil's Rejects. Written and directed by Rob Zombie, the trilogy tells the story of Dr. Satan and his merry band of murderous misfits. At last count, the Firefly family had wracked up around 75 homicides. That's more than enough to get them into the Museum of Monsters & Madmen, Spaulding's gruesome tourist attraction.
"This event is a long time coming," Zombie said in a statement. "The journey of these characters has always been special to me and I am thrilled to finally let the fans experience the next episode of the Firefly madness. This project was a true labor of love for everyone involved and we know we have created something amazing for the loyal followers of these films."
You can watch the 3 From Hell trailer below:
3 From Hell's cast also features Danny Trejo, Dee Wallace, Daniel Roebuck, Jeff Daniel Phillips, Richard Brake, Bill Oberst Jr., Clint Howard, Austin Stoker, Dee Wallace, Dallas Page, Dot Jones, Richard Riehle, Jeff Daniel Phillips, Daniel Roebuck, Sean Whalen, Richard Edson, Emilio Rivera, Tom Papa, Sylvia Jefferies, Kevin Jackson, David Ury, Pancho Moler, Lucinda Jenney, Christopher B. Duncan, Billy Blair, Jan Hoag Steven, Michael Quezada, Bill Oberst Jr. ,Tomas Boykin, Stacie Greenwell, Rob Welsh, and Tracey A. Leigh.
Fathom's Digital Broadcast Network, along with Lionsgate and Saban Films, will bring the unrated version of 3 From Hell to 900 theaters on Sept. 16, 17, and 18. Each night of the three-day screening will feature a separate special event. The first night will include a special video introduction from Rob Zombie. The first 50 attendees at each theater will get an exclusive poster. On September 17, viewers will see a half-hour behind-the-scenes documentary on the making of the film. On September 18, audiences will be treated to a double feature showing The Devil's Rejects.
Culture Editor Tony Sokol cut his teeth on the wire services and also wrote and produced New York City's Vampyr Theatre and the rock opera AssassiNation: We Killed JFK. Read more of his work here or find him on Twitter @tsokol.