Features
29 nerdy things we learned on the set of Muppets Most Wanted
We spent a day on the set of Muppets Most Wanted, and found lots of geeky things out. Such as this little lot...
It's been nearly a year now since we had one of the most memorable days we've ever had working on this site. The day we saw The Muppets at work. The day we saw them for real, right in front of us, in touching distance. The day we got to talk to people who'd worked with Jim Henson, and they expressed far better than we could just why he mattered.
It was the day we went to Pinewood Studios, and stepped onto the set of Muppets Most Wanted, director James Bobin's follow-up to 2011's The Muppets. We found out lots of spoiler-y things while we were there, and we've deliberately held that material back. We've also observed the strict rule of not giving too much away at to the craft that goes into making a Muppet. But we can tell you a lot. Some of these things you may already know, but here are 29 nerdy things that we picked up on our grand day out….
1. Blue Is The New Green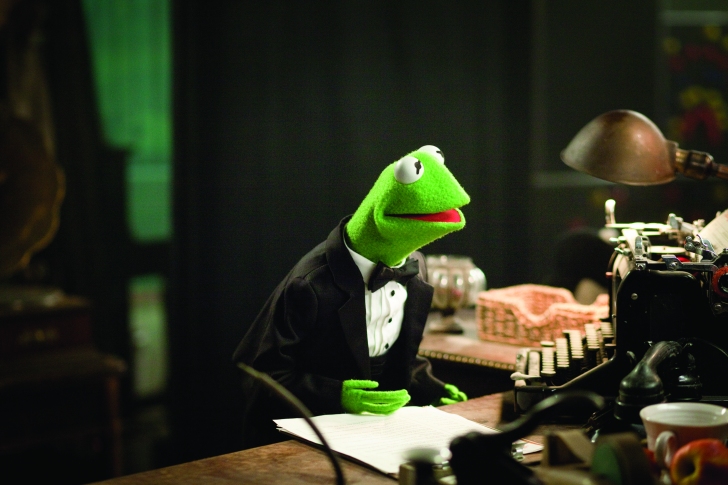 We walked past a man at one point who was – literally – painting paintbrushes. Turns out he was individually removing specks of blue from them. There's a limited amount of effects work in the film, but they had to use a blue screen, rather than the traditional green screen. The reason? The green would, as you probably would guess, have clashed with Kermit. The blue screen didn't match the shade that adorned the felt of Sam, so was safe to use.
2. Los Angeles Is A Day Away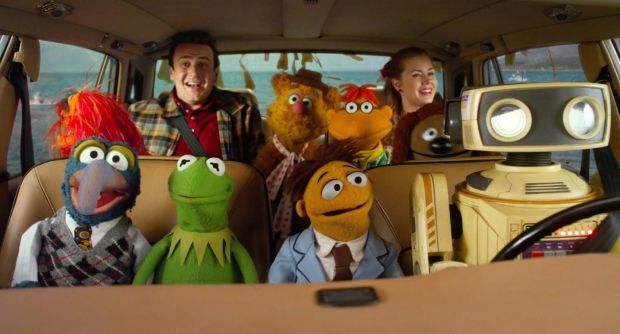 A Muppets workshop was set up at Pinewood Studios for the duration of the shoot (and just before). That said, for large parts of the production, daily shipments were having to come in from the main Muppet workshop back in Los Angeles. FedEx, we'd imagine, did quite well out of the production. A shame they couldn't travel by map…
3. The Mystery Of Kermit's Collar
Kermit The Frog's collar is officially not part of his skin. Kermit himself told us that. "It's something that I wear. I don't know why. It's something I wore back in the 60s, back in the hippy days, and it stuck. So now I wear it all the time", he revealed.
4. Walter's Watch & Ricky Gervais Impression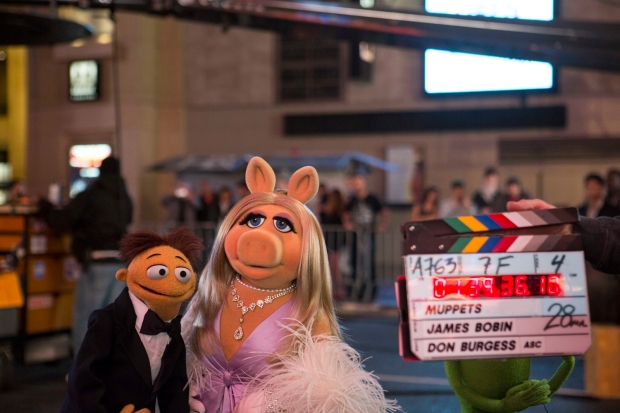 Walter got to keep the Kermit watch from the last movie, as well as his outfit (although there's no Jason Segel). Walter also does a pitch-perfect impression of Ricky Gervais when the cameras aren't proverbially rolling. Walter – who told us he had a smaller role in this film – also claims to shop at the same store as director James Bobin.
5. Muppet Heights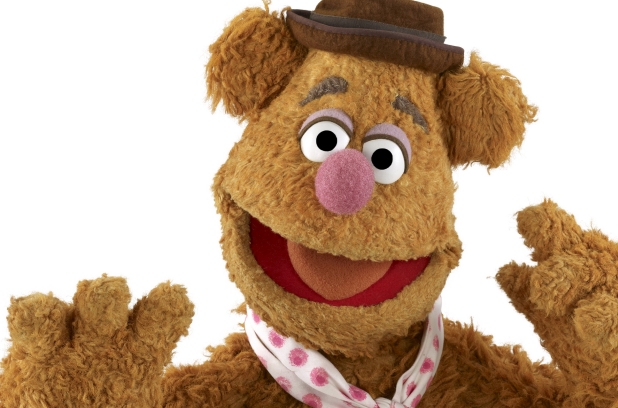 We found a chart on the side of the wall listing the heights of The Muppets. They are:
The Swedish Chef: 3 foot 6Fozzie: 3 foot 5Rowlf: 3 foot 4Statler: 3 foot 3Beaker: 3 foot 2Miss Piggy: 3 foot 1Animal: 2 foot 10Sam: 2 foot 10Walter: 2 foot 5Scooter: 2 foot 4Waldorf: 2 foot 4Kermit: 2 foot 2 1/2Gonzo: 2 foot
6. Clothing Issues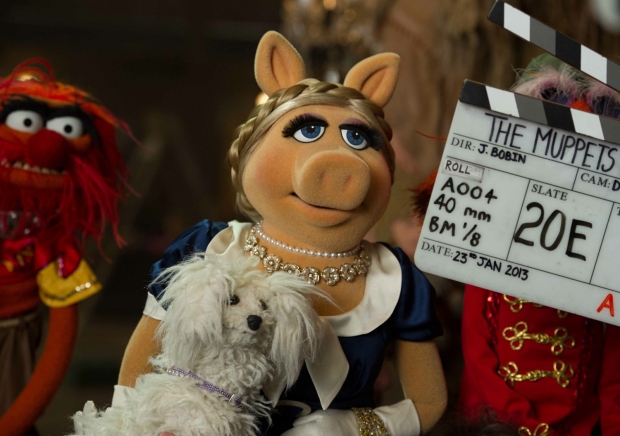 Generally only one copy of each costume is made – the Muppets don't sweat after all. The only difference is when a half body and full body version is required.
Naturally, one character stands aside in this department. Miss Piggy has more than twice as many outfits as any other character – over 20 in this film, which is very, very unusual for a Muppet production. The production team also found it harder to source specific costume requirements quickly in the UK. "It would have taken us 10 minutes in LA!", they told us.
7. Washing Machine
The Muppet Workshop is nerd heaven. Lots of shelves, crates, a few washing machines, and a room dominated by Sweetums stood in the corner. We're not allowed to tell you too much, under a Muppet code of honour, but there's some wonderful low-tech work behind the Muppets.
8. No Hair Day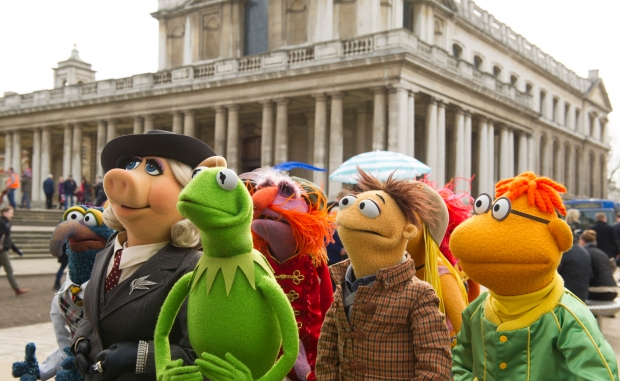 Putting clothes on Muppets is very tricky, and involves lots of pins. The design of the Muppets generally uses hairstyles that don't get in the way of eyes though. One of the main reasons is that when they're doing live performances, it's impossible to get in and fix the Muppets, hence they can't have hair that's likely to do unpredictable and erratic things. It's part of an ongoing line they have to balance of performance versus visuals.
9. Telling Frogs Apart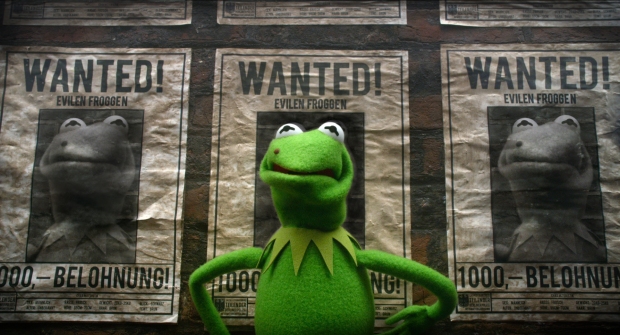 Kermit has a doppelganger in the film, Constantine. For the Muppet workshop, to work out which Muppet they were working with, there were three main clues: a marking on the body under the costume, the angle of the eyes, and the length of the collar.
10. The Michael Caine Muppet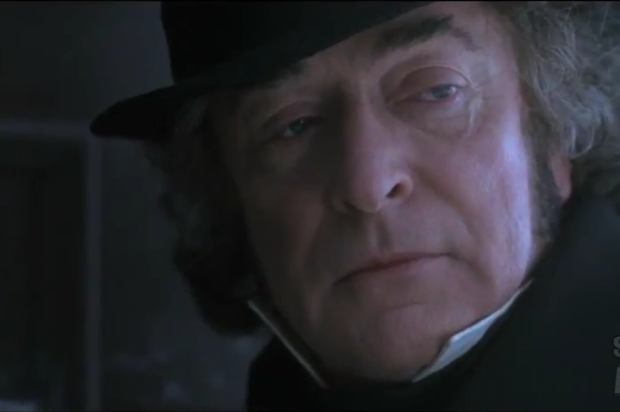 One cupboard we were shown seemed a bit like Narnia. Every time someone went into the cupboard, they pulled out another brilliant Muppet who we'd not seen before. The highlight? A Muppet designed to look a little like Michael Caine, that was apparently made around the time of Muppet Treasure Island. Sadly, we weren't allowed to photograph it. They're not even sure that Caine himself has seen it.
11. Fabric Condition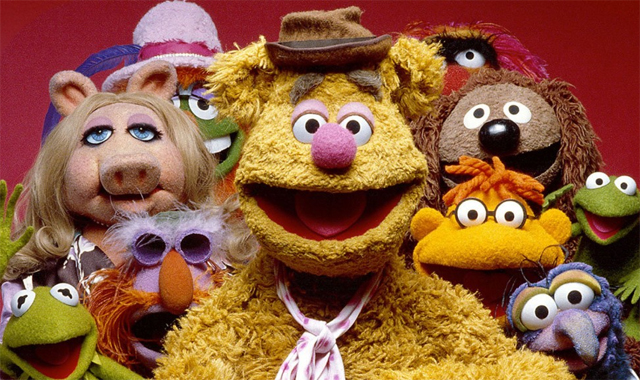 The last big advance in fabrics, and the design of the Muppets? That came a long time again. We were shown a fleece material that isn't made anymore, so that's evolved (the chemistry of the fleece changed to something more nylon-based, and "it doesn't behave as well"). However, when they know a material they use is going out of production, the workshop team buy up as much of it as they can. Even slightly different fabrics behave in slightly different ways come performance time.
12 Mech Warrior
It's still mechs inside the Muppets on the whole, rather than radio control. That's so that performance can come first. "We don't accommodate new technology that often, because they were perfectly as they are. The closer they are to no mechs, and no tricks, the more you rely on the puppeteer's hand", we were told.
13. It's Chemistry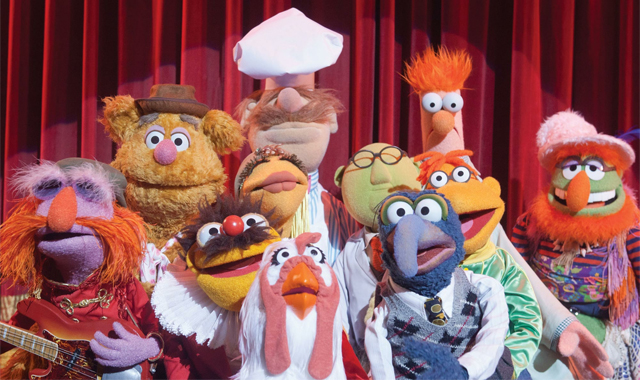 The chemical make-up of foam latex deployed in the Muppets themselves is different to how it used to be. It doesn't behave the same way as the older stuff, and isn't as stretchy, "but we still use it".
14. Black Rod Down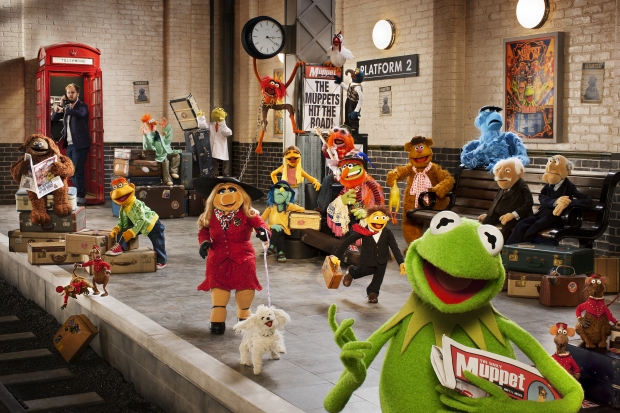 The Muppets performers use blue rods now, rather than black rods. The reason for the switch is that the black rods were coming up as so hard to see in footage, that the people working in post-production who had to remove them couldn't always make them out properly. Hence, far easier to spot blue rods have been used in the control of the Muppets.
15. Four-fit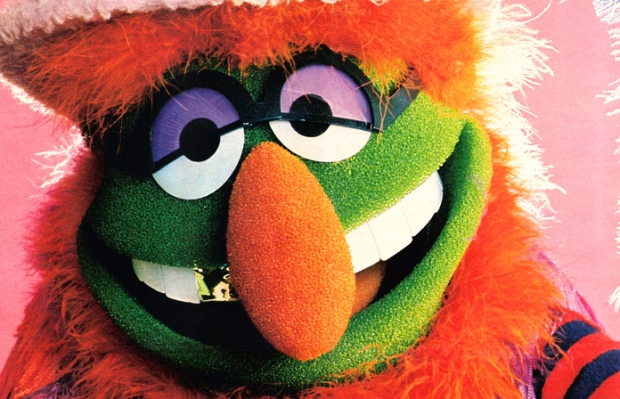 Most Muppets have four fingers. Dr Teeth has five on the live version, four on the version controlled by rods.
16. Taking The Tube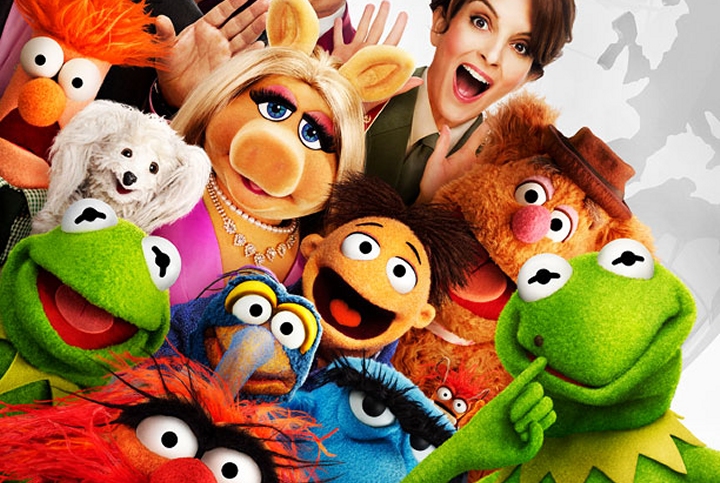 One unnamed Muppet is primarily made out of nothing more sophisticated than a cardboard mailing tube. They've resisted changing the tube to fibreglass, PVC or other materials. A simple cardboard tube did the job then, and it does the job now.
17. The Old Ones Are The Best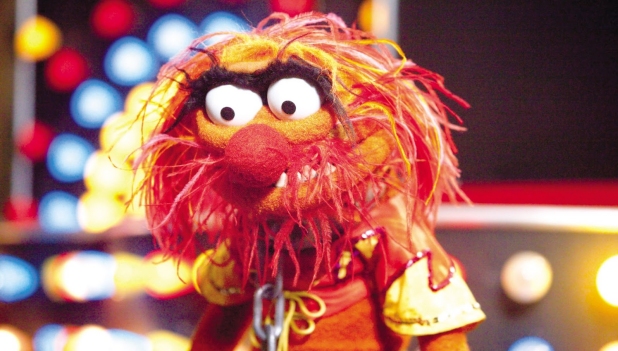 Taking really good care of the Muppets is of primary importance to the Muppet workshop team. They're still reusing things that made their debut in The Muppet Show and Muppets Tonight! in Muppets Most Wanted. And a part of Animal that once appeared in a different Muppet production has been dug out of the archives too…
18. The Prawn Identity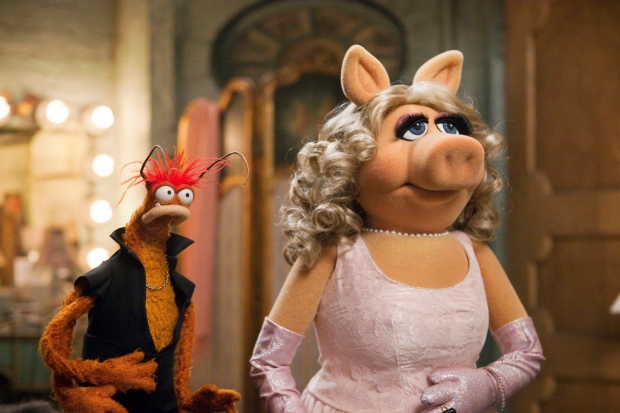 12 different prototypes of Pepe The Prawn were made before settling on the final look of the character. The final version is the one on the left.
19. Planning Ahead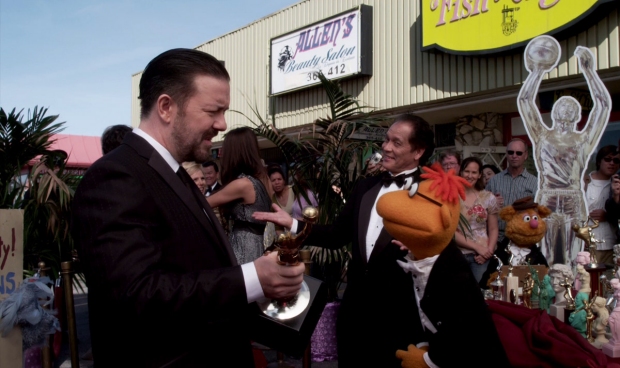 Even something in the script as simple as a Muppet needing a pair of hands to grab something with presents a logistical problem. Often, that's why the workshop team would have to send for more specific Muppets that were still in Los Angeles.
Planning is the key. Simply moving a scene around on set involved taking scenery apart and repositioning performers – a process that could take hours. As Ricky Gervais told us, on other jobs you'd act for seven out of eight hours. On this one, you did well to get one out of eight.
20. My Arm Hurts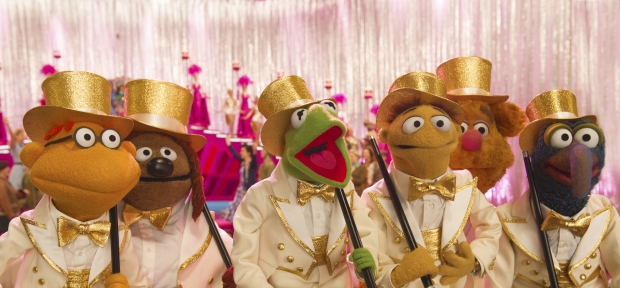 Frank Oz used to hold the record for the longest time he'd been able to hold his arm up non-stop while operating a Muppet. That record has since been broken – at over three hours – by Steve Whitmire, during the annual Rose Bowl Parade in Pasadena. He managed around four hours in total.
21. Packed Away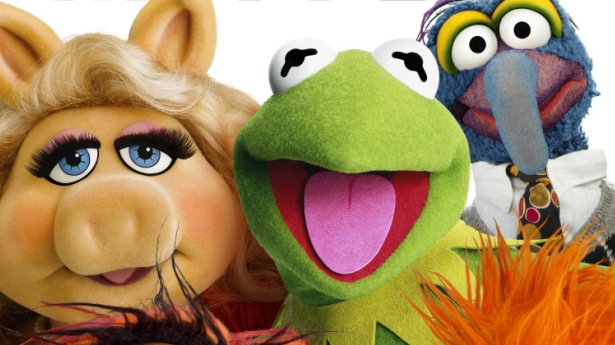 At the end of the production, every new design, version of a character or new Muppet is catalogued precisely, packed away securely, and sent back to Los Angeles. There, they're stored, in case they're needed again. Which they usually are. Very, very little is wasted.
22. No Touchy-Touchy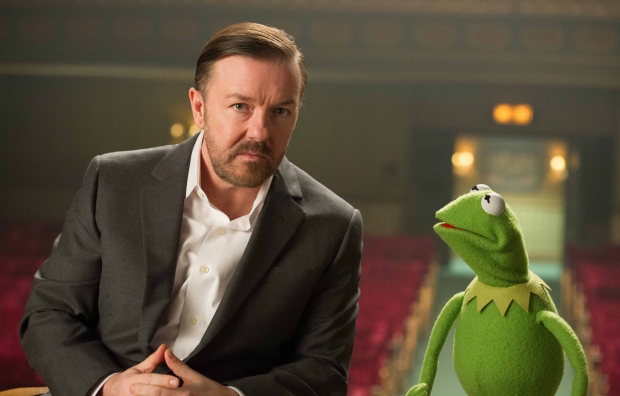 There's a strict rule that visitors aren't allowed, fairly obviously, to touch the Muppets. We absolutely did not touch Waldorf's face. Or Fozzie's ear. Not at all. The reason for the ban is dirt: the team choose to keep The Muppets as clean as possible, given the difficulty in washing them.
We were allowed to touch Ricky Gervais, though.
23. Get A (New) Grip
The only change to the Statler and Waldorf Muppets since they were first used is very slightly different grips inside. That aside, they're still the same grumpy delights they always are.
24. The Shape Of Sam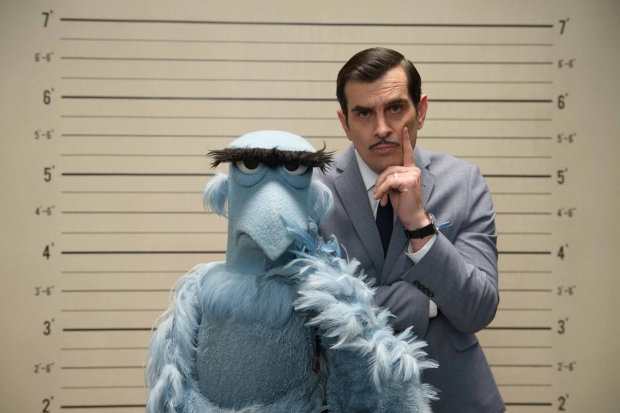 Jim Henson was never precious about having to keep something the same, we were told. Hence Sam, for instance, has changed shape a few times over the years. The version used now is back to the original look from The Muppet Show.
25. The Henson Philosophy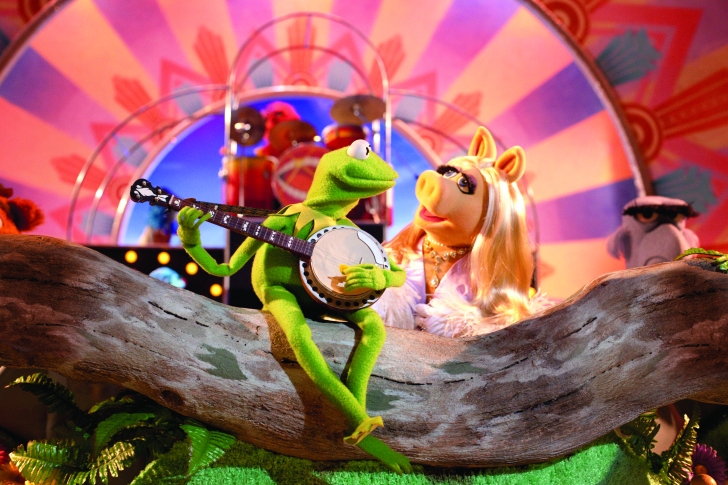 We had a lovely long chat with Jane Gootnick, who started working for Jim Henson in 1978, and worked across The Dark Crystal, Sesame Street and The Muppet Show. The main thing she took from working with Jim Henson himself? "He had no hierarchy about one part of the group being more important than the other. Designers, performers, directors… everyone was equal. And also democracy: he would take ideas from anybody, and could pull out skills from different people, even if they hadn't gone to school for that".
26. Give 'Em A Hand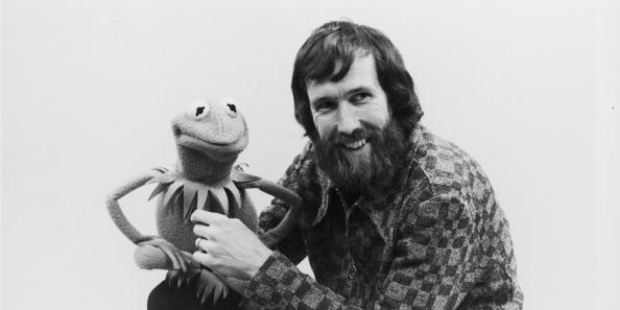 Another Jim Henson-ism we learned from Jane Gootnick: "Anybody from any walk of life who can get all of their emotions to come down into this hand, that's what it's about".
27. Finding His Voice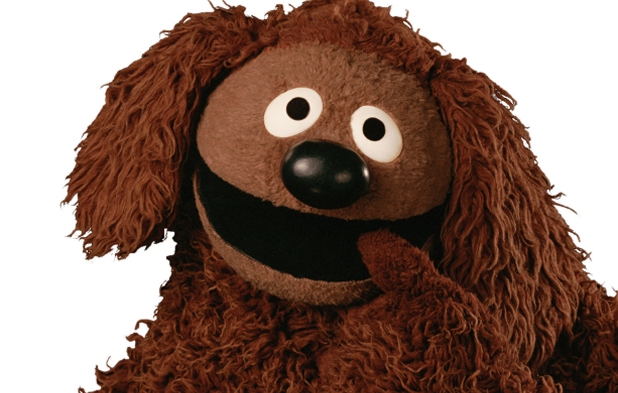 The first time Rowlf has spoken on film since Jim Henson died was in The Muppets (2011).
28. Lowering The Bridge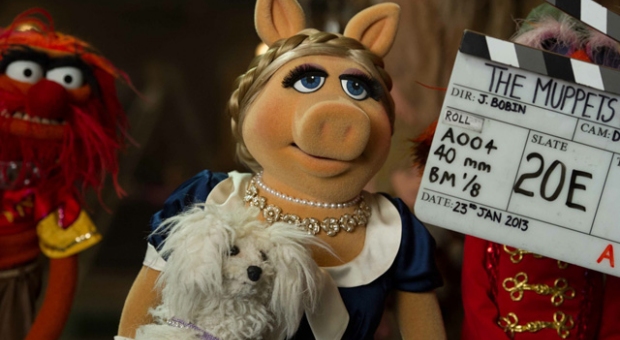 The production found that places they might have trouble doing location shooting were made easier by the affection for the Muppets. So, for instance, they approached the Tower Of London to ask permission to film there. Usually, the answer would be no. But for the Muppets? Apparently, they said "we love Kermit even more than James Bond". Permission was duly granted.
29. And One More Thing….
Lovely out-of-context quote we heard in the workshop: "It's like Up, but with chickens".
Muppets Most Wanted arrives in UK cinemas on March 28th.