News
25 villainous casting suggestions for new Dark Knight films
With Catwoman sorted out (Tilda Swinton won), DoG issues a casting call for the remainder of significant Batman villainry...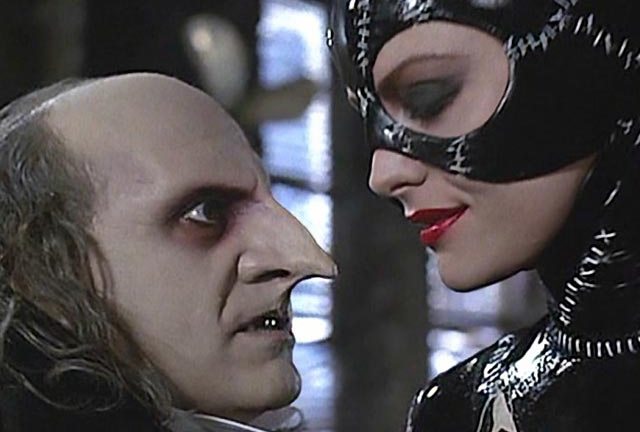 Having had a communal casting session regarding the future of Catwoman in the Christopher Nolan Batman franchise (which inclusion is more than in doubt, sadly), a number of Den Of Geek contributors made suggestions for actresses suitable for the role. But why stop there? Let's cast some more…
THE RIDDLER
Profile: Elliptical madman – can you solve his head-scratchers before the gizmo goes off?Formerly: Frank Gorshin; John Astin; John Glover; Jim Carrey; Patrick Warburton; Ned Flanders (the 'Diddler').Notes: Riddle me this: who in Hollywood, or anywhere else, has the sheer nervous energy to match the likes of Frank Gorshin or Jim Carrey in the role of arch-prankster and puzzle-maker Edward Nigma? Should Jim Carrey get a second shot, or would it stink up the whole franchise with the taint of Schumaker? [undoes envelope] Sadly, yes. Therefore…
Willem DaFoe – Too old, really, but the energy is right and he can whip a superhero physique up at short notice.
James McAvoy – ready for some Brit on Brit head-smashing? McAvoy has the wiry physique and jangly energy for the part.
Johnny Depp – He could play it pretty much as he played Ed Wood and it would work.
Bruce Campbell – A bit heroic in stature but with a native sense of humour that would nail the part.
Casey Affleck – Hot right now and born to play nuts.
Winner: James McAvoy – this is hard-boiled Nolan country, and McAvoy has that requisite darkness.
THE JOKER
Profile: Maimed mobster and vendetta-wielding psychopath with a truly deadly knack for one-liners.Formerly: Cesar Romero; Mark Hamill; Kevin Michael Richardson; Jack Nicholson; Heath Ledger.Notes: The King Lear of Batman villains, who would be ready to step in to the shoes of the ultimate psychopath after what seems to be an acclaimed performance by the late Heath Ledger?
Javier Bardem – Must Joker play so much to the galleries? Bardem could bring genuine menace to the part. Unlikely to do it because of type-casting risk.
Colin Farrell – Nutty, out-of-control vibe suitable for a number of Batman villains, and did a great job as Bullseye in Daredevil.
Kevin Spacey – Cold-blooded menace is mother's milk to KS. At 48 he may be just inside the loop for the role (Nicholson played it at age 52), but who knows if he'll be too busy filming some new Superman opus as Lex Luthor? He'd be much better in this role…
Daniel Day-Lewis – Now that's Nolan casting – deep, brooding, serious but with a big streak of bitter humour (see the 'straw' scene at the end of There Will Be Blood). Would only do it for Nicholson-sized remuneration.
Guy Pearce – Ledger's countryman would ace the role; restrained by nature, Pearce is more than willing to chew the scenery according to the script and tone, and with him, all bases are covered.
Winner: Daniel Day-Lewis ties with Guy Pearce. Impossible choice.
THE PENGUIN
Profile: Aristocrat reject turned crime-lord, with a penchant for murderous or otherwise dangerous umbrellas. Ungainly.Formerly: Burgess Meredith; Lennie Weinrib; Danny De VitoNotes: Ye Gods. Jack Nicholson was a shoe-in for The Joker, but diminutive comic actor Danny De Vito truly made the part his own in Batman Returns. Some very gritty casting would be needed to translate the character into the verissimilitude of the Nolan Bat-verse…
Philip Seymour Hoffman – the physiognomy is wrong, but there are very few limitations of the kind that Hoffman can't act his way past.
John C. Reilly – There's something venal and avaricious in the character of roles that Reilly has taken on that suggests him for the part.
Timothy Spall – Within the right physical range for the role, Spall has the acting pyrotechnics to carry the part.
Gabriel Byrne – sharp-featured and with a practised cruel streak. May lack the comic timing needed.
Harry Connick Jr. – An enormously under-rated and versatile actor who made his mark on villainy in Copycat.
Alan Cumming – A great aristocratic energy and has already proved his prowess as an actor many times, not least in the superb X-Men 2.
Winner: John C. Reilly for conveying the brutal killer instinct under a thin veneer of self-control.
POISON IVY
Profile: Plant-woman; green at all costs.Formerly: Diane Pershing; Uma Thurman; Piera CoppolaNotes: A 60s addition to Batman canon, Pamela Lillian Isley was modelled on glamour model Betty Page (most famously comic-ised in the Rocketeer graphic novels) and is one of a handful of female villains in the Batverse. Friends with Harley Quinn (see below),
Franka Potente – Enormously versatile, she has the depth needed to flesh out a character with powers this weird.
Sarah Polley – a fantastic actress. Who I would like to see in the outfit.
Cate Blanchett – They wish.
Bryce Dallas Howard – Too ditzy for Catwoman or Harley Quinn, she's pitched perfectly for this.
Kelly Hu – Erotically intellectual and certainly physical enough for the part
Winner: Bryce Dallas Howard – the right tone marries up with star-power and acting ability here.
HARLEY QUINN
Profile: Arkham asylum shrink turned batty by The Joker.Formerly: Mia Sara (Birds Of Prey, USTV 2002); Arleen Sorkin & many others.Notes: A casualty of the Batman & Robin disaster, Harley – formerly known as Dr. Harleen Quinzel, an early 90s entry to Batman canon via the animated series episode 'Joker's Favour' – was scheduled for Batman 5 before Warners pulled the plug on the franchise. This largely presents an actress with the chance to pretty much define the role away from the yoke of previous interpretations in a big budget context…
Jennifer Carpenter – I fear this will be an unpopular choice but Dexter's sister is not only stunning but looks seriously off the rails.
Zooey Deschanel – Has the right look – we'll have to see if she has the killer instinct, though.
Fairuza Balk – Fairuza is amply ready to convey that bad-girl energy that is second only to Selina Kyle in Batman mythology.
Winona Ryder – Born to play a woman gone off the straight and narrow. Her Dorian Gray magic overcomes the age issue.