News
22 sequels and remakes you didn't know were coming
What, more? Get ready for fresh Austin Powers, Anchorman, Iron Man and Star Trek, and there's even - shudder - a remake of Seven Samurai on the cards...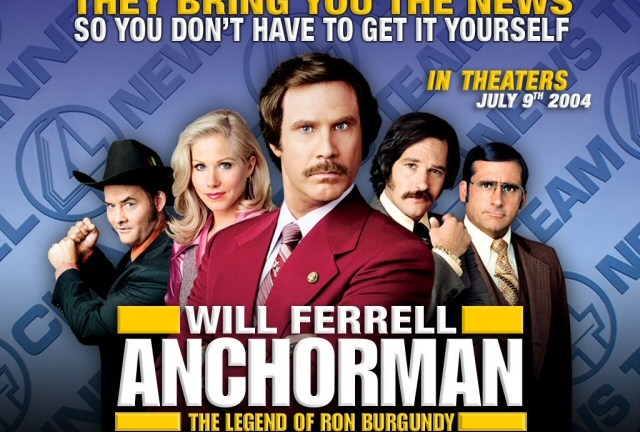 It seems that as soon as we've published an update on the assorted sequels and remakes doing the rounds about Hollywood, that another avalanche follow in quick succession. Like this lot…
St Trinian's 2We didn't realise that the remake of St Trinian's had done that well, to be honest. Yet it hasn't stopped Ealing Studios from ordering up a script for a second one. Blimey. No more news on the project beyond that right now.
Jackass 3Paramount is pressing ahead with a third cinematic outing for the Jackass team. A 2009 release date has been mooted, and Jeff Tremaine as usual is at the helm.
Anchorman 2This is more like it! Helmer Adam McKay has confirmed that he and Will Ferrell will be knocking their heads together on a sequel to the glorious comedy adventures of Ron Burgundy and his news team. This is very good news.Resident Evil 4As any gamer will happily tell you, Resident Evil 4 is one of the pinnacles of the entire gaming franchise. Hopes, however, are not high for the movie, although given the amount of cash the decreasingly decent films are making, it's unsurprising that an option has been picked up on another cinematic instalment.
Cloverfield 2Yup, Matt Reeves and JJ Abrams are in the early stages of a follow up to their monster smash. 2009 is the earliest you'll see it, as a finished script is yet to be produced.
Mission: Impossible 4First of all the speculation was that Brad Pitt would be taking over the franchise, given how the chief of Paramount criticised Tom Cruise, calling him responsible for the slightly disappointing take of MI3. But now it seems that the Cruiser could well be back, and for the first time in his career perhaps, aching for a hit…
The HobbitGuillermo del Toro will be behind the camera for two movies based on The Hobbit, and Ian McKellen is coming back too to play Gandalf. Andy Serkis is confirmed as Gollum too. The first film is out in 2011.
The Da Vinci Code 2: Angels & DemonsJust who asked for this, exactly? Originally delayed by the writers' strike, Dan Brown's book will is being readied for a 2009 release, and both Ron Howard behind the camera and Tom Hanks in front of it are returning. It's not like they need the money.
Sex & The City 2It's not out yet, and we don't want to see it, but it seems that there's a plan to bring further Sex & The City adventures to the big screen. This is not a thought that thrills us, particularly.
Starship Troopers 3: MarauderThe one that returns Casper van Diem to the franchise, even though it's still a straight to DVD affair. The film is in the can, and currently in the editing stages.
Iron Man 2With the first one only just unleashed onto cinema screens, the word from the movie land of Marvel is that we can expect further adventures to be heading to a multiplex near you in 2010.
Austin Powers 4This is very much in the rumour stages, but it's believed that a script for a fourth adventure of Mike Myers' superspy is in existence, and word was circulating last month that Gisele Bundchen (The Devil Wears Prada) was linked with it. Both Mike Myers and director Jay Roach are believed to be involved.
Star Trek reboot 2 and 3JJ Abrams will launch his eagerly-awaited reboot of the Star Trek franchise next summer, but Simon Pegg let slip last month that he's signed up for a trilogy of films. This is, clearly, good news. As long as they don't screw the first one up.
And then there are these remakes…
Ghost In The ShellThe animated movie is getting the live action treatment, in 3D. Steven Spielberg is involved, but unlikely to direct, and James Moss is writing the script for it (he did the recent Street Kings). 2011 is the mooted release year.
Bill & Ted's Bogus JourneyMGM's dusting down of its back catalogue arrives at the second Bill & Ted movie, which we understand will be remade without the involvement of either Alex Winter or Keanu Reeves (the latter of whom has said he's not averse to a third film in the series in the past). DVD is likely to be its home though.
DambustersPeter Jackson's Wingnut Films is pressing ahead with its Dambusters remake, and Christian Rivers – one of the effects team on the Lord of the Rings trilogy – is in the director's chair. Filming could and should start next year.
The Color PurpleAnother take on the Alice Walker novel, brought to life originally by Steven Spielberg, Whoopi Goldberg and Oprah Winfrey. This time, it's a musical version that's in the offing. Great. It's been optioned, but not close to cameras yet.
The FuryIt looks like Fox 2000 has taken an option out on the John Farris 'telekinesis' novel already filmed by Brian De Palma in the late 70s, with Kirk Douglas starring. Ted Field's Radar Pictures are the production company involved, and Field has previously produced Mr Holland's Opus and Runaway Bride.
The Seven SamuraiNow you really can cry "is nothing sacred". The Weinstein Company is working on a remake of Kurosawa's classic, and scribbling duties have been handed over to John Fusco. Fusco has written in the past Hidalgo, Young Guns and the animated film Spirit, and the new take on The Seven Samurai is in pre-production now.
BarbarellaThe latest on Robert Rodriguez's remake of sorts of the Jane Fonda 1968 film is that it doesn't seem to be moving any time soon. Rose McGowan has said that the reason the film has been delayed is because of a potential actors' strike, rather than the producers looking for a more bankable star name than her in the lead.